This light and refreshing watermelon radish salad is delightfully crunchy and slightly sweet. It's a great option for using seasonal produce in a fun new way. Plus, the basil-mint vinaigrette leaves you feeling light and refreshed.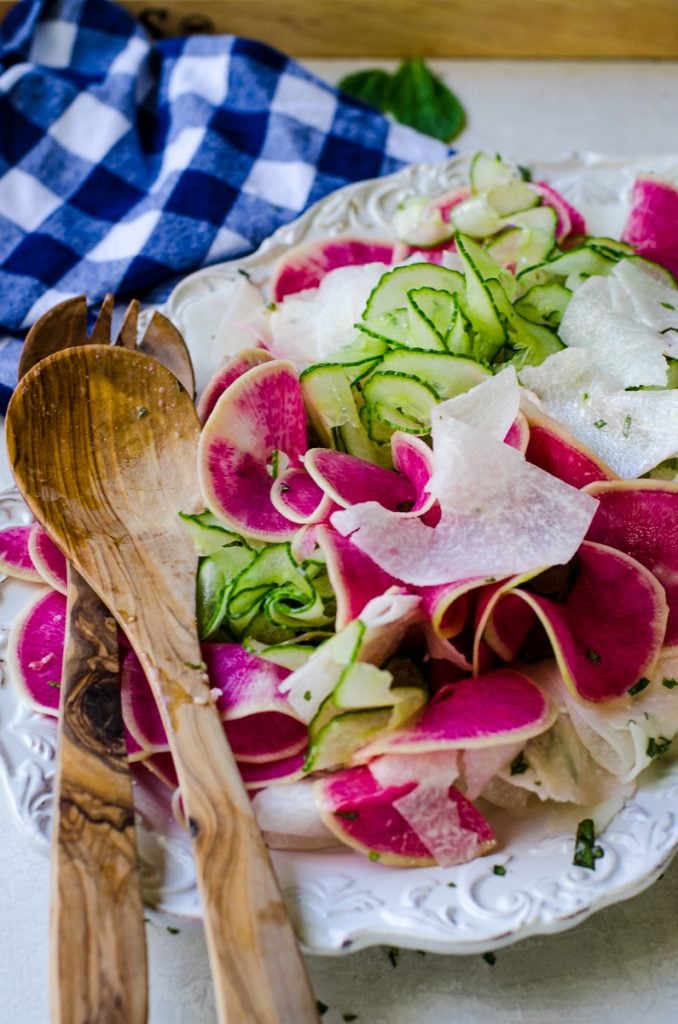 Just in time for springtime, this watermelon radish salad recipe is a sweet celebration of fresh produce. This salad is great if you're craving something crunchy, but it is light enough to enjoy on a hot day. It's very delicious and a great way to enjoy some unusual veggies.
What Is A Watermelon Radish?
Watermelon radishes are a beautiful heirloom variety from the brassacae family. (The same as arugula or other peppery vegetables come from.) They look like a rutabaga on the outside but have a vivid pink color on the inside. (The color looks like a watermelon, hence the name.) They are similar to a daikon radish and taste great with flavors like olive oil, goat cheese, minced shallot, oranges, or just a pinch of sea salt and ground pepper.
Watermelon radishes grow best in cooler temperatures, so they are usually only available in spring or late autumn. They still grow in warmer temperatures, but this usually turns the watermelon radish's slightly peppery tang into a bitter bite.
One thing that makes watermelon radishes unique is that like the fruit they are named after, they start with a sweet taste and end with a peppery finish. They are extremely versatile and so pretty that they are great being turned into quick pickles or even roasting the radishes.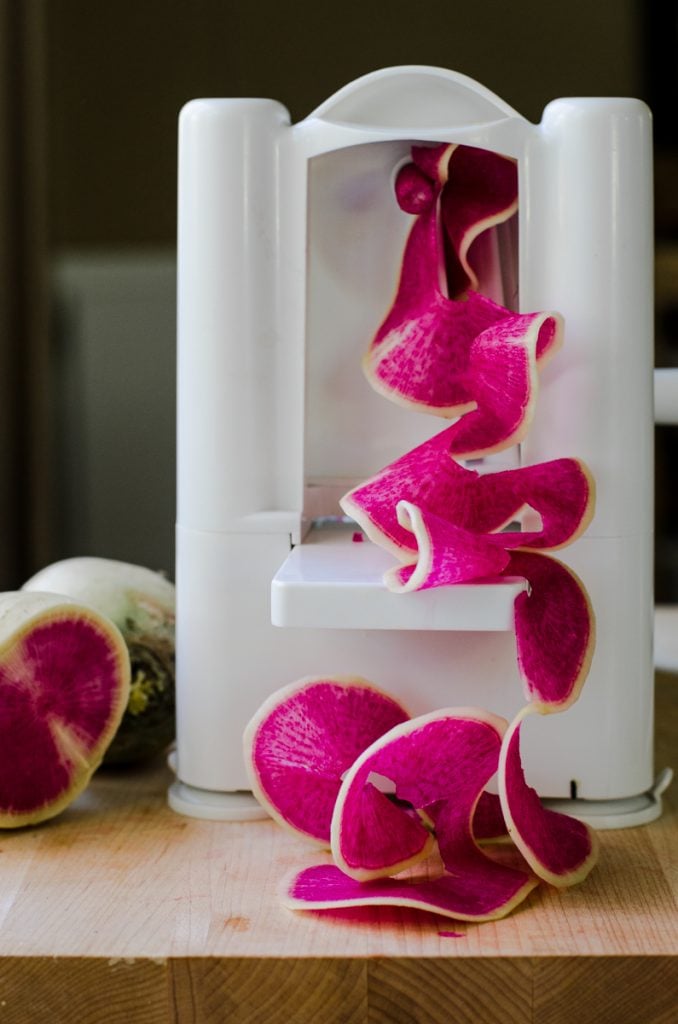 How Do I Prepare The Radishes?
Once you have the watermelon radishes home they should be stored cool, just like the time of year they are grown. Preferably 68° or under. Once you are ready to make this watermelon radish recipe, rinse them off under cool running water.
Lightly peel the outside to remove the rough and slightly hairy exterior. This should leave behind a greenish white layer. This layer is completely edible and once exposed they are ready to be eaten raw or turned into roasted watermelon radishes.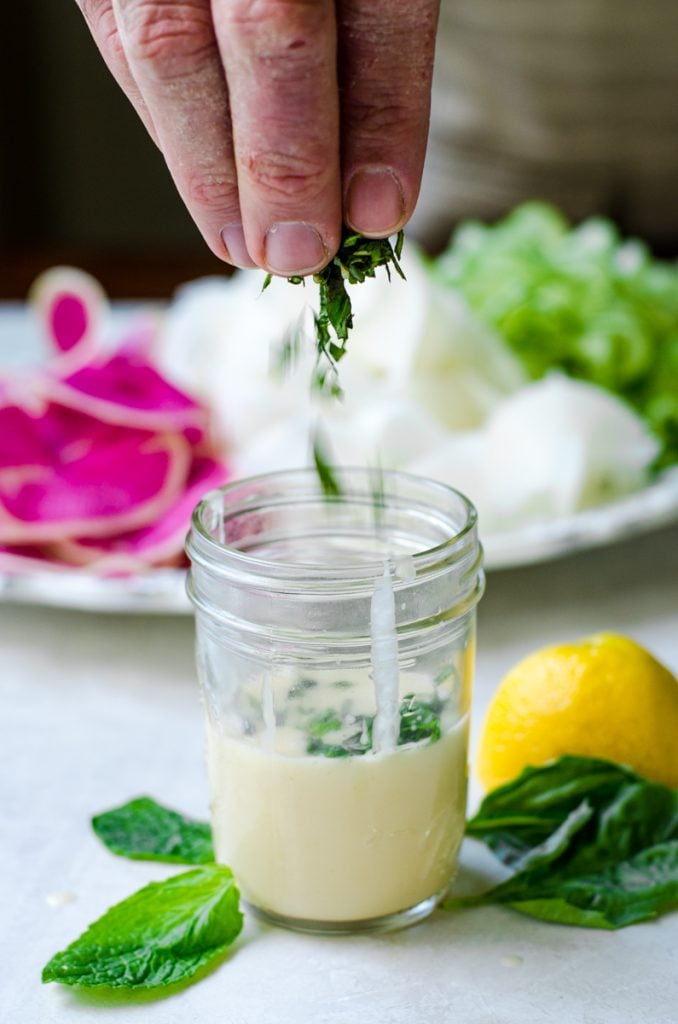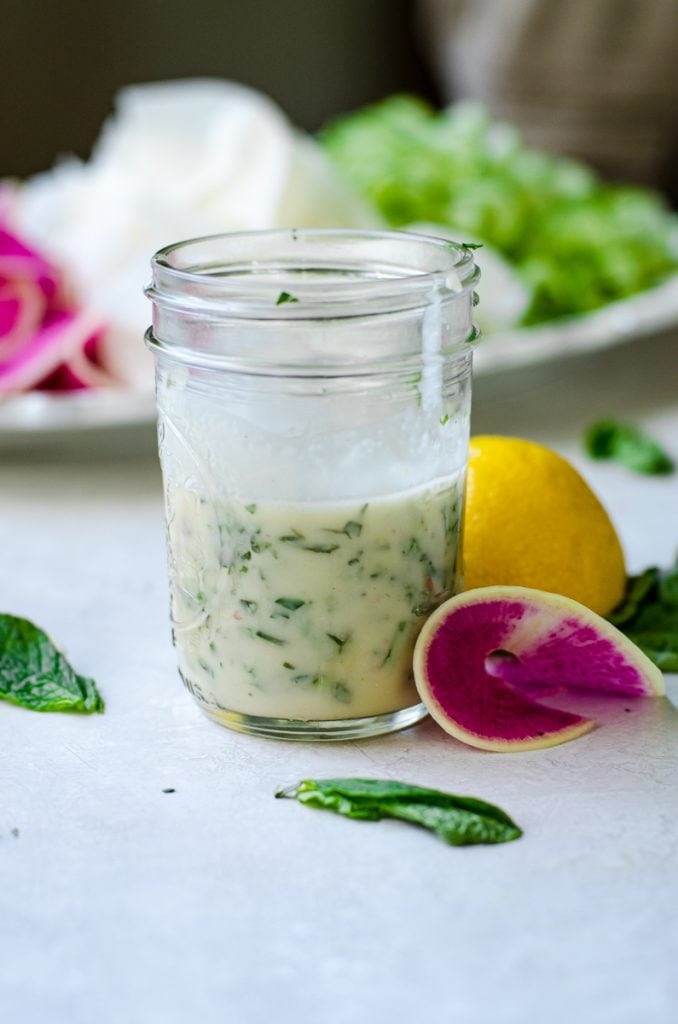 Pro Tips For An Amazing Salad
One of the great things about this salad, is that it is an excellent party food that travels well. Even if you dress the salad before leaving, it won't wilt or release water that thins the vinaigrette.
Making a vinaigrette that doesn't separate is key for this radish recipe. If it separates it will leave the salad overly oily, which really doesn't mix well with the textures in this salad. Make sure to use that mustard and whisk the oil in slowly.
Mint and basil are fresh herbs that are stored in completely opposite ways. The mint should be stored cool in the refrigerator, while the basil is kept dry on the room temperature counter. Know what to look for when buying fresh herbs at the store to make sure you get the freshest ones available.
For an extra beautiful presentation, use the straight blade of a spiralizer to make thinly sliced ribbons out of the vegetables. To make them smaller, make a single large slice halfway through the vegetable from one end to the other.
You may notice the vinaigrette separates over time. To emulsify and make it whole again, you can give it a vigorous shaking. Or you can pour a small amount of the vinaigrette into a small bowl with ¼ teaspoon of dijon mustard. Slowly whisk in the separated vinaigrette until it is completely combined.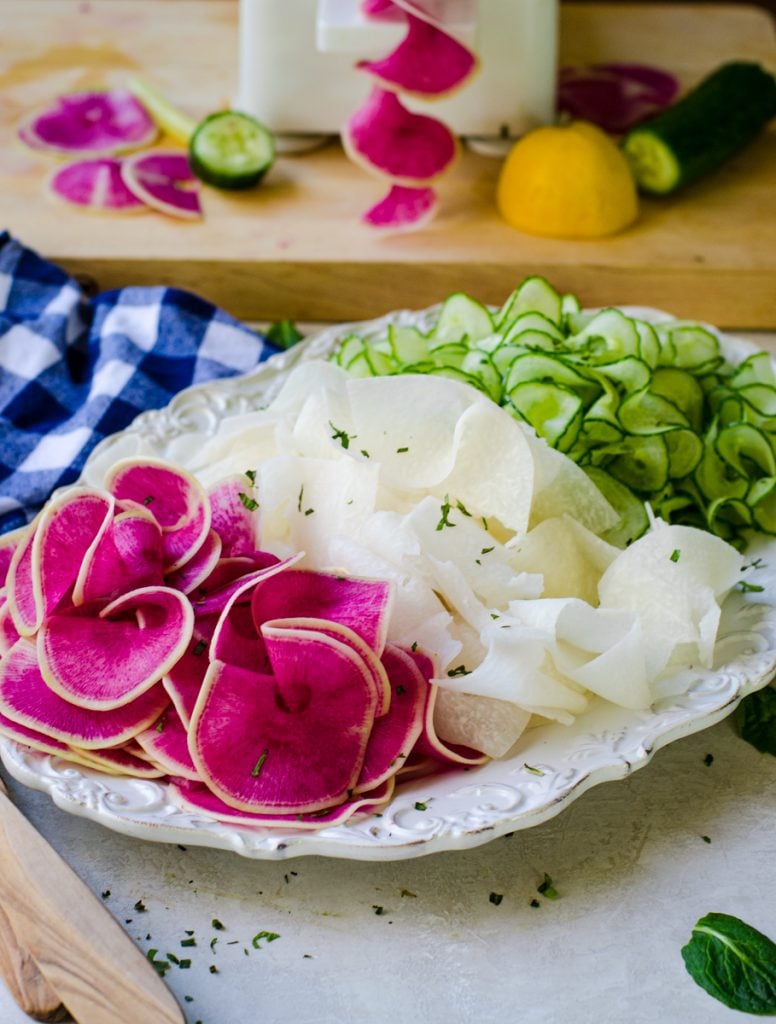 Watermelon Radish Salad Recipe
Similar to the Shaved Carrot & Fennel Salad, this salad is wonderful because it travels well. It's excellent to take to a cookout, on a picnic, or to a potluck. If you want to make this watermelon radish recipe when they are out of season, substitute daikon radishes for a similar flavor.
---
Happy Cooking! 🙂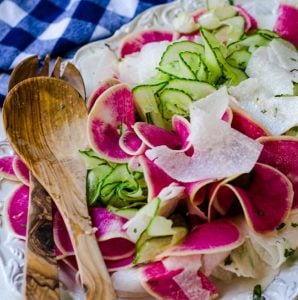 Watermelon Radish Salad with Basil-Mint Vinaigrette
This crunchy and fresh spring salad is light and delicious! Finished with a basil-mint vinaigrette, it's a perfect way to eat a lot of fresh veggies.
Pin it for later?
Ingredients
Salad
1

pound

watermelon radishes,

sliced thin

1

pound

english cucumber,

sliced thin

1

pound

jicama,

sliced thin
Basil + Mint Vinaigrette
¼

cup

rice wine vinegar

1

Tablespoon

lemon juice,

plus more to taste

1

shallot,

minced

1

garlic clove

1

teaspoon

dijon mustard

1

cup

avocado oil*

2

Tablespoons

minced mint leaves

2

Tablespoons

minced basil leaves

salt & pepper to taste
Instructions
In a large bowl, combine the cut radishes, cucumbers, and jicama. Set aside.

In a blender or food processor combine the rice wine vinegar, lemon juice, shallots, garlic, and mustard. Blend on a low setting until smooth. Then, In a slow and steady stream, drizzle the avocado oil in until combined.

Stir the minced basil and mint into the vinaigrette and season with salt and pepper. Right before eating, toss the salad with the vinaigrette and serve.
Notes
You can slice the vegetables thinly using a spiralizer, mandolin, or excellent knife skills.  Whatever works for you.
Leftovers will stay fresh in the refrigerator for up to three days. Anything longer than that and the vegetables start to lose their crunch.  If you haven't yet dressed the salad, you can keep your vinaigrette refrigerated in a separate container for to 2-3 days. It won't necessarily "go bad" in that time, but the herbs in it will start to wilt and be sad.
Nutrition
Serving:
1
serving
|
Calories:
139
kcal
|
Carbohydrates:
20
g
|
Protein:
3
g
|
Fat:
6
g
|
Saturated Fat:
1
g
|
Sodium:
67
mg
|
Potassium:
636
mg
|
Fiber:
8
g
|
Sugar:
7
g
|
Vitamin A:
302
IU
|
Vitamin C:
46
mg
|
Calcium:
66
mg
|
Iron:
2
mg
Tell me how much you love this recipe
and show off how you made it!