When you have leftover turkey, nothing beats making this classic turkey tetrazzini recipe. It's a flavorful baked pasta casserole made with mushrooms, peas, and flavorful cheese.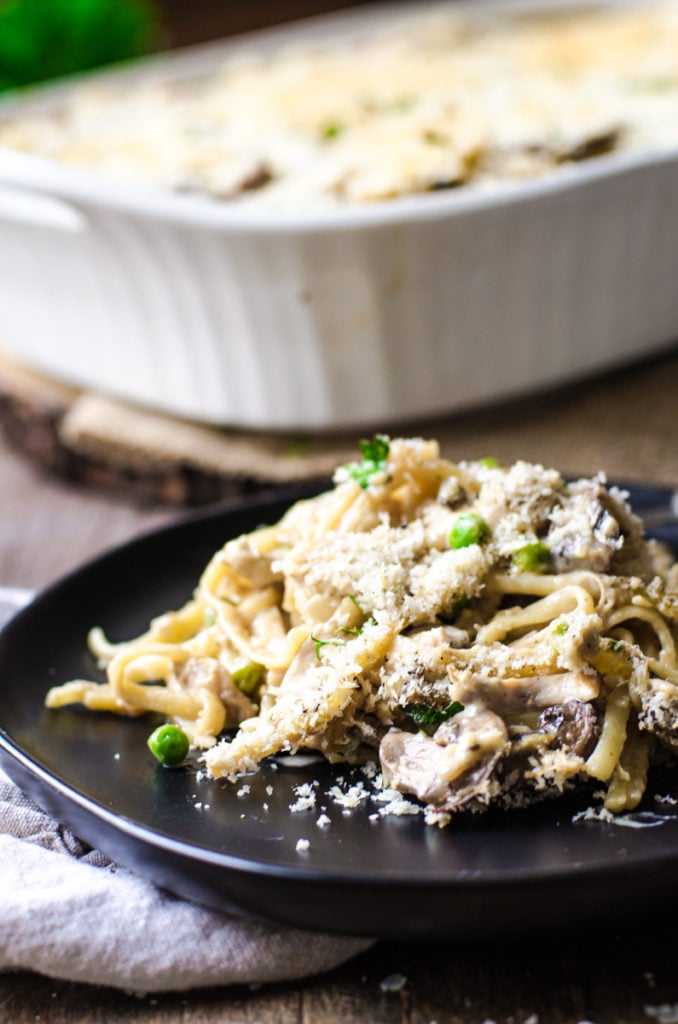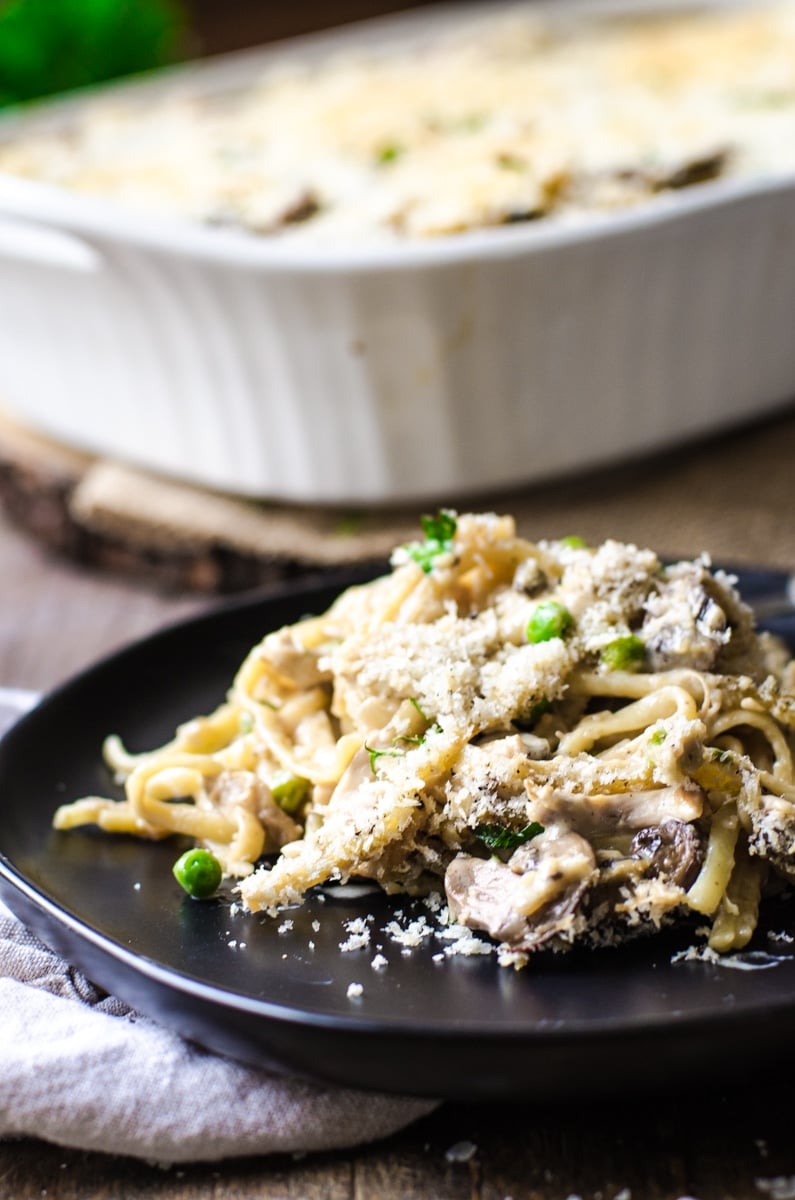 This turkey tetrazzini recipe is a great way to use up leftover dark meat. (Especially if you use my hack for getting it off the bone!) It also makes a very palatable alternative to tuna noodle casserole. It's more upscale, but brings a lot of the same elements into the dish.
What Is Turkey Tetrazzini?
Turkey tetrazzini is a pasta casserole recipe that is made in a pot then transferred to a baking dish. It gets topped with bread crumbs, parmesan cheese, and parsley before baking and serving.
Traditionally, the tetrazzini filling has turkey or chicken, sautéed golden brown mushrooms, peas and cheese in a bechamel sauce. Beyond that, there isn't a universal standard recipe so many elements vary. Some use cream cheese while others cook spaghetti or eggs noodles instead of linguine.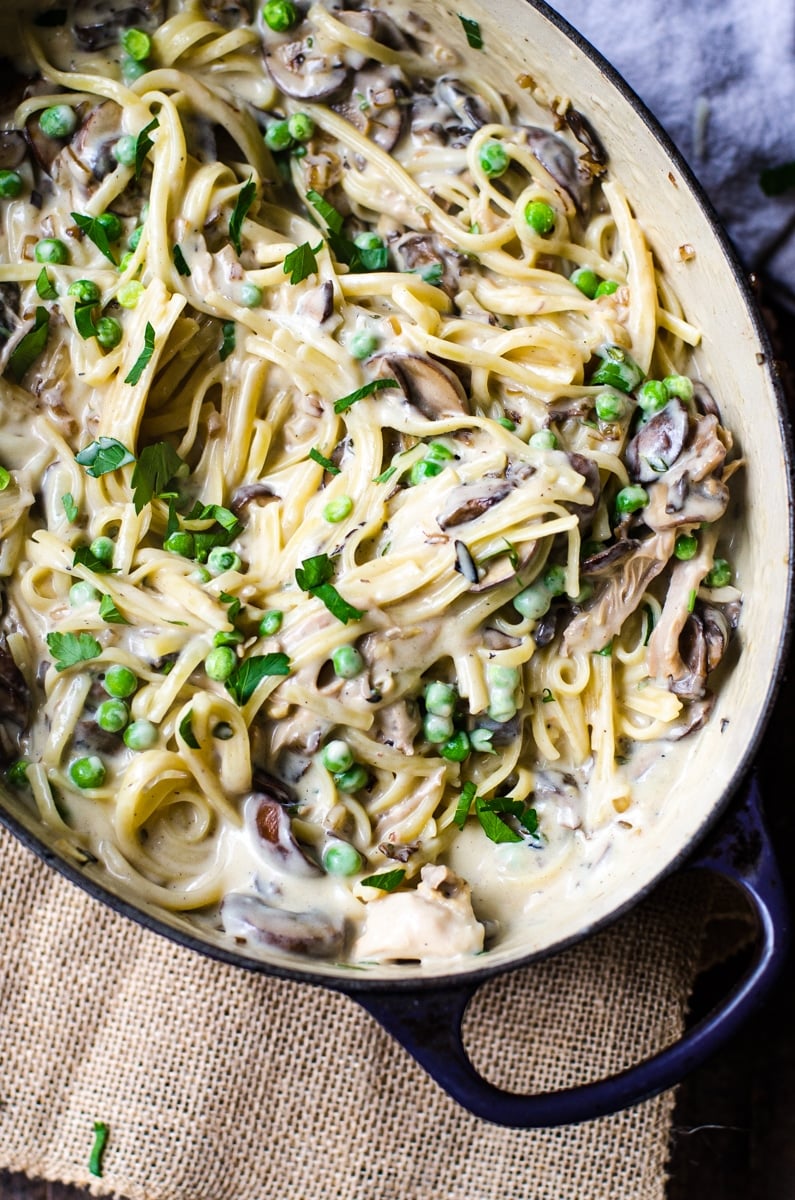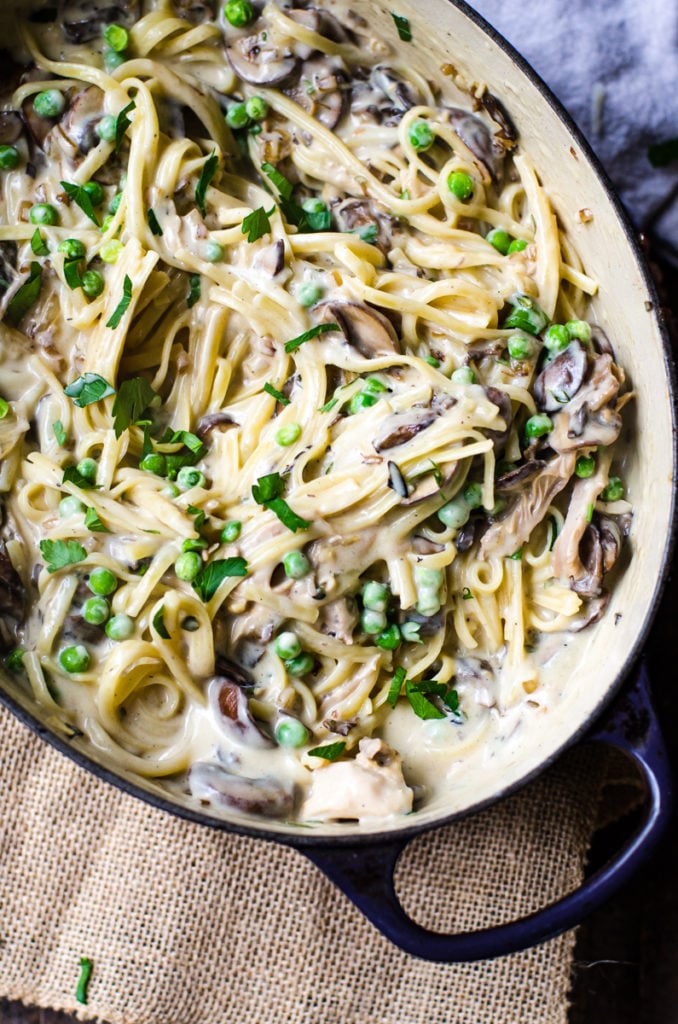 Is It Italian?
We often assume that because a recipe is made of pasta and creamy sauce, it must be Italian. However, turkey tetrazzini was created by the chef at the Palace Hotel in San Francisco, around 1910. He titled it after a long time resident of the hotel, an opera singer named Luisa Tetrazzini. Thus giving it its very Italian sounding name.

How Is It Made?
Turkey tetrazzini is made by first caramelizing mushrooms, shallots, and garlic in butter. After setting it aside, the fond leftover by these ingredients is deglazed with dry sherry. This makes the foundation for the sauce before a light roux of butter and flour gets made. Then the sauce is formed with chicken stock, whole milk and heavy cream.
While the sauce is made, you cook the spaghetti or linguine until not quite al dente. You add the mushrooms, frozen peas and pasta into the sauce and you transfer the mixture into a 9x13 baking dish.
Stir together bread crumbs, parmesan cheese, fresh parsley, salt and pepper. Sprinkle it on top of the turkey casserole and bake at 425 degrees for up to a half an hour.
Why This Recipe Is The Best For Thanksgiving Leftovers
This turkey tetrazzini recipe is ideal for Thanksgiving leftovers because it breaks away from traditional holiday flavors while staying comfort food. Once you have the hang of it, this recipe is easy to make because the sauce doesn't need fervent attention. However, this recipe is completely from scratch and doesn't use aids like cream of mushroom soup or cream cheese.
This also is a great recipe for both leftover dark meat and light meat. This thick, creamy sauce lends moisture that hides if the meat has been overcooked.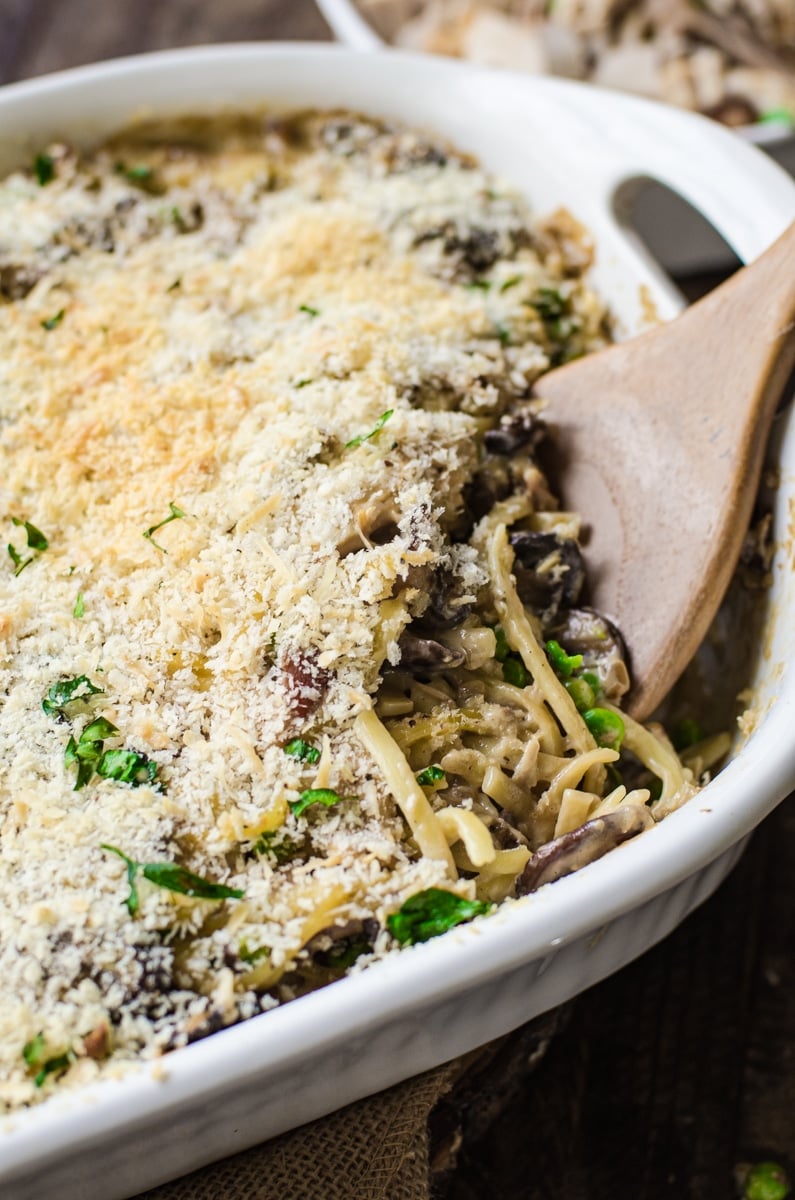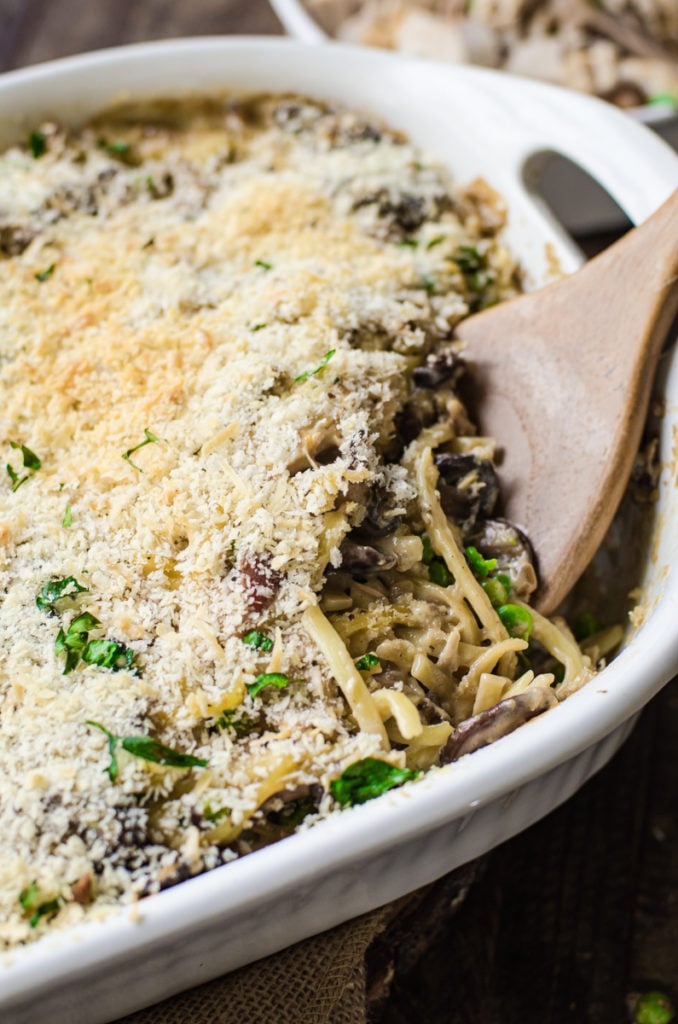 Professional Tips To Make It Even Better
Cook the pasta one minute less than the package recommends for al dente. By the time the pasta casserole is done cooking in the oven, the linguine noodles will be perfectly cooked.
Warm up the chicken broth, heavy cream and whole milk in a pan before adding it to the sauce. Not only does this cut down the cooking time, but it makes the sauce less likely to be grainy or scorch.
The sauce will seem thin when you add in the pasta. It is designed this way so it absorbs a bit of extra while finishing the al dente process for the noodles. If it makes you too nervous, just place the baking dish on a sheet pan before cooking. It will catch any spilled sauce.
Let the turkey tetrazzini rest for the full 10 minutes after removing it from the oven. This gives the sauce time to thicken and become creamy.
How much you brown the mushrooms changes the color of the sauce. If you're looking for a bright white béchamel sauce that looks like Alfredo, only sweat the mushrooms. Mushrooms that are cooked to a beautiful golden brown will leave behind "fond" in the pan. This gets deglazed away with sherry and becomes part of the sauce, making it a darker, warmer brown than Alfredo.
Add in the frozen peas right before baking. This keeps them from getting overcooked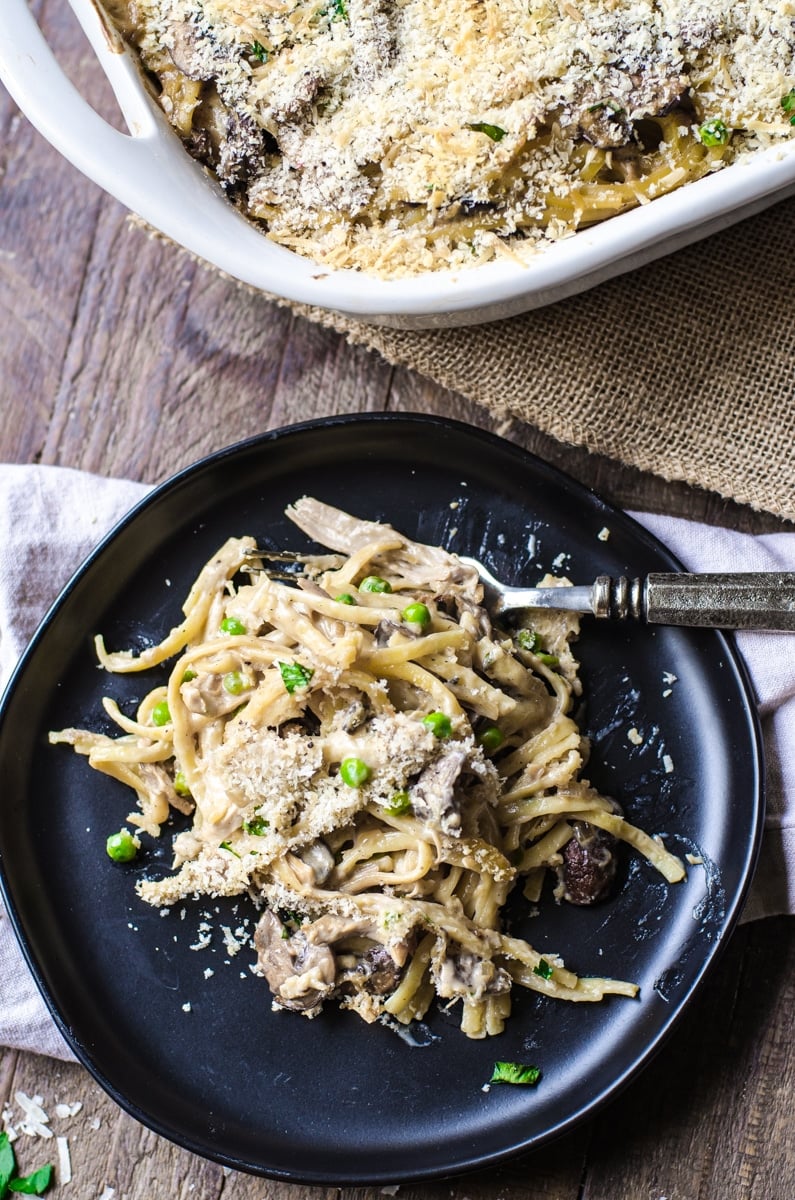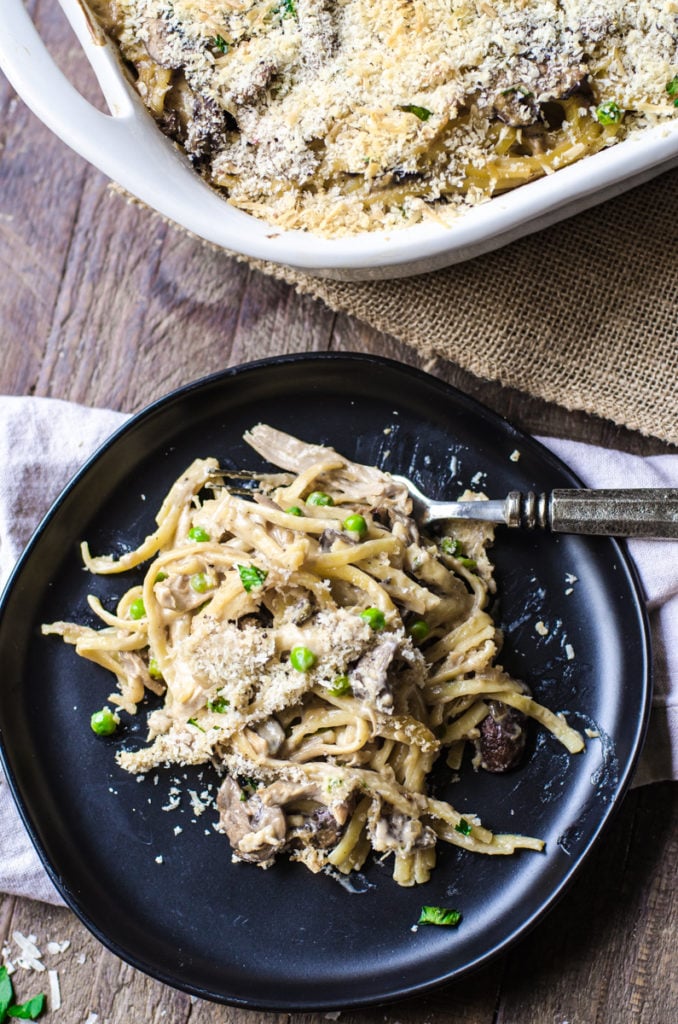 Classic Turkey Tetrazzini Recipe
This recipe uses dry sherry in the preparation as a simple flavor boost. However, sherry isn't always a flavor people love. If you would like to use an alternative ingredient, you can swap it out for double the amount of white wine.
---
Simplify grocery shopping with this printable grocery list for classic turkey tetrazzini. Everything is listed in standard grocery store amounts. If no size is specified, even the smallest package will provide more than enough.

Happy Cooking! 🙂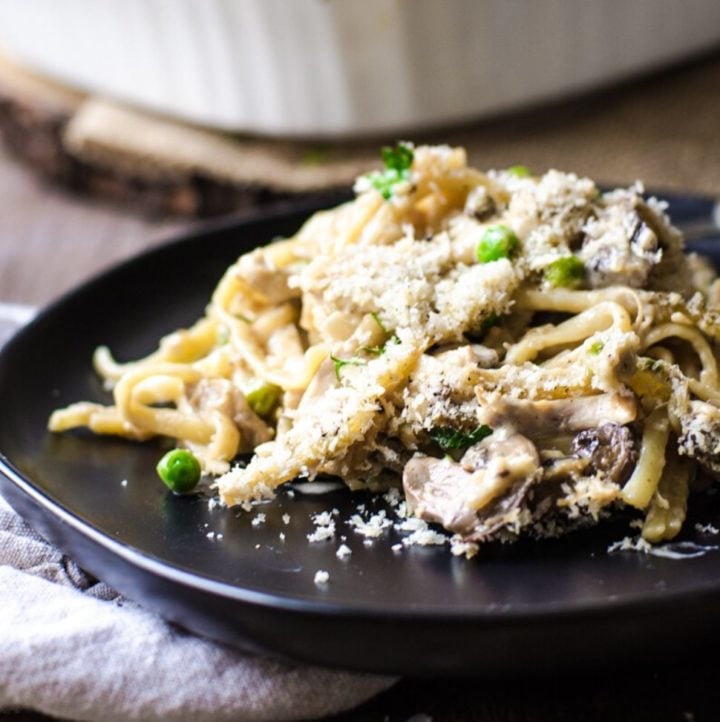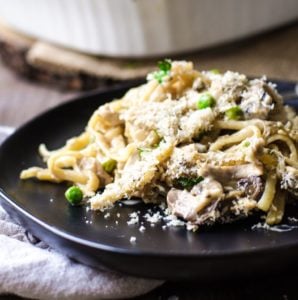 Classic Turkey Tetrazzini with Sherry
This comforting cheesy casserole is a perfect way to use up Thanksgiving leftovers!
Pin it for later?
Ingredients
1

pound

linguine,

broken in half and cooked to one minute less than the package recommends.

4

Tablespoons

butter split in half

1

pound

cremini mushrooms,

sliced

2

large

shallots,

diced

4

garlic cloves,

minced

1

teaspoon

fresh thyme

2

Tablespoons

dry sherry

⅓

cup

flour

4

Tablespoons

butter

2

cups

whole milk

1½

cup

heavy cream

2½

cups

chicken stock,

⅛

teaspoon

grated nutmeg

3

cups

shredded turkey meat

1

cup

parmigiano reggiano cheese

1

cup

frozen peas

¾

cup

panko breadcrumbs

¼

cup

parmesan cheese

3

Tablespoons

butter,

melted

¼

parsley,

chopped

salt and pepper

,

to taste
Instructions
Preheat the oven to 400°F and grease a 9x13" pan with butter, making sure to get the corners and sides.

Bring a large pot of heavily salted water to a boil. Snap the linguine in half and cook one minute less than the package recommends for al dente.  Set aside.

In the bottom of a large heavy bottomed pot, melt the butter and add in the mushrooms.  Cook until a deep golden brown on both sides, stirring occasionally.

Add in another tablespoon of butter and cook the shallots and garlic until they are translucent.  Stir in the fresh thyme and dry sherry and cook for another minute, or until fragrant. Remove from the pan and set aside.

In a small pot, heat the whole milk, heavy cream, and chicken stock to a simmer.  

While this heats, melt 4 more tablespoons of butter in the original pan and stir in the flour.  Cook until the mixture becomes a very light brown and smells toasty. About 2-3 minutes. Add in the ground nutmeg. 

Slowly add the broth mixture into the flour and stir to combine.  Allow the sauce to simmer until the sauce is smooth, slightly thick, and coats the back of a spoon.  About five minutes.  

Stir in the parmigiano reggiano cheese until melted and remove from the heat. Fold in the leftover turkey meat, mushroom mixture, parsley, cooked linguine and frozen peas then transfer to the buttered pan.

Melt one tablespoon of butter and stir it into a small bowl filled with the panko bread crumbs and parmesan cheese.  Season it with salt and pepper, stir in the parsley, then sprinkle it on the tetrazzini.

Bake for 25-30 minutes or until the sauce is bubbling and the breadcrumb mixture is toasted and golden brown.  If the breadcrumbs start to darken too quickly, cover the dish with aluminum foil.  

Remove the dish from the oven and allow to rest for at least five minutes before serving.  This lets the sauce thicken a bit so it isn't runny.  
Notes
To make greasing the 9x13" casserole dish easier, melt one extra tablespoon of butter before browning the mushrooms.  Then use a basting brush spoon to transfer it to the dish.  Use a towel or the brush to move the butter around and completely coat the inside of the dish.
You can skip bringing the stock, milk, and cream to a simmer before adding it, but it may result in a clumpy sauce.  Just make sure to slowly whisk in the liquid constantly.
Nutrition
Serving:
1
serving
|
Calories:
765
kcal
|
Carbohydrates:
64
g
|
Protein:
34
g
|
Fat:
41
g
|
Saturated Fat:
25
g
|
Cholesterol:
157
mg
|
Sodium:
650
mg
|
Potassium:
796
mg
|
Fiber:
4
g
|
Sugar:
9
g
|
Vitamin A:
1524
IU
|
Vitamin C:
9
mg
|
Calcium:
338
mg
|
Iron:
3
mg
Tell me how much you love this recipe
and show off how you made it!