This Rose Curd and White Peach Tart is a beautiful way to enjoy the bounty of spring and summer edible flowers in a beautiful, light, and fresh dessert.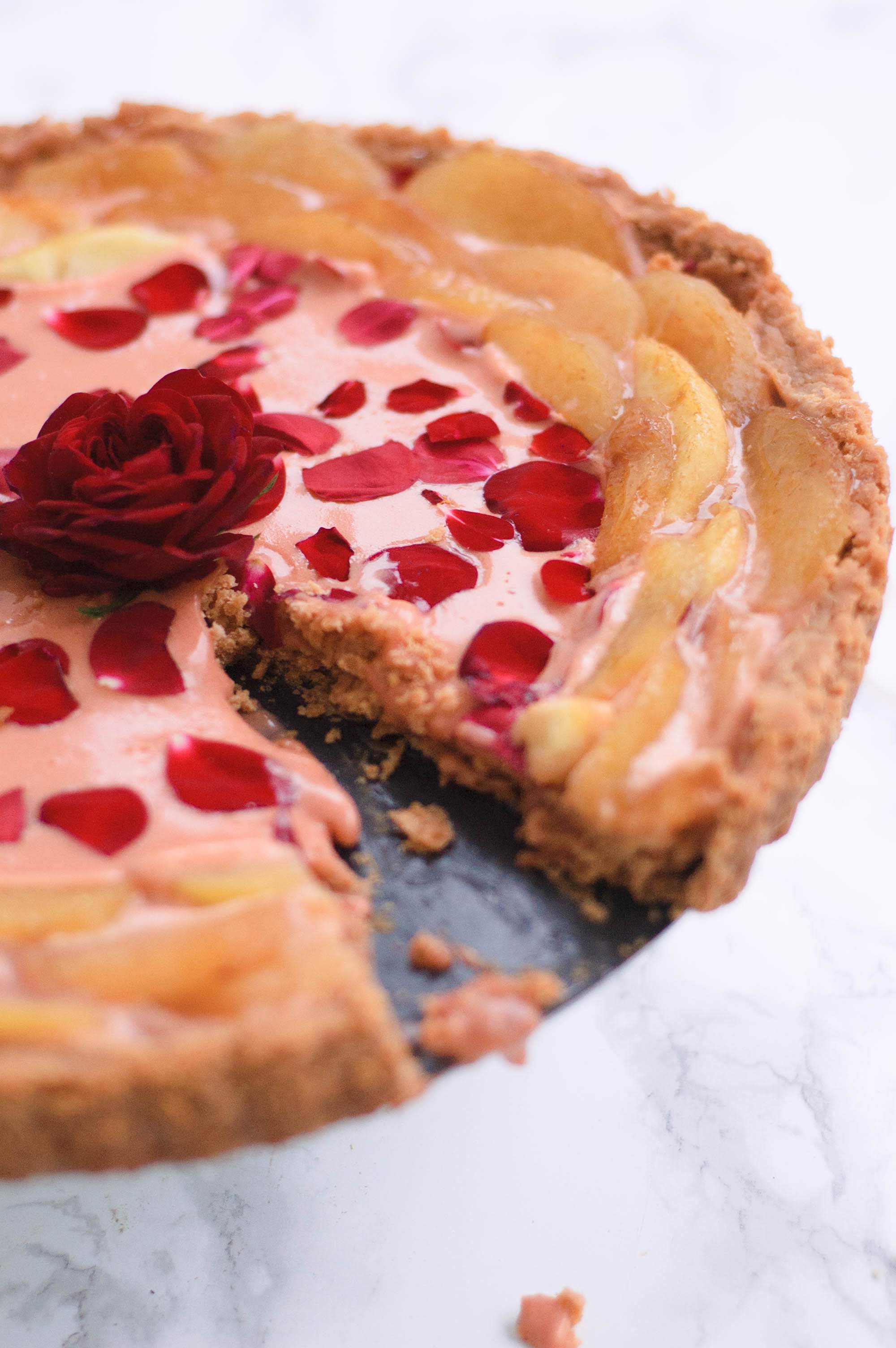 We're halfway through our month of edible flower recipes and today's recipe for Rose Curd and White Peach Tart is fragrant, flavorful, and comes with built-in portion control. "How?" you must be thinking. Well, if you've ever eaten anything that has fresh roses, or rosewater in it, then you know that it's really easy to overdo it, and trust me you'll know if you've overdone it. You'll feel like you've just eaten your grandmothers perfume. Don't worry though, the rose in this tart is lightly muted - just stick with small portions and you'll feel like your young self all day!
Skills & Techniques
If you want to really make this Rose Curd and White Peach Tart amazing, here are some culinary proficiencies I recommend you read up on so that you can prepare you tart to the best of your abilities!
The Creaming Method : We're using a pâte sablée tart crust (which is ultimately a sugar cookie crust) and it gets blended using the creaming method. Make sure you know all the tips and tricks for the best crust ever!
How To Buy & Store Edible Flowers : You don't want those beautiful roses you just got to go bad do you? This article tells you where to buy your roses and how to make sure they stay beautiful for your tart!
How To Blind Bake : Everything you need to know about how to parbake your tart crust to perfection! (coming soon)
Leftovers?
Since this tart comes with built-in portion control, you're probably going to have leftovers of it. I recommend storing it in an airtight container in the refrigerator for up to 3 days. Thankfully, the rose flavor is muted by the cold, but the longer the tart sits, the stronger the rose flavor will naturally get. Plus, white peaches show signs of oxidation after being cut. Some of that oxidation will be staved off by the use of the peach jam, but it won't last forever. Personally, when I store this tart, I cover it tightly with plastic wrap, and then set it in an airtight container just to ensure it lasts as long as possible.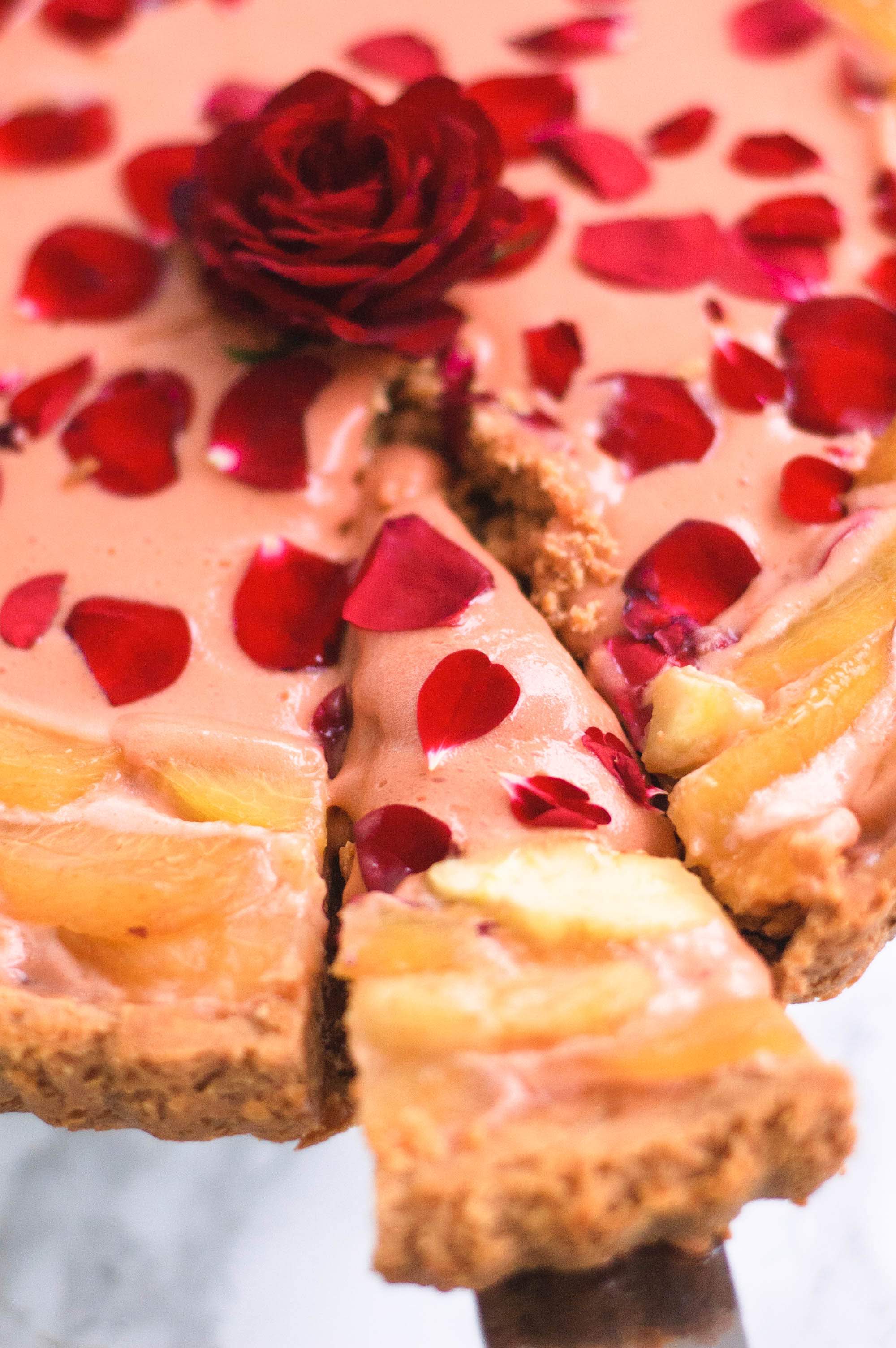 Rose Curd and White Peach Tart
If you haven't taken the time to read the How To Buy & Store Edible Flowers post, please take a moment and go do that. Not every rose is edible, and I would hate for you to get the wrong kind, so go read my tips for how to choose the right flowers and what to avoid!
---
Get your free printable grocery list for this Rose Curd & White Peach Tart recipe HERE.
---
This grocery list has everything that you'll need to make this Rose Curd and White Peach Tart recipe. To help in making grocery shopping simple, each ingredient is listed in easy-to-find grocery store amounts. If there is no amount specified, that means that you can buy the smallest (or largest) container available and still have plenty left over.
Thank you so much for stopping by!
If you would like to try some other edible flowers recipes, here are some I recommend:
Blood Orange & Edible Flowers Pound Cake
Fresh Jasmine & Tahitian Vanilla Cream Scones
Strawberry Lavender Ice Cream
Happy Cooking! 🙂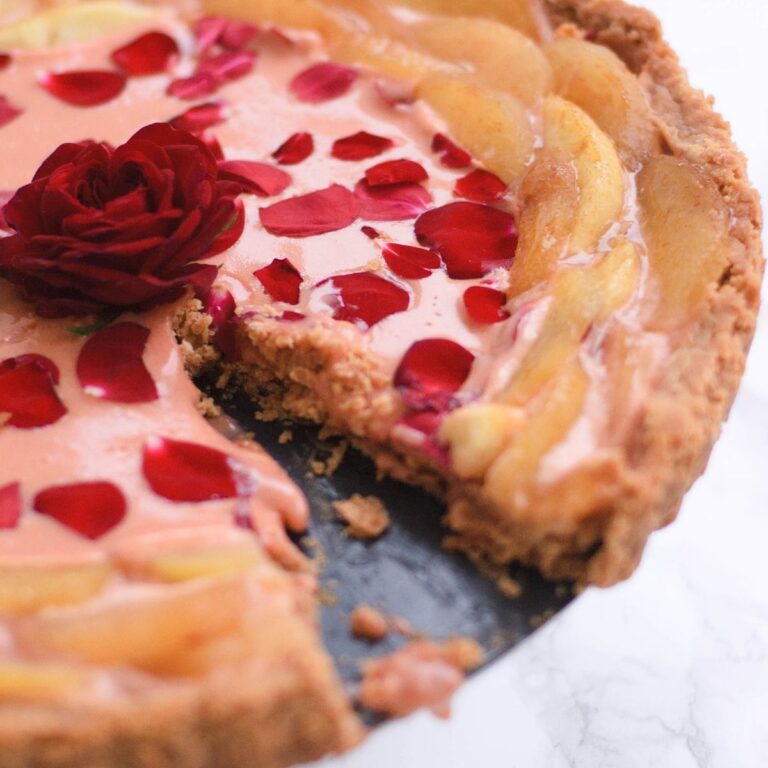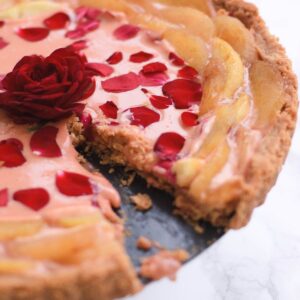 Rose Curd and White Peach Tart
This White Peach & Rose Curd Tart is a delicious tea time treat! With beautiful rose petals, this tart is sure to be a beautiful accompaniment to any event.
Pin it for later?
Ingredients
PÂTE SABLÉE TART CRUST
¾

cup

(3 sticks) unsalted butter

,

, room temperature

½

cup

powdered sugar

1 ½

cups

All-Purpose Flour

¾

teaspoon

salt
Rose Curd
11

egg yolks

½

cup

granulated sugar

1

lemon

,

, zested and juiced

1

stick of butter

,

cut into Tablespoons and kept chilled

5

drops of red food coloring

,

(optional)

½

teaspoon

rosewater
ASSEMBLY
6

white peaches

,

, peeled and sliced

2

tablespoon

peach jam

¼

cup

edible rose petals
Instructions
PÂTE SABLÉE TART CRUST
In the bowl of an electric mixer, use the creaming method to blend together the room temperature butter and powdered sugar at a medium speed until smooth, about

2 Minutes

.

Add in the flour and salt and beat until a dough is made. The dough should be slightly crumble. Try to not overmix.

Press the dough into the bottom and sides of an 11" greased tart pan (there will probably be some leftover) and refrigerate, covered, for

1 Hour

.
ROSE CURD
While your tart crust refrigerates, put 3 inches of water in the bottom of a pot and bring the pot to a simmer.

While the water comes to a simmer, whisk the egg yolks with the sugar, lemon zest, and lemon juice until in a glass bowl large enough to fit on top of your pot. Whisk until the egg yolks are light yellow, about

3 Minutes

.

Place the bowl on top of the pot of simmering water and continue whisking until the egg yolk mixture is thick enough to coat the back of a spoon and leaves a ribbon that takes a couple seconds to sink back in when lifted out of the mixture, about

8 Minutes.

Add in the rose water and the food coloring and continue to whisk another

1 Minute.

Remove the curd from the heat and whisk in, one at a time, the cold tablespoons of butter until all are melted and combined. If your curd cools down too much, you can place it over the heat, but only just long enough to allow your butter to melt.

Remove from the heat, cover the bowl and refrigerate for at least

1 Hour

.
Blind Bake
While your rose curd cools in the fridge, preheat your oven to 350°F

Line your tart shell with parchment paper and fill with pie weights. Bake for

30 Minutes

or until the edges have started to turn golden.

Remove the pie weights and parchment paper and bake for another

15 Minutes

, or until the entire crust is crisp and golden brown. Remove from heat and cool completely.
Assemble
Pour the rose curd into the baked pâte sablée tart crust, cover and refrigerate another

1 Hour

.

Remove the rose curd tart from the fridge and place the slices of white peaches around rim, overlapping slight, to create a flower pattern. Do this for 3 or 5 layers.

Melt the peach jam, let it cool for just a moment, then brush it over the peaches to help keep them looking fresh and prevent oxidation. Scatter the rose petals on the rest of the tart and serve.
Notes
If you don't have pie weights you can substitute them with dry beans.
Nutrition
Serving:
1
slice
|
Calories:
347
kcal
|
Fat:
26.6
g
Tell me how much you love this recipe
and show off how you made it!