This savory roasted cauliflower soup is a gourmet dream. Made with crispy bacon and slowly cooked caramelized onions, this cheesy soup is the ultimate comfort food.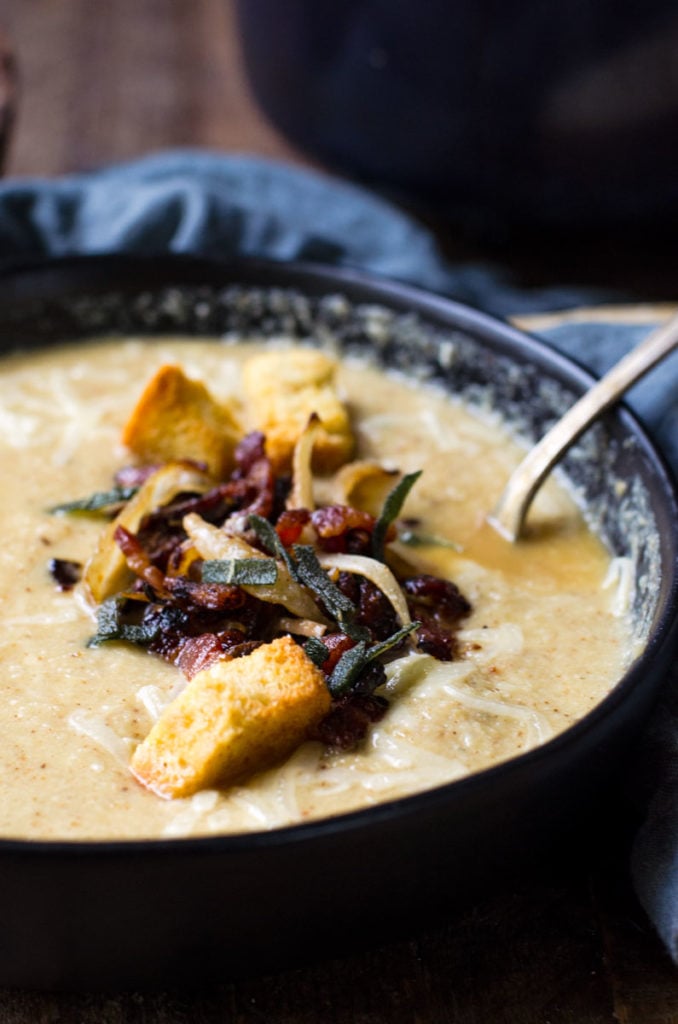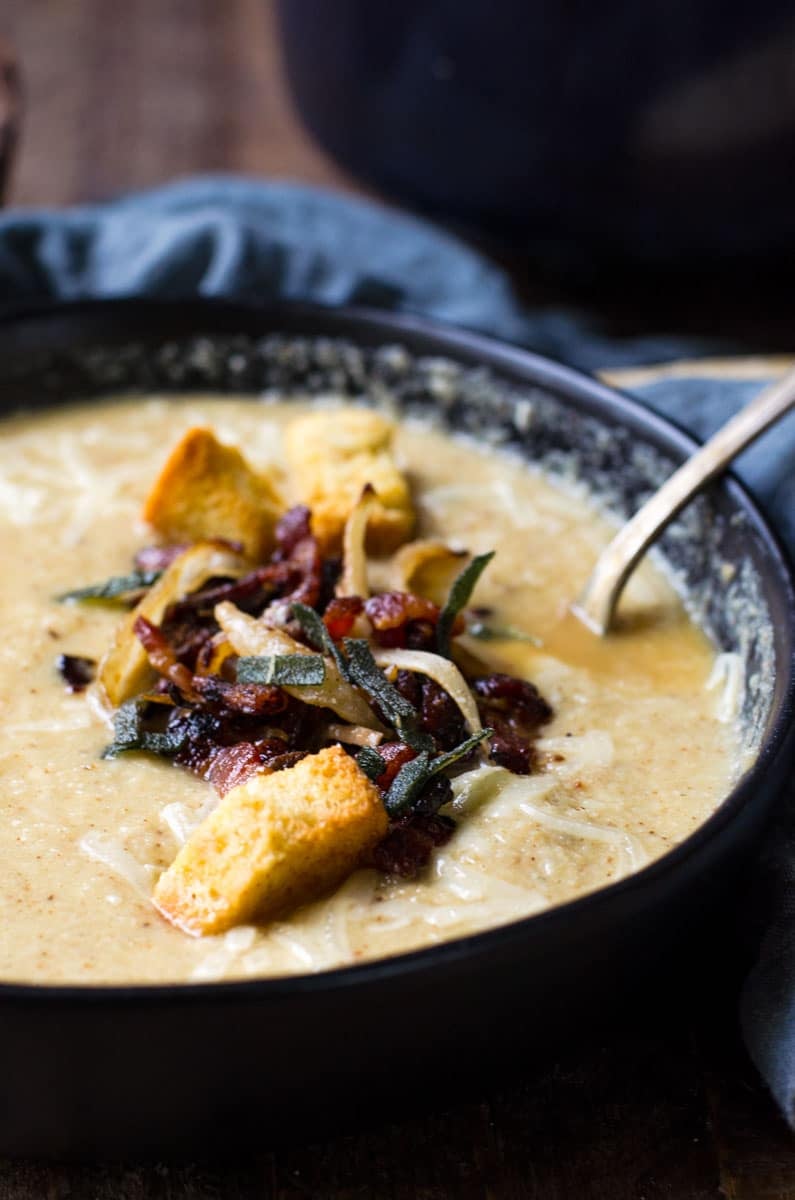 Say goodbye to overly cheesy, humdrum cauliflower soup recipes and fall in love with this one. Roasted cauliflower florets get pureed until smooth and garnished with fried bacon, caramelized onions, and roasted garlic croutons. No longer is this soup simple, now it's gourmet.
How To Roast Cauliflower
Roasting cauliflower is extremely simple, and doesn't have to be reserved for the florets. You can utilize the entire head of cauliflower since it will get pureed. If you have an exceptionally tough head of cauliflower, you can peel the outside to keep it from getting chewy.
To roast cauliflower:
Preheat the oven to 450 degrees.
Cut the head of cauliflower into similar sized pieces. If using the stalk, dispose of the dried end and peel the outside lightly.
Toss the cauliflower with oil or melted butter and place it on a baking sheet. Bake for 25 minutes, or until the cauliflower is tender. Don't go for a super deep golden brown color because the cauliflower will be overcooked and dry by that time. Pay closer attention to the consistency of the cauliflower than the color.
I like to roast my garlic cloves along with the cauliflower. This helps bring a new flavor depth to the soup without extra work.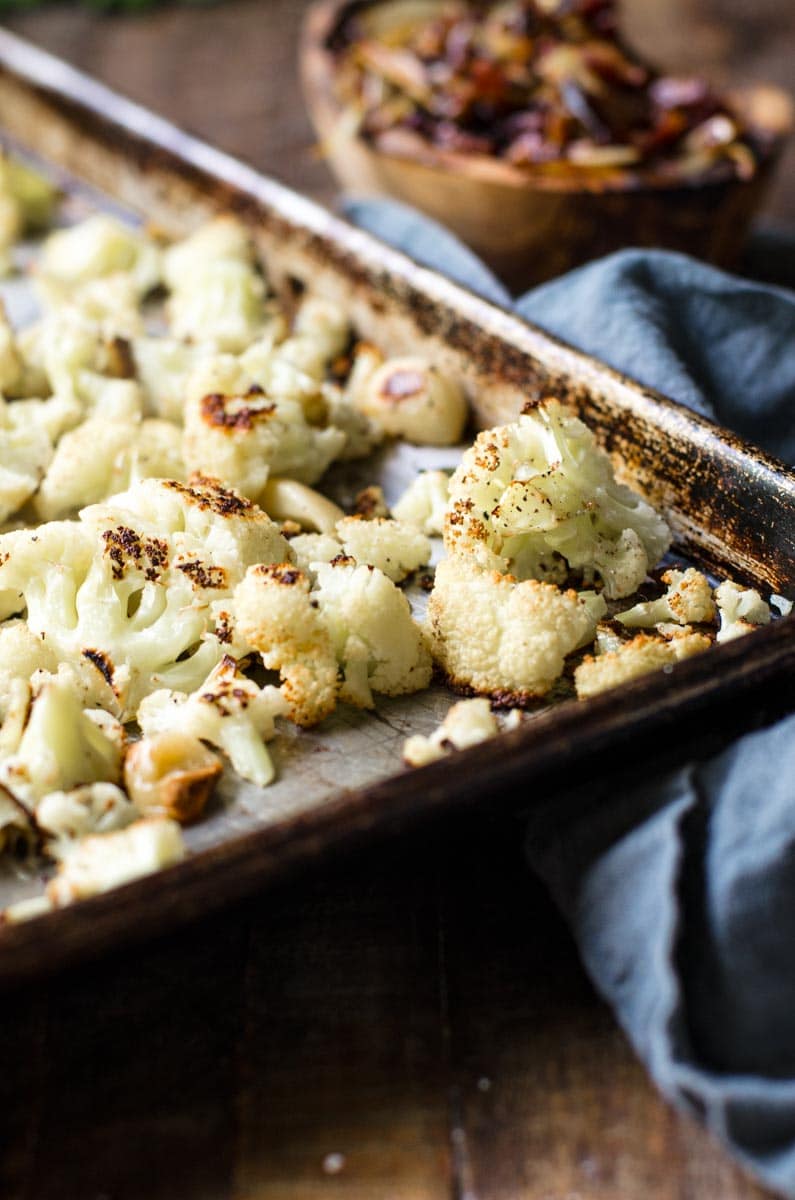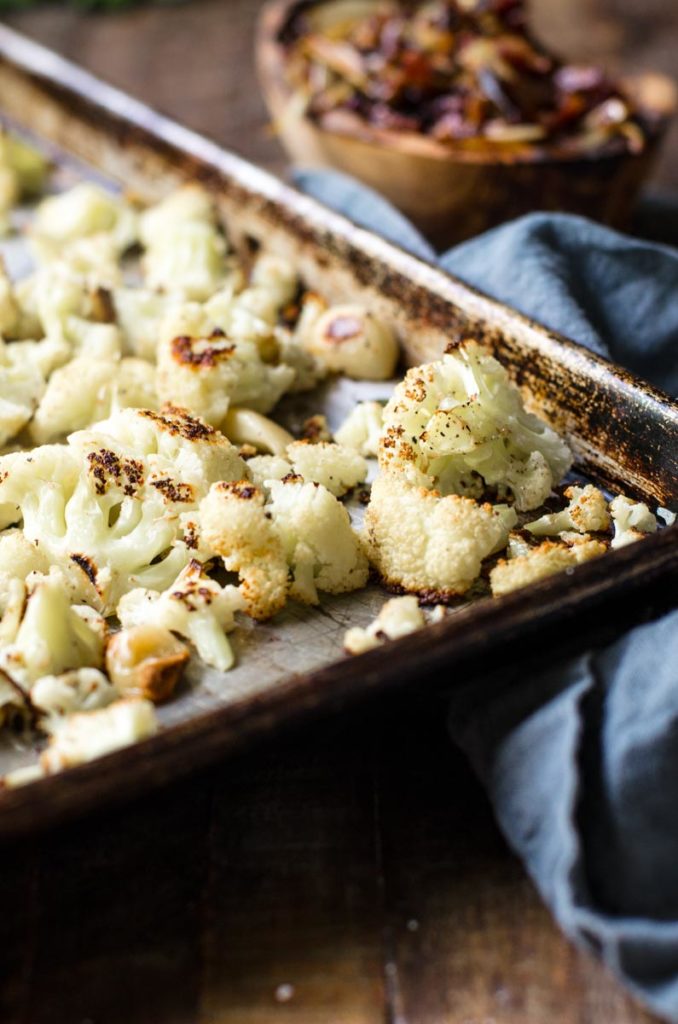 What Is The Best Way To Get A Smooth Soup?
There are three standard options for getting a smooth soup.
My favorite way to purée soup is with an immersion blender. It gives you great control over the soup and doesn't have to be plunged. Simply submerge the blades into the roasted cauliflower and chicken broth until the soup is as smooth as you like. Be careful with an immersion blender though because if it lifts out of the soup just slightly it can spray everywhere.
Second is a standard blender. Just make sure to put the recommended chicken broth in the bottom of the blender before adding the roasted cauliflower. This ensures that the blades continue to run and don't get gummed up with a purée that is too thick. Also, since the ingredients are hot, make sure you leave an opening for steam to release.
If you don't have a blender on hand, you can also use a food processor. The steam will rise out of the opening in the lid for safety, and the blade will get it smooth enough. Just make sure to use all of the chicken broth during blending. This guarantees that the soup is deep enough for the blades to run without getting jammed.

If you choose a standard blender or food processor, make sure to bring the soup to a simmer after puréeing. This reheats it so it isn't cold when you serve it. Since an immersion blender can be used while your soup is simmering, this isn't necessary.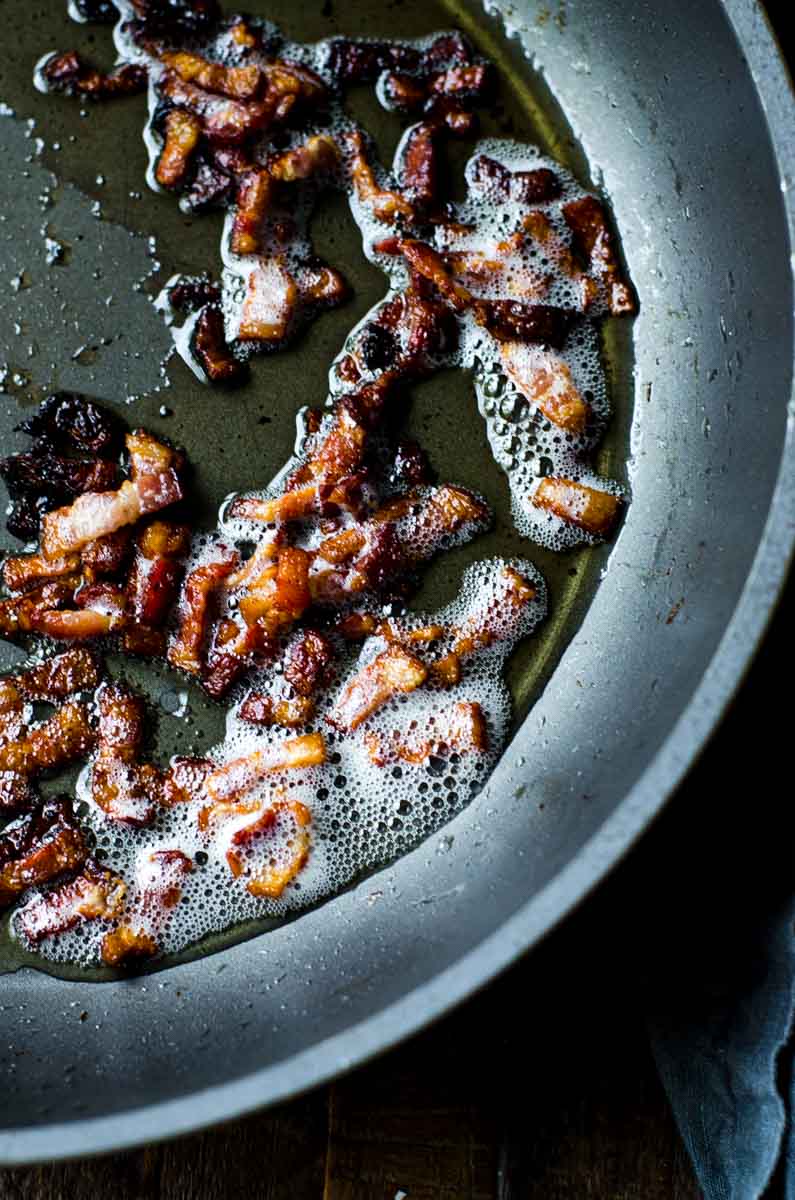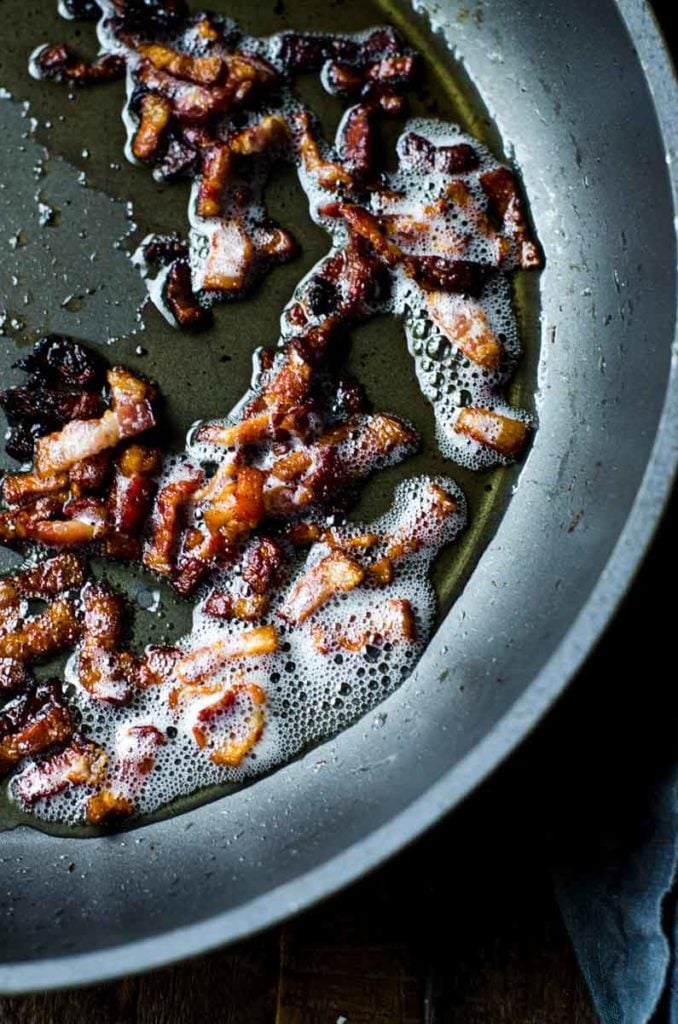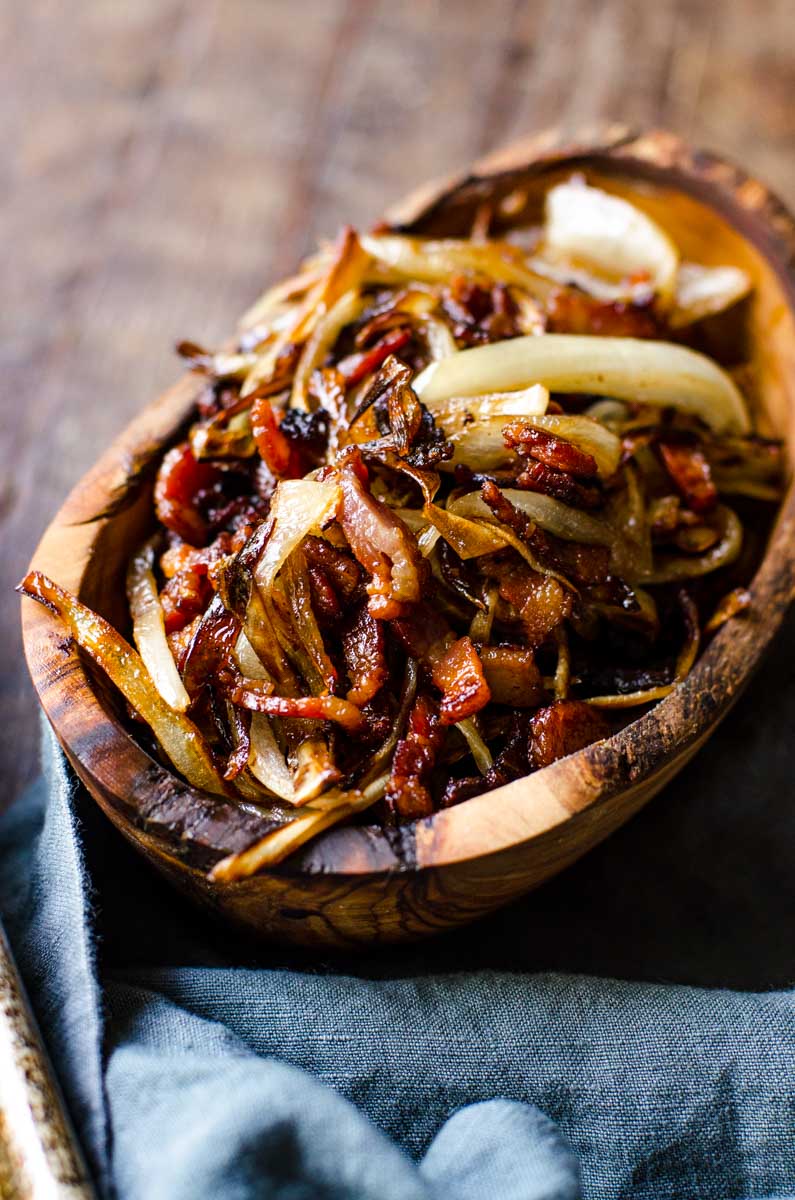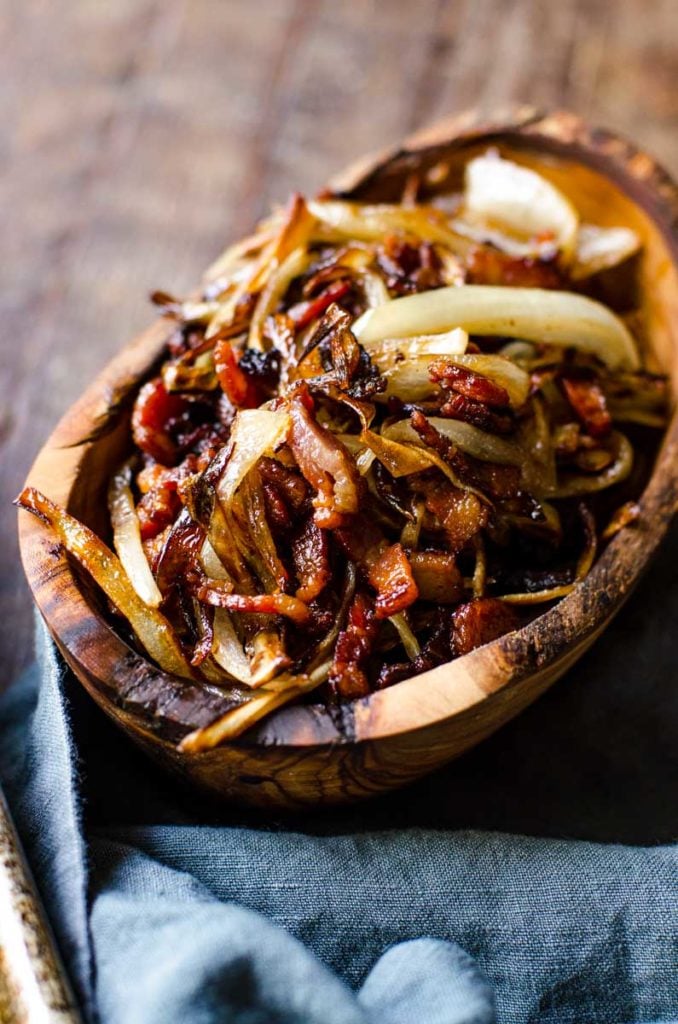 Professional Tips For Making Gourmet Soups
When choosing your bacon, go for a thick cut. Not only are you using the bacon fat for flavor, but the bacon pieces become texture for the soup. You get a better mouthful with thicker bacon. Plus, cooking the onions in the bacon fat ups the flavor.
Take your time making the caramelized onions. If you rush them, you'll get edges that are crispy and centers that aren't caramelized. If you slow down and take your time with the process you'll get beautifully caramelized onions for garnish.
To make this roasted cauliflower soup creamy, add a little bit of heavy cream or coconut milk at the end. Personally, I think there is enough fat in it from the bacon and cheese, so it doesn't need any additionally.
I love that this soup doesn't have any specific seasonal flavors to it, making it enjoyable year round. However, cauliflower soup is often associated with autumn. To add some of that autumnal flavor, reserve a little bit of the bacon fat before cooking the onions. Use it to fry a few tablespoons of fresh whole or sliced sage.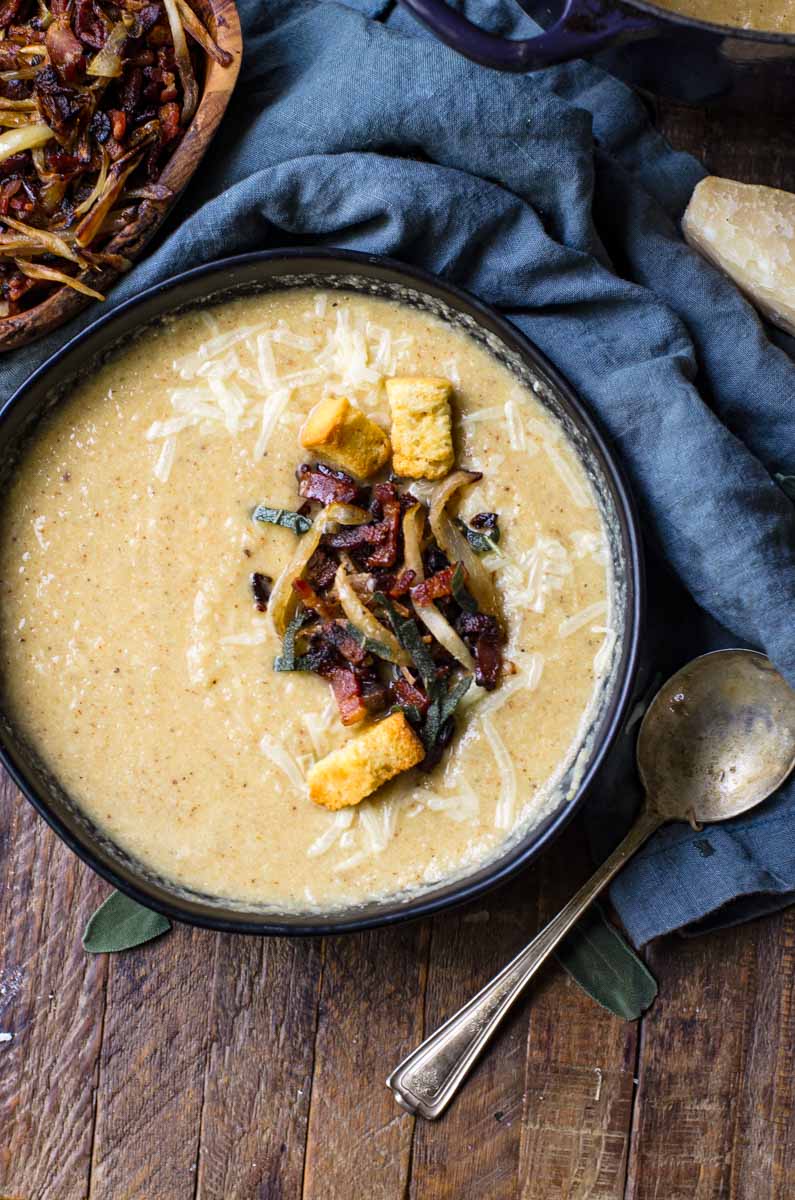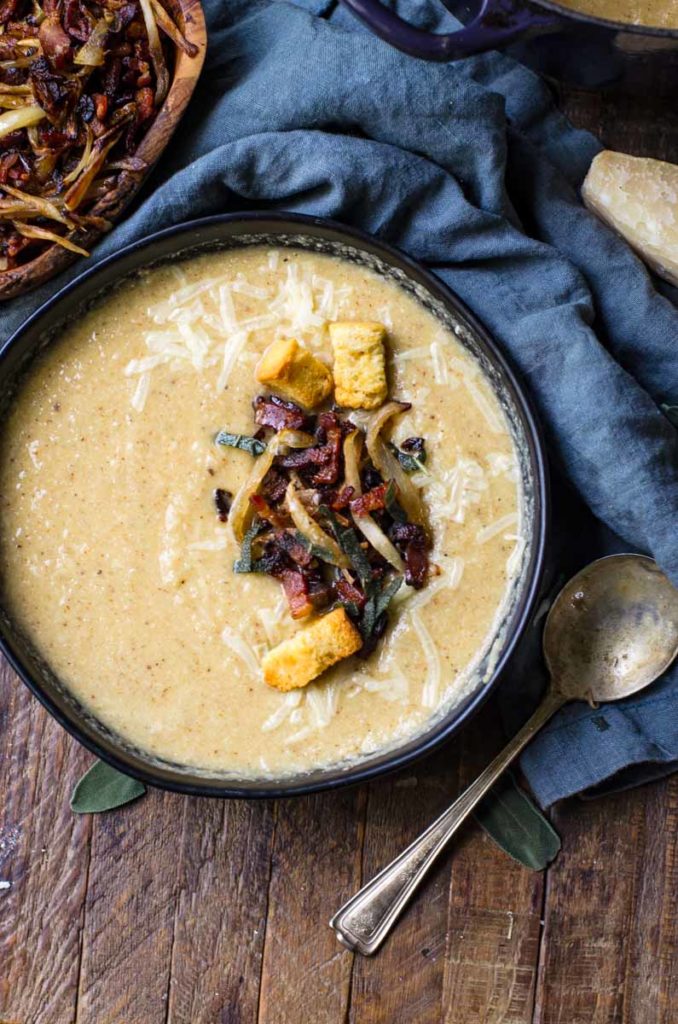 Roasted Cauliflower Soup With Bacon Recipe
I love roasted cauliflower soup, but often get bored with the same heavy flavor profiles. This has quickly become one of our family's favorite soups because it is easy to enjoy year round. It definitely doesn't qualify as healthy, but it is a great recipe that is extremely flavorful.
If you want to add extra texture to the soup reserve a third of the roasted cauliflower florets before puréeing. You can add these back in with the bacon and caramelized onions. You can also forgo the croutons for garlic bread on the side.
---
Use this printable grocery list for roasted cauliflower soup to make grocery shopping easier. Everything is listed in standard grocery store amounts. If no size is specified, even the smallest package will provide more than enough.
Happy Cooking! 🙂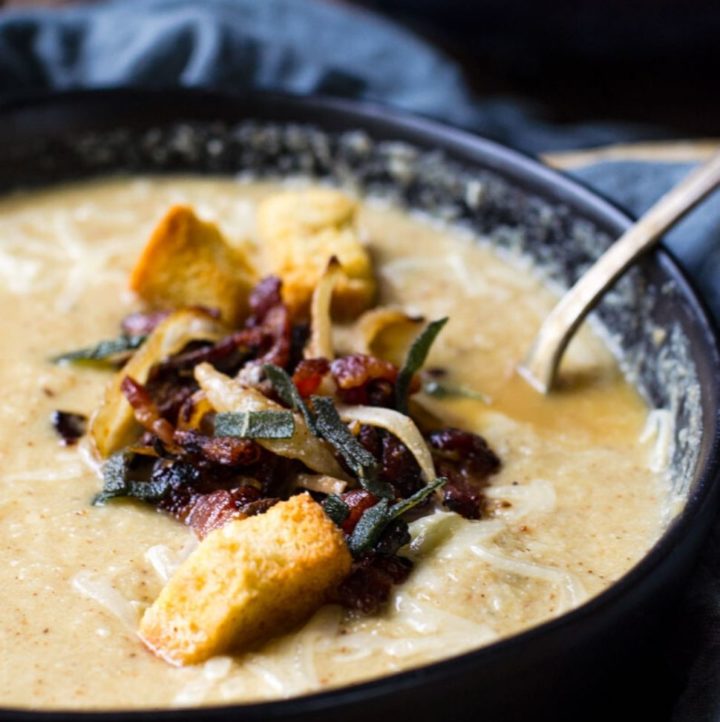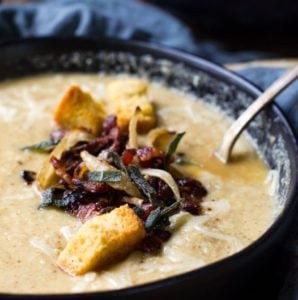 Roasted Cauliflower Soup with Bacon and Caramelized Onions
This savory soup is the ultimate comfort food. Enjoy it in any season for a delicious bowl of your favorite flavors.
Pin it for later?
Ingredients
8

ounces

bacon,

diced

1

large yellow onion,

sliced

2

large heads of cauliflower

1

garlic head
olive oil ,

as needed

salt and pepper

1

quart

chicken stock

1

cup

parmigiano reggiano cheese,

shredded

Optional Garnish:

fresh sage, garlic bread, croutons, extra parmigiano reggiano cheese
Instructions
Preheat the oven to 450 degrees.

Cut the head of cauliflower into similar sized pieces, toss it with the garlic cloves and 1-2 tablespoons of olive oil.  Season with salt and pepper and cook on a baking sheet. About 25 minutes or until the cauliflower is tender.

In a small sauté pan over medium heat, cook bacon until crispy.  Use a slotted spoon to carefully remove the pieces from the bacon grease and set aside for later.

Reduce the heat to low and add the onions to the bacon fat. Cook, stirring occasionally, until the onions are a deep golden brown.  Add olive oil or melt butter if needed. Set aside.

In a heavy bottomed pot, add the roasted cauliflower, garlic cloves and chicken stock.  Bring it to a boil, then reduce to a simmer until the cauliflower is heated through. Purée with a blender or food processor.  Stir in the parmigiano reggiano cheese until melted and season with salt and pepper.

Garnish with the cooked bacon, caramelized onions, optional fried sage, and additional parmigiano reggiano.
Notes
To fry the sage for garnish:

Melt butter in a large sauté pan.  (You can also use bacon fat.) Once the butter is hot and melted, drop in the sage and cook until crispy.  About one minute.

This soup is best served fresh, but it can also be reheated.  It should stay good covered in the refrigerator for up to a week.  

The roasted cauliflower soup freezes really well, but the garnishes don't.  If you want to freeze this soup, make a double or triple batch of the base and freeze for up to six months.  To get the best texture possible, you may choose blend the soup again after reheating to reincorporate all the ingredients.
Nutrition
Serving:
1
serving
|
Calories:
260
kcal
|
Carbohydrates:
15
g
|
Protein:
14
g
|
Fat:
16
g
|
Saturated Fat:
6
g
|
Cholesterol:
31
mg
|
Sodium:
604
mg
|
Potassium:
671
mg
|
Fiber:
3
g
|
Sugar:
7
g
|
Vitamin A:
108
IU
|
Vitamin C:
72
mg
|
Calcium:
193
mg
|
Iron:
1
mg
Tell me how much you love this recipe
and show off how you made it!