Try this easy, buttery stovetop popcorn recipe and you'll never want to buy microwave popcorn again! It's movie theater popcorn quality with REAL butter.
Note: This post was updated on December 24, 2018 with new content and images for your enjoyment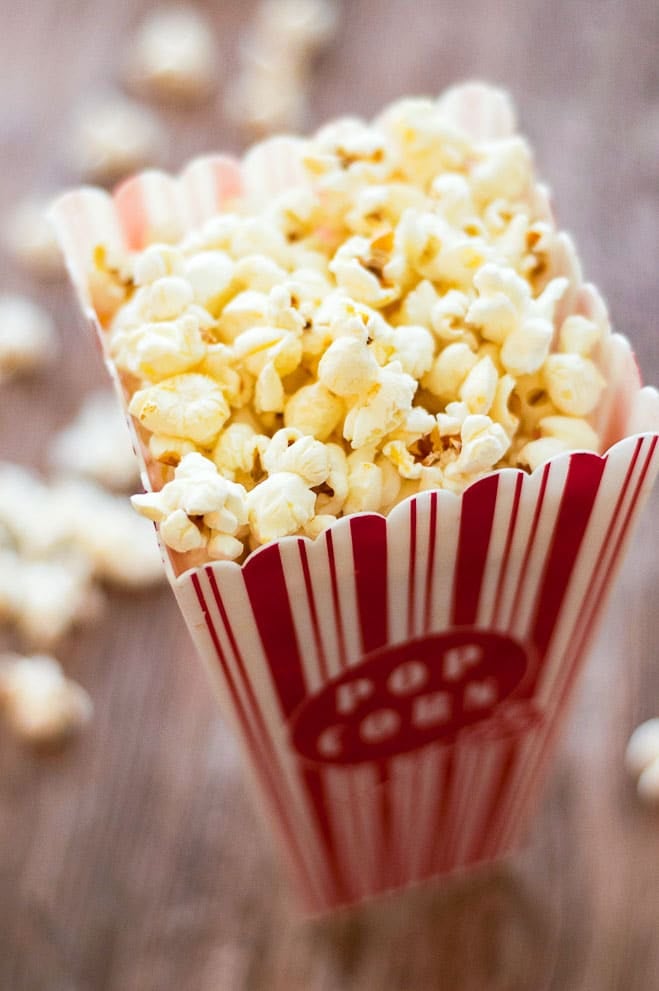 I don't know about you, but movie theater popcorn doesn't taste nearly as good as it smells. When we do go, I immediately regret spending our entire dinner budget on a bag of popcorn. It doesn't live up to my expectation. With this simple stovetop popcorn method, you can get the same quality of hot, buttered, movie theater popcorn at home.
Best Stovetop Popcorn Kernels
Popcorn kernels come in many varieties. Often, the more expensive, higher quality kernels yield fluffier popped popcorn. The popcorn kernels that are stored in bags or boxes will already be slightly stale when you buy them. Instead, try buying popping corn that is stored in airtight jars or containers. This prevents the lackluster flavor and tough, chewy texture that comes with being stale.
---
To make real homemade buttered popcorn, don't use the
buttered flavored oil
sold at the stores. Use real, fresh butter to make
clarified butter
.
---
Personally, I really like Sunset Fire kernels. They're a little earthier in flavor. Each variety will pop a little differently, so the popcorn kernel blends can be a bit trickier to pop. Some popping corn may need longer to cook than others, so some of your popped kernels may burn before others pop. Sadly, there isn't a really good way to fix this. You can experiment with different blends for what works best for you.

Can You Make Stovetop Popcorn with Butter?
Yes, you can make stovetop popcorn with butter, but it has to be clarified butter.
When you cook at a high heat, you need a fat that is capable of handling the heat without burning. (This is why you shouldn't use olive oil, either.)  Whole butter is made of about one-third water so it is too dangerous to use. It will pop and splatter during cooking and make your popcorn soggy. Additionally, the milk solids will scorch and burn when they get too hot, thus tainting the flavor.
The way to fix this is to use clarified butter, or pure butterfat. It can be heated to temperatures as high as 480°F, so it is perfect for this stovetop popcorn recipe! Many recipes for movie theater popcorn pour melted butter on the popped kernels at the end. (Just like the movie theater) However, this makes your popcorn soggy. Instead, the trick to homemade buttered popcorn is replacing the oil with butter.
Tips for Making Stovetop Popcorn with Butter
To achieve the best results on today's homemade buttered popcorn make sure to read up on:
How to Make Clarified Butter.

 This one is imperative to your success. Making clarified butter only takes about 15 minutes, and you will be so glad you did it. Plus, you can immediately use the clarified butter for making the stovetop popcorn recipe. You don't have to wait for it to cool.

How To Store Stovetop Popcorn
Unused popcorn kernels should be stored in an airtight container for freshness. They will stay good for up to a three months.
Already popped popcorn will stay fresh in an airtight container for up to five days. If you use a ziplock bag however, it will only stay good for two to three days.
If you want to reheat your homemade buttered popcorn:
Preheat your oven to 225°F.

Line a baking sheet with aluminum foil and spread out your popped kernels in a single layer.

Bake for 4-6 minutes or until the popcorn is warmed, but not burnt.
Nothing is as good as the fresh stovetop popcorn, but reheated leftovers are better than room temperature leftovers.
How To Flavor Stovetop Popcorn
If you are using a dry ingredient to flavor your stovetop popcorn, you can sprinkle it on with the salt. If you are using a fresh ingredient, like garlic, it should be lightly sautéed in the butter before popping. This will bring out its flavor and infuse it into the butter. The exception to this is with a sauce like caramel. Coat the popcorn with it at the end or you'll end up scorching the sauce.
Some great ideas for stovetop popcorn flavors, try
Two cloves of minced garlic

Nutritional yeast

Smoked paprika and garlic powder

Fresh rosemary

Chipotle powder

BBQ rib seasoning

Fresh jalapenos

Brown sugar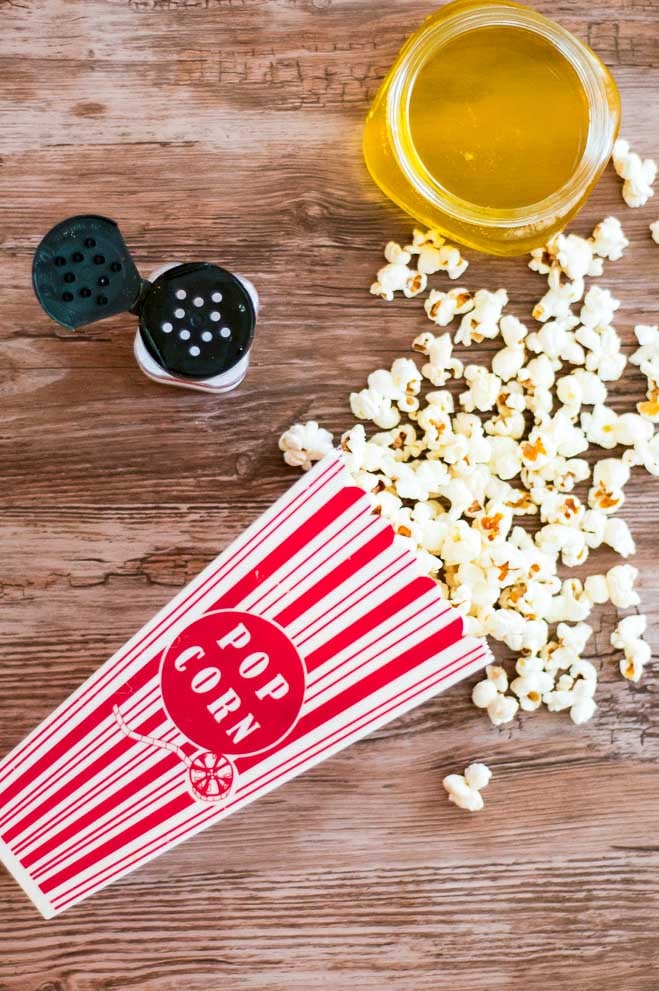 Homemade Buttered Popcorn
If you're looking for a super buttery stovetop popcorn recipe, this isn't it. This recipe give the popcorn the hint of butter. To make this recipe extra buttery like movie theater popcorn, double (or triple) the amount of clarified butter you are using. As the popcorn pops, it will distribute the butter onto the kernels. Just remember, the more butter you use, the greater the chances of it become soggy.
---
Want a free printable grocery list for this stovetop popcorn recipe? Get it
HERE
.
---
Use this grocery list to help simplify shopping. Everything is listed in standard grocery store amounts. If no size is specified, even the smallest package will provide more than enough.
Want some other delicious gourmet movie night recipes? Try these:
Happy Cooking! 🙂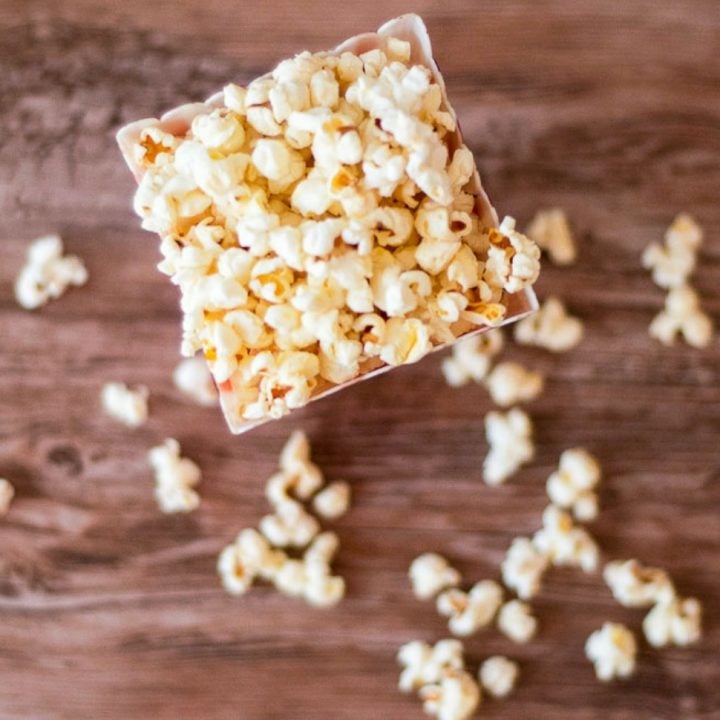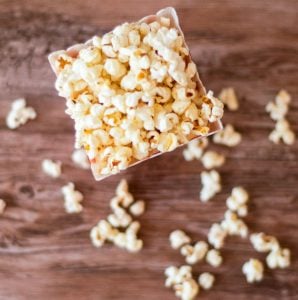 Homemade Buttered Popcorn (that isn't soggy!)
Stop buying microwave popcorn and get your own buttery, movie theater popcorn at home. Once you try stovetop popcorn, you'll never go back!
Pin it for later?
Instructions
Stir together the clarified butter and the popcorn kernels in a four quart (or larger) pot.

Cover the pot with the lid, leaving it slightly cracked for steam to release. Place the pot over medium high heat and cook until the popping has slowed to a couple seconds between pops. Remove from the heat and shake the pot to help encourage the last of the popcorn kernels to pop.

Pour into a bowl, add popcorn salt to taste, and serve hot.
Notes
For a stronger butter flavor, add additional clarified butter at the beginning of cooking. 
Nutrition
Serving:
1
cup
|
Calories:
74
kcal
|
Carbohydrates:
5
g
|
Fat:
5
g
|
Saturated Fat:
3
g
|
Cholesterol:
14
mg
|
Potassium:
18
mg
|
Iron:
0.2
mg
Tell me how much you love this recipe
and show off how you made it!