Make this hot caramelized onion dip for your next party, festive holiday gathering, or New Year's party. The sweetness of the golden brown caramelized onions balances the white wine and brie cheese in this easy appetizer.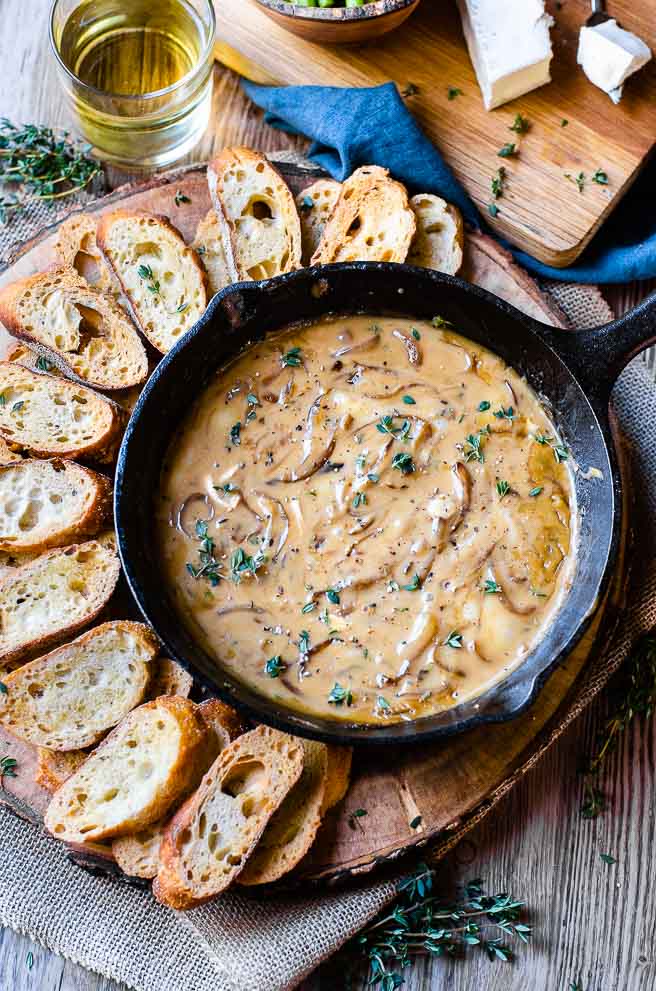 If you're hosting a party soon, then you absolutely need to make this hot caramelized onion dip! It only has a few ingredients, and the flavors are gourmet and festive.
Choosing The Right Brie Cheese
Brie is a soft French cheese that is made from cow's milk. Unlike other types of cheese, the rind of this creamy and soft cheese can be eaten. However, since the rind of brie cheese can't melt, you need to remove it before making this hot caramelized onion dip.
Brie is typically sold in varying sized wheels, or large wedges. I recommend buying wedges for this recipe because it is easier to remove the rind. There are also different "quality" levels to brie. The best is considered to be triple creme, but any level will work for this recipe.
---
Tip: Some brie cheese is formed in wedges instead of wheels. To make it easier to remove the rind, get a wedge that is
cut
from a wheel, not formed in a wedge.
---
If you have leftover brie cheese, store it tightly sealed with plastic wrap in your refrigerator. It will stay fresh this way until the "best by" listed on the package.
Tips For Making a Perfect Caramelized Onion Dip
This is an excellent recipe for beginners or professionals alike. It tastes extremely gourmet, but only really requires the patience of letting the onions caramelize to a deep golden brown. Read up on some of these topics to make sure this easy caramelized onion dip recipe is the hit of the party.
How To Make Perfect Caramelized Onions.

Since this is the staple ingredient in this dip, I absolutely recommend reading this. It gives all the details about how to make your caramelized onions for this dip so that they are flavorful but not soggy.

Buying and Storing Fresh Herbs

. To add a flavorful pop, this recipe uses fresh thyme. Learn what to look for at the store, as well as how to keep it fresh once you get home.

Blanching and Shocking.

This is the best way to get beautiful color and flavor out of the vegetables you are serving with this brie and caramelized onion dip.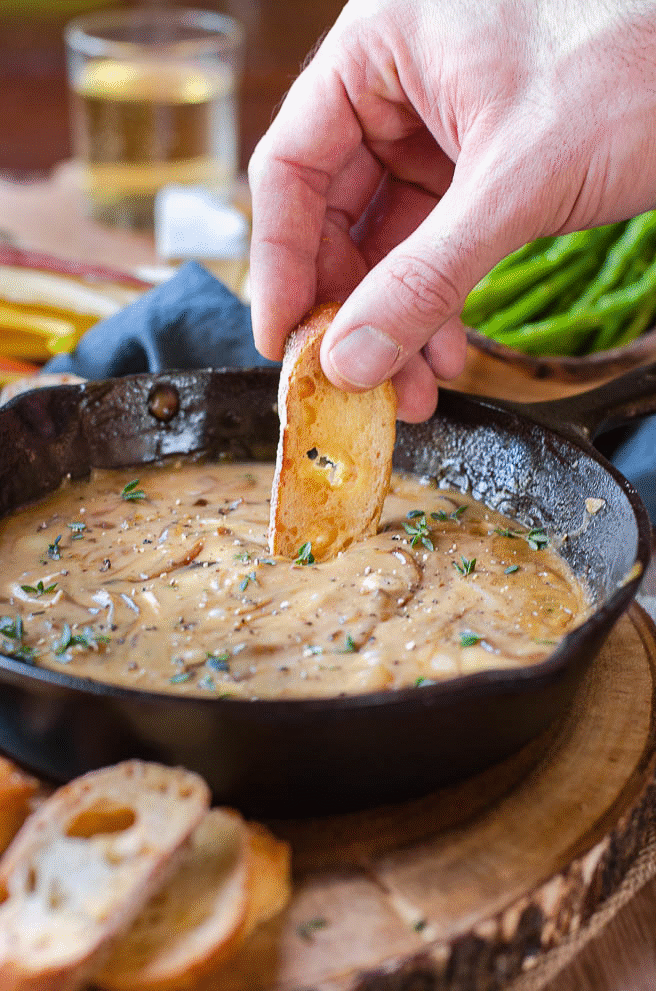 What To Serve with This Hot Caramelized Onion Dip
One of my favorite things about this easy caramelized onion dip recipe is that it works well with many of the things you have in the kitchen. It also makes it wonderful as a year round appetizer, not just for the holidays. Some of my favorite things are:
Granny Smith Apples

Toasted Baguette Slices

Crudité Vegetables (broccoli, cauliflower, carrots, etc…)

Pita Chips

Fresh Asparagus

Bacon Chips
As long as what you're serving this caramelized onion dip with isn't overpowering, it will most likely pair well.
If you want to serve this caramelized onion dip with wine, I recommend a good dry white. Sauvignon Blanc, Muscadet, and Chardonnay will work very well.
How To Make This Caramelized Onion Dip Recipe without Cast Iron
For this caramelized onion dip recipe I recommend using a cast iron pan. You can cook the onions directly in it, so you don't make unnecessary dishes. The cast iron will also retain heat and keep your brie melted much longer. If you don't have a small cast iron pan to use, don't worry. Any oven safe dish will work. Here are a few tips to help.
Preheat your oven to 350°F.

After your caramelized onions have finished cooking, deglaze the pan with the white wine. Stir in any stuck-on bits from the bottom of the pan.

Transfer the onions to an oven-safe dish and stir in the thyme and brie cheese. The brie may not melt completely.

Place the dish of caramelized onion dip into the oven and heat for five minutes, or until the brie has completely melted. Remove from the oven, stir, and serve immediately.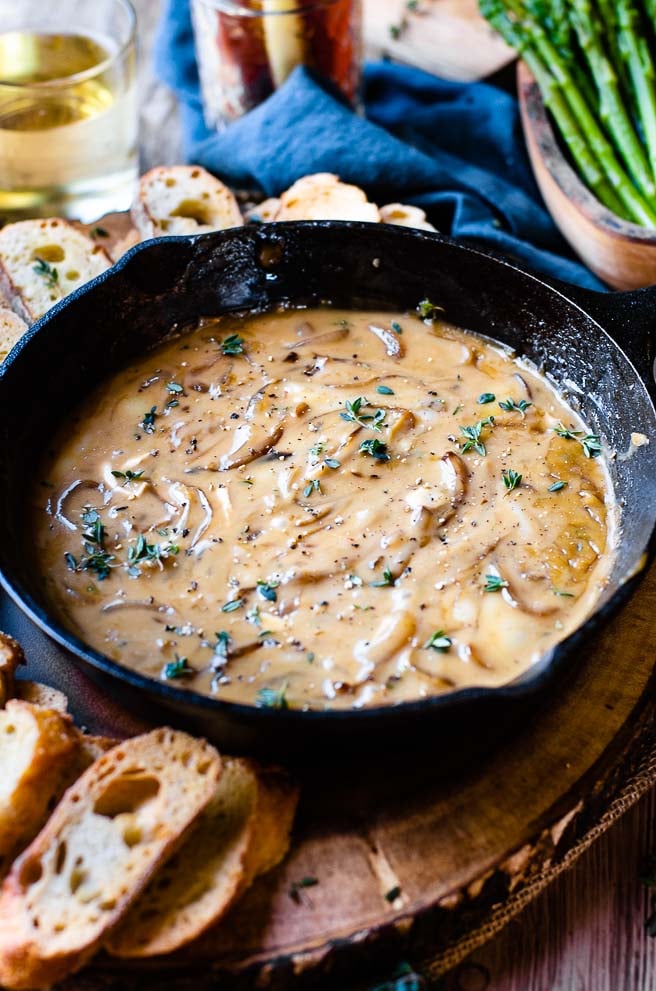 How To Make This Hot Caramelized Onion Dip
If your caramelized onion dip starts to cool down, you can reheat it a 350°F oven. It should only take about five minutes for it to melt back to its former glory. Also, if you want even more delicious caramelized onion dip to enjoy, this recipe can be doubled and still fit in the pan!
---
Want a free printable grocery list for this easy caramelized onion dip recipe? Get it HERE.
---
Use this grocery list to help simplify shopping. Everything is listed in standard grocery store amounts. If no size is specified, even the smallest package will provide more than enough.
Happy Cooking! 🙂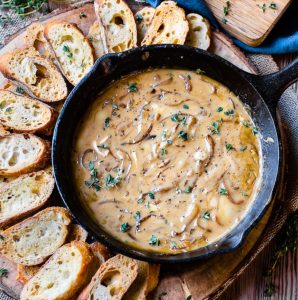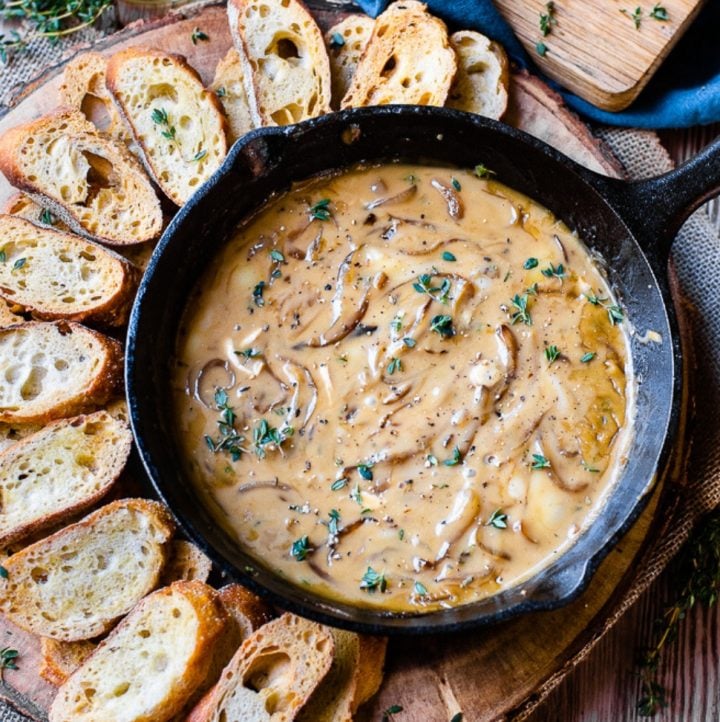 Brie and Caramelized Onion Dip
Enjoy this nuanced but flavorful homemade onion dip at your next party. It is simple to prepare, requires only a few ingredients, and eaten within minutes!
Pin it for later?
Ingredients
1

yellow onion

,

sliced thinly

2

Tablespoons

olive oil

14

ounces

french brie cheese

,

rind removed and cut into small chunks

¼

cup

white wine

3

Tablespoons

fresh thyme

,

stems removed

salt and pepper

,

to taste
Instructions
Heat the olive oil in an eight inch cast iron skillet over medium heat. Add the onions and reduce the heat to low. Allow the onions to caramelize slowly, stirring occasionally, every five to ten minutes. They are done when they are a deep golden brown. About 45 minutes.

Once the onions are caramelized to your desire (around 30 minutes) deglaze the pan with the white wine. Scrape up any stuck-on bits of caramelization and stir it into the onions.

Turn off the heat and stir in the brie cheese until it is melted. Season with salt and pepper and sprinkle the fresh thyme on top. Serve the hot caramelized onion dip with your favorite breads, chips, fruits, and vegetables.
Nutrition
Serving:
8
g
|
Calories:
210
kcal
|
Carbohydrates:
2
g
|
Protein:
10
g
|
Fat:
17
g
|
Saturated Fat:
9
g
|
Cholesterol:
49
mg
|
Sodium:
313
mg
|
Potassium:
116
mg
|
Vitamin A:
420
IU
|
Vitamin C:
5.2
mg
|
Calcium:
105
mg
|
Iron:
0.7
mg
Tell me how much you love this recipe
and show off how you made it!