With only four ingredients, these simple no bake truffles made with Biscoff cookies are delightfully decadent and so easy to make! Serve them up at your next get together for a dessert that is impossible to turn down!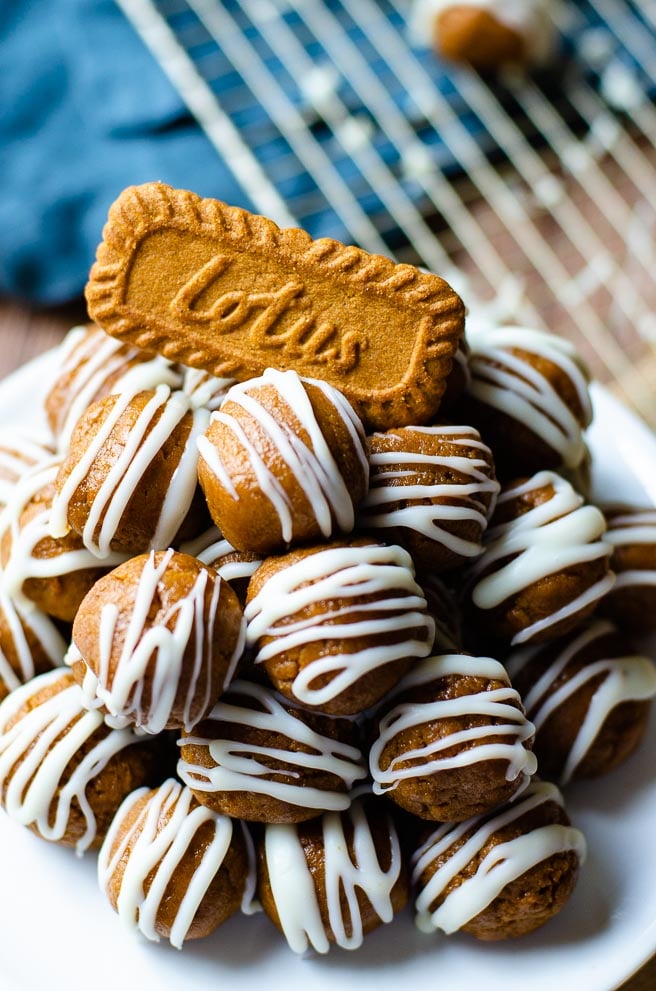 If you've ever flown on Delta airlines, then you're probably familiar with Biscoff cookies already. They are the delectably crunchy little cookies that are served as the in-flight snack. (They also pair perfectly with a cup of coffee.) Travelers fell in love with them so much that they are now available in grocery stores. Use a sleeve of these flavorful cookies to create this simple no bake truffle recipe and give yourself the timeout that you deserve!
Biscoff Cookie Truffles Are the New Oreo Truffles
If you've tried Oreo truffles before, then you're familiar with this type of dessert. The Biscoff cookies are pulverized into crumbs before creating cookie balls with softened cream cheese. Finished with a drizzle of white chocolate for additional decadence, these are the new Oreo truffle alternative.
Because Biscoff cookies are so beloved, these little cookie balls are great for any occasion. The unique flavor profile of them is reminiscent of winter so they are exceptionally treasured at a Thanksgiving or Christmas get-together.
What Do Biscoff Cookies Tastes Like?
If you've never tried Biscoff cookies before, know that they pack a lot of flavor for being such a thin, wafer-like cookie. Similar to a gingersnap, they have a rich caramel flavor with a strong cinnamon kick.
Really, they just taste like Christmas.
Once you add in the slight tang of the cream cheese plus the sensuous and sweet white chocolate, they transform into little truffles of delight. Take your time eating these so you can enjoy them to the fullest.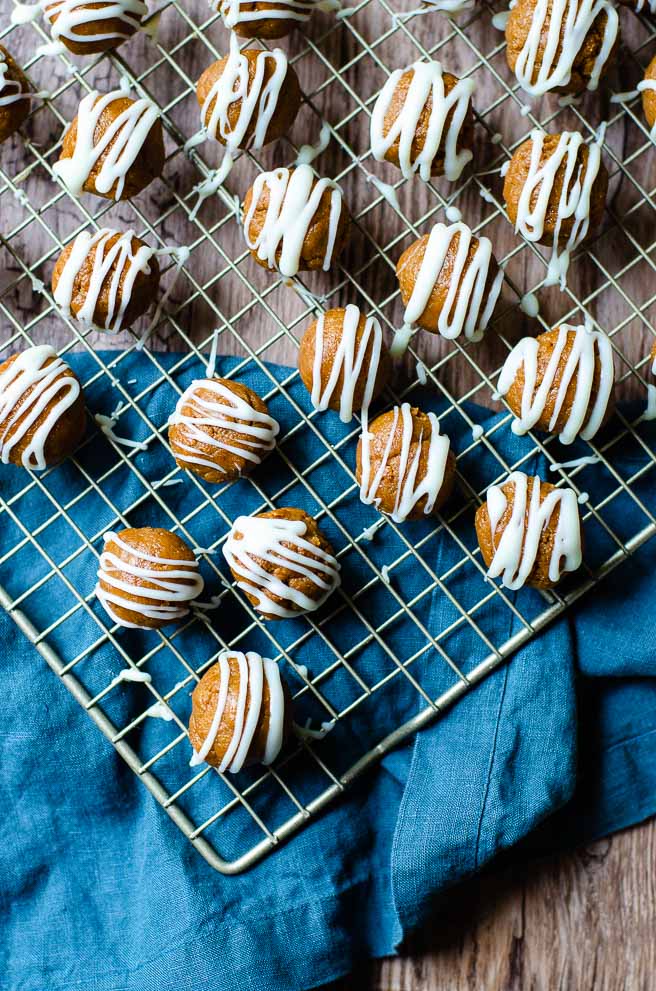 Can I Use Speculoos Cookie Butter Instead Of Whole Biscoff Cookies?
Yes, if you want to use speculoos cookie spread instead of the Biscoff cookies, you absolutely can. However, because of the consistency of the spread, the truffles either need to be baked or have a multitude of other ingredients added to help them maintain their shape. If you have a food processor or an electric mixer, then breaking down the Biscoff cookies into small pieces is quick work. Plus, it usually ends up being cheaper to buy the cookies and make the truffles this way than to get the spread and the additional ingredients. Also, it's much faster this way.
How To Store and Serve Biscoff Cookie Truffles
Once your Biscoff cookie truffles are made, they will stay fresh in the refrigerator up to a week. If you're preparing ahead or made too many, then they can be frozen for up to six months. Just make sure that you freeze them in a single layer before transferring to a freezer-safe container. This will keep them from sticking together.
Once you're ready to serve your Biscoff cookie truffles, try to keep them in the refrigerator until you're ready to eat. They will maintain their shape much better this way. During the gathering they won't go bad as they get warm, they'll just become more gooey. Similar to fresh cookie dough.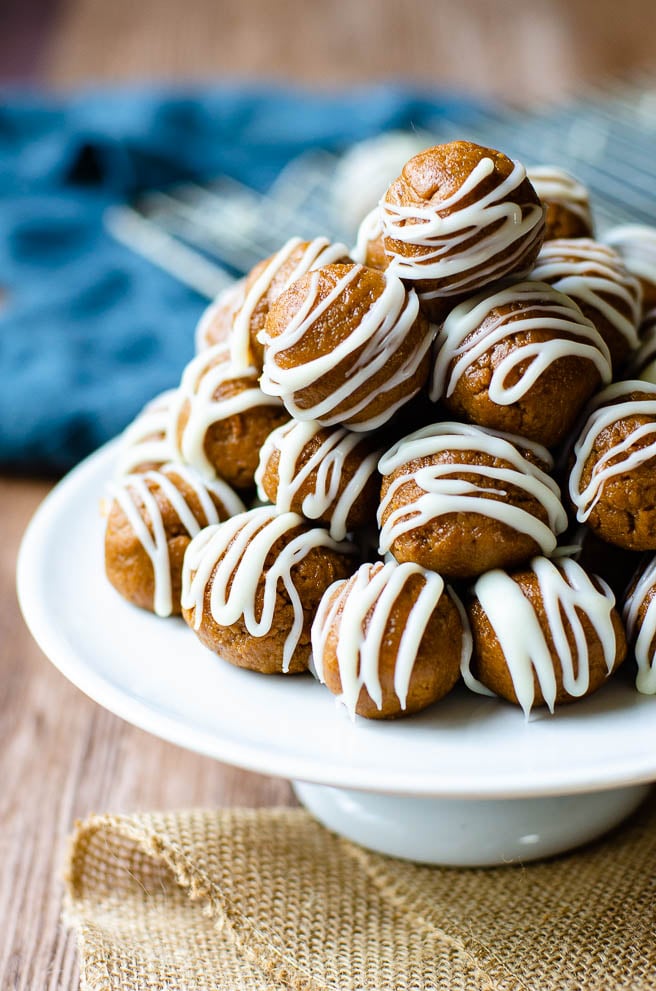 Recipe for No Bake Truffles with Biscoff Cookies
You can buy Lotus Biscoff cookies in the cookie aisle of most grocery stores. I buy mine at my local Safeway, and they go on sale regularly. They are sold in two different package sizes, so make sure that you buy the 8.8 ounce package for this recipe.
If you would like to round out the flavor of your truffles, you can add ¼ teaspoon of pure vanilla extract to the cookie balls. This helps mute the strong cinnamon flavor in the Biscoff cookies. This is exceptionally useful outside of the holiday season when you desire flavors that are less wintery.
---
Want a free printable grocery list for these no bake Biscoff cookie truffles? Get it HERE.
---
Use this grocery list to help simplify shopping. Everything is listed in standard grocery store amounts. If no size is specified, even the smallest package will provide more than enough.
Looking for some more delicious dessert recipes to try? I recommend:
Happy Cooking! 🙂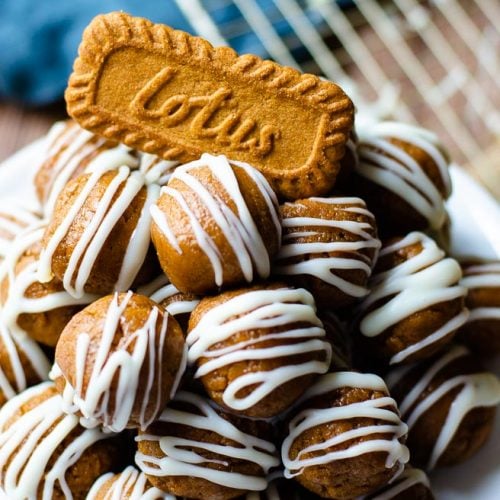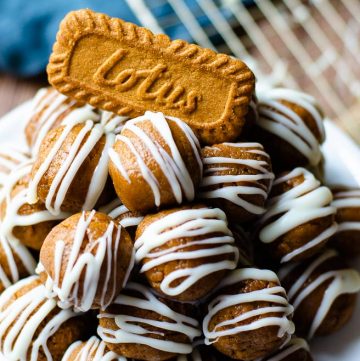 No Bake Biscoff Cookie Truffles
Enjoy the unique flavor of Biscoff cookies in this Oreo truffle alternative. With just four ingredients, this recipe is easy to make and always the hit of the party.
Pin it for later?
Ingredients
1

package of Biscoff cookies

,

8.8 oz.

6

ounces

cream cheese

,

softened

¾

cup

white chocolate

,

chopped finely

1.5

Tablespoons

milk
Instructions
In a food processor, pulse the Biscoff cookies until they are in fine crumbs. If you don't have a food processor, you can also use an electric mixer. Just add in the cookies a few at a time so they don't go flying out of the bowl.

Use a wooden spoon or an electric mixer on its slowest speed to mix the softened cream cheese into the Biscoff cookies. Use a one tablespoon measuring spoon to roll each cookie ball.

Place the cookie balls in a single layer (without touching) and refrigerate them for

30 minutes

.

Before you remove the truffles from the refrigerator, stir together the chopped white chocolate and milk in a microwave safe container. Microwave them for 30 seconds and stir until smooth. If the white chocolate still isn't melted, microwave for an additional then seconds.

Remove the truffles from the fridge and use a spoon to lightly drizzle each truffle with the melted white chocolate. Serve.
Notes
The cookie balls will be smoother if you flatten each tablespoon of dough before rolling it into the ball shape.
Nutrition
Serving:
1
truffle
|
Calories:
105
kcal
|
Carbohydrates:
11
g
|
Protein:
1
g
|
Fat:
6
g
|
Saturated Fat:
3
g
|
Cholesterol:
9
mg
|
Sodium:
71
mg
|
Potassium:
23
mg
|
Sugar:
7
g
|
Vitamin A:
105
IU
|
Calcium:
18
mg
Tell me how much you love this recipe
and show off how you made it!