This Spiced Blueberry Pie with a Cardamom Crust will make you wish autumn & winter were here sooner. Its earthy spices and rich flavor are enticing and delicious.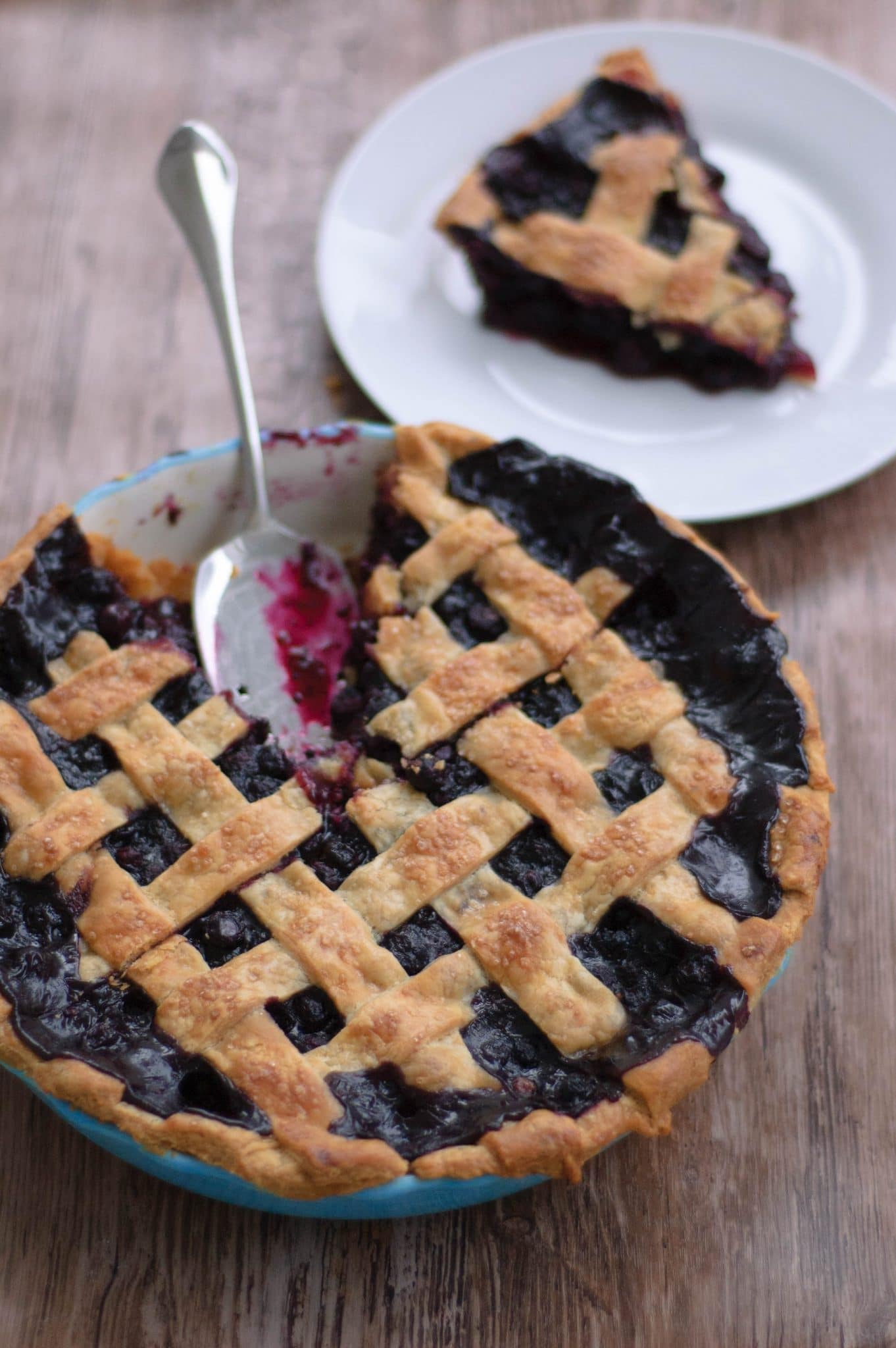 Sometimes inspiration just hits.  Who cares if it's July in the South, right?  Who cares if this is probably a recipe that is more appropriate for autumn/winter?  This Spiced Blueberry Pie is ridiculously delicious and will leave you wanting to smell falling autumn leaves near a campfire while snuggled up with some cider…even in July!
---
---
Skills & Techniques
If you really want to knock this spiced blueberry pie out of the park, I recommend reading some of the following articles:



Leftovers?
I don't know about your home, but pie doesn't last long in mine.  In fact, we love pie so much that we had a buffet of pies instead of cake at our wedding!  If for some reason you do have some left over, you can store your pie covered (with plastic wrap, on a cake plate, whatever strikes your fancy) at room temperature up to 3 days.
If you would like to reheat your pie, you can do it by:
Preheat your oven to 300°F and cover your pie with aluminum foil.
Place your pie pan on a sheet pan and put in the oven to bake for 15-20 minutes or until warmed through.
Remove your pie, and let cool for 5 minutes before eating.
---
TIP: With this pie specifically, the longer your pie sits and the spices are allowed to permeate the blueberries, the stronger the flavor will be.  The spices will be much more dominant on day 2, rather than a couple hours out of the oven.
---
These reheating instructions are great if you want to serve your pie warm (but don't want to microwave it), but I understand if you don't ever use it – sometimes that's more effort than it's worth.

Spiced Blueberry Pie
Here's the #1 recipe of 2015 coming at you.  While you don't have to make the crust from scratch to still flavor it with the cardamom, I do recommend it for best results.  You can find my favorite pie crust recipe in the skills & techniques section above.
---
Get your free printable grocery list for this Spiced Blueberry Pie recipe HERE.
---
This grocery list has everything that you'll need to make this Spiced Blueberry Pie recipe.  To help in making grocery shopping simple, each ingredient is listed in easy-to-find grocery store amounts.  If there is no amount specified, that means that you can buy the smallest (or largest) container available and still have plenty left over.
Happy Cooking! 🙂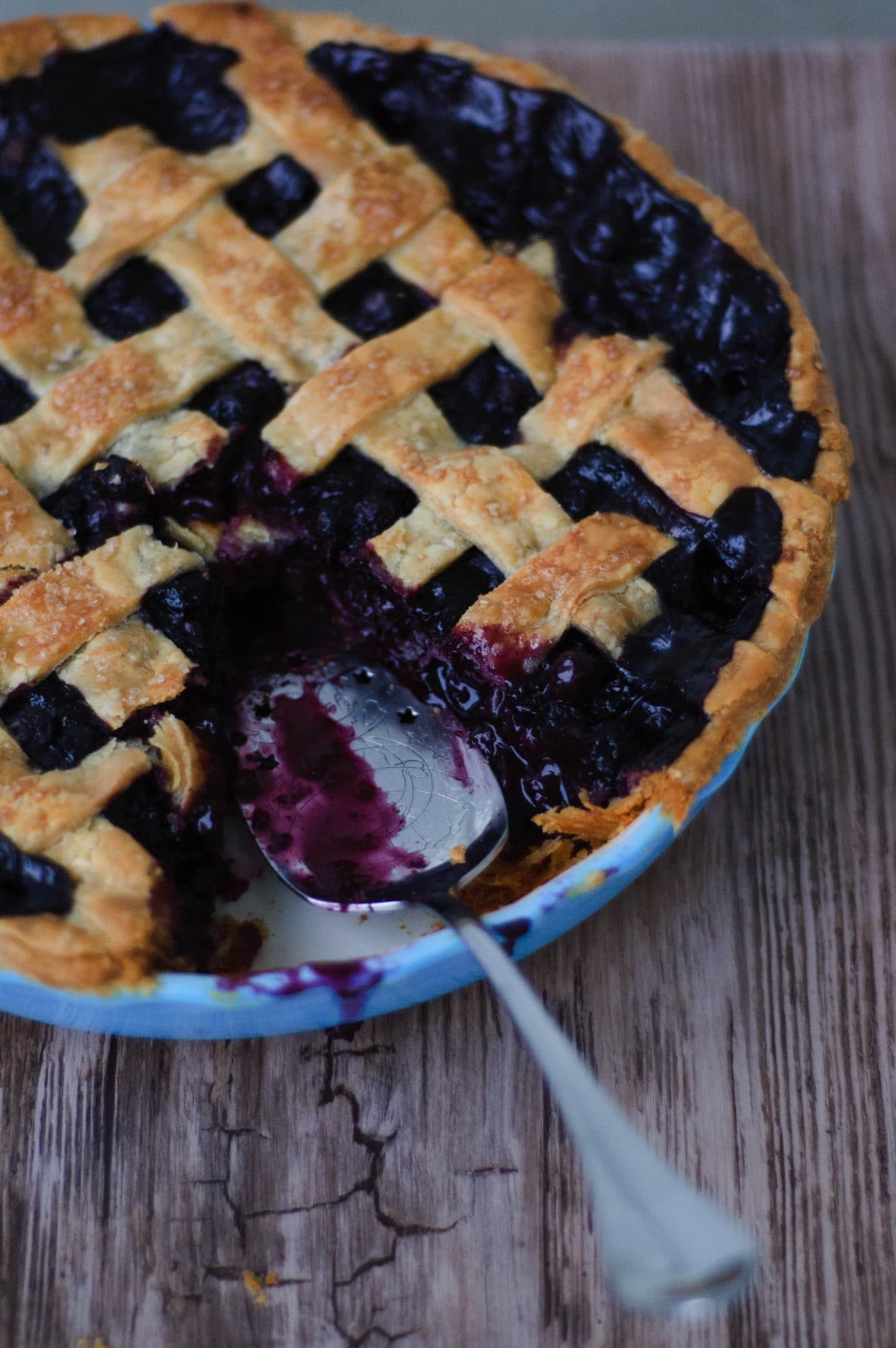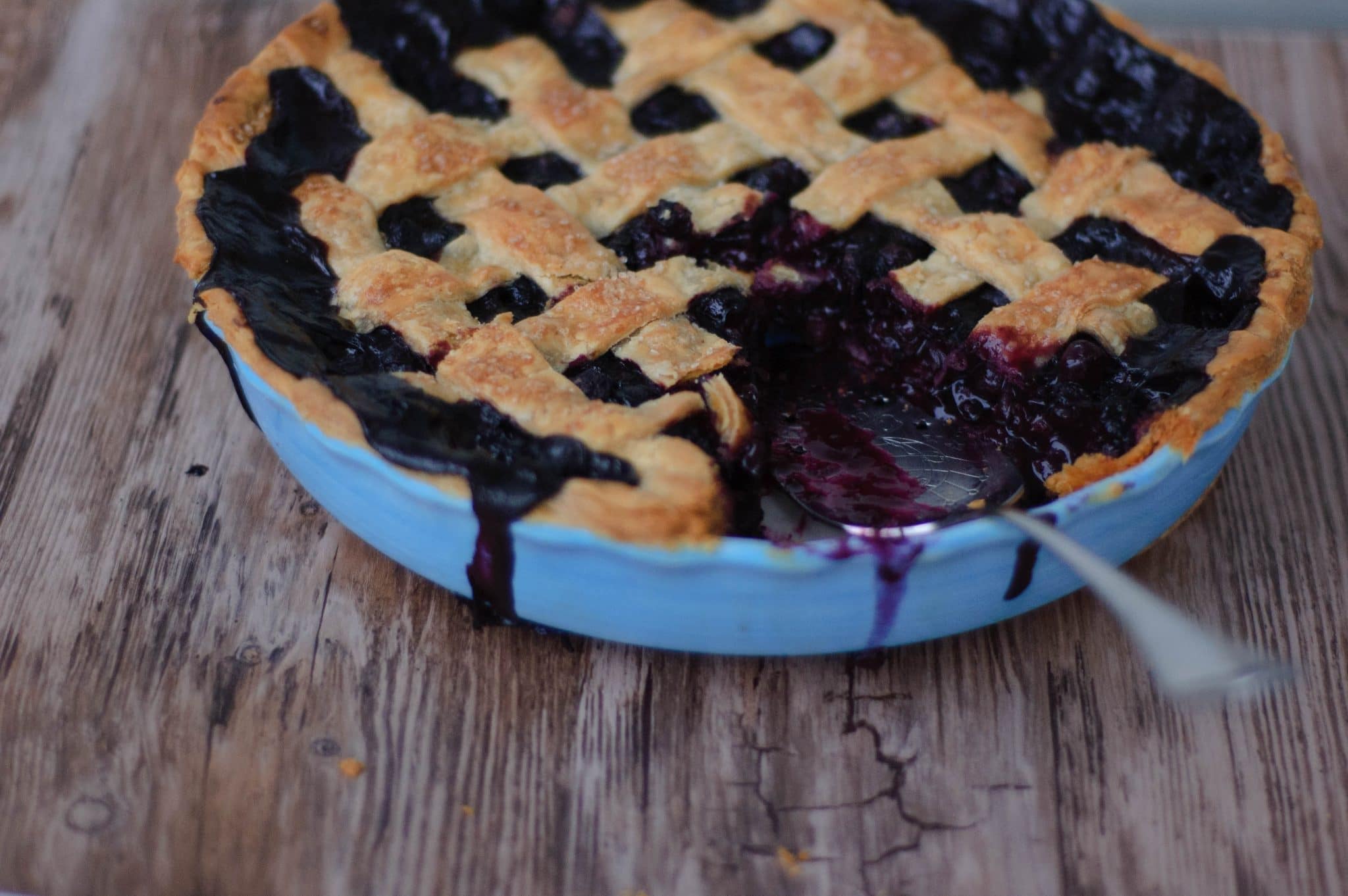 Spiced Blueberry Pie with a Cardamom Crust
A delicious pie accented with earthy spices and a hint of orange. Perfect on a chilly winter evening.
Prep Time
1
hour
20
minutes
Total Time
1
hour
20
minutes
Ingredients
Filling
36

oz

blueberries

(fresh or frozen)

1

lemon

, zested and juiced

1/3

cup

sugar

1/3

cup

cornstarch

1/2

tsp

vanilla extract

1

orange

, zested
Spice Mix
1

tsp

freshly ground juniper berries

(roughly 10-12)

1/4

tsp

freshly ground star anise

(roughly 1/4 of the spice)

1/4

tsp

freshly ground cloves

(roughly 8 whole)

1/2

tsp

freshly ground cinnamon

(roughly 1/2 stick)
Instructions
Bottom Crust
Lay one 13" circle of rolled out pâte brisée dough into bottom of a lightly greased pie dish. Let excess dough hang over the edge. Put back in refrigerator to chill.
Prepare Spice Mix
Using a mortar & pestle, or a spice grinder, grind juniper berries, star anise, cloves, and cinnamon until fine.
Filling
In a large bowl, combine blueberries, orange zest, lemon zest & juice, and sugar. Let sit for 10 Minutes.

Add cornstarch, vanilla, and spice blend to previous blueberry mixture and stir until combined.

Remove pie dish with bottom crust from refrigerator and fill with spiced blueberry mixture.
Top Crust
Prepare the second 13" disc of pâte briseé with cardamom in desired pattern/style. Place on top of assembled bottom crust and filling and use the prongs of a fork to firmly press around the edges to adhere both crusts together.

Remove undesired overhanging crust and return to refrigerator for 30 Minutes

Preheat oven to 400°F
Wash
Remove pie from refrigerator and brush heavy cream over the entire top crust. Sprinkle with sugar in the raw.
Bake
Place pie on sheet pan (preferably with a sheet of parchment paper or aluminum foil on it) and put in oven and bake for 20 Minutes.

Drop temperature setting to 350°F and continue to bake for another 45 Minutes or until crust in golden brown and pie filling is bubbling.

Remove from oven and let cool.
Recipe Notes
The longer this pie rests, the stronger the spices will become. If you don't want the spices to be so strong, use already ground spices from the store.