This beautiful s'mores pie recipe is a crowd pleaser. With a dark chocolate center and toasted marshmallow topping, this sky high pie will have everyone asking for s'more, please.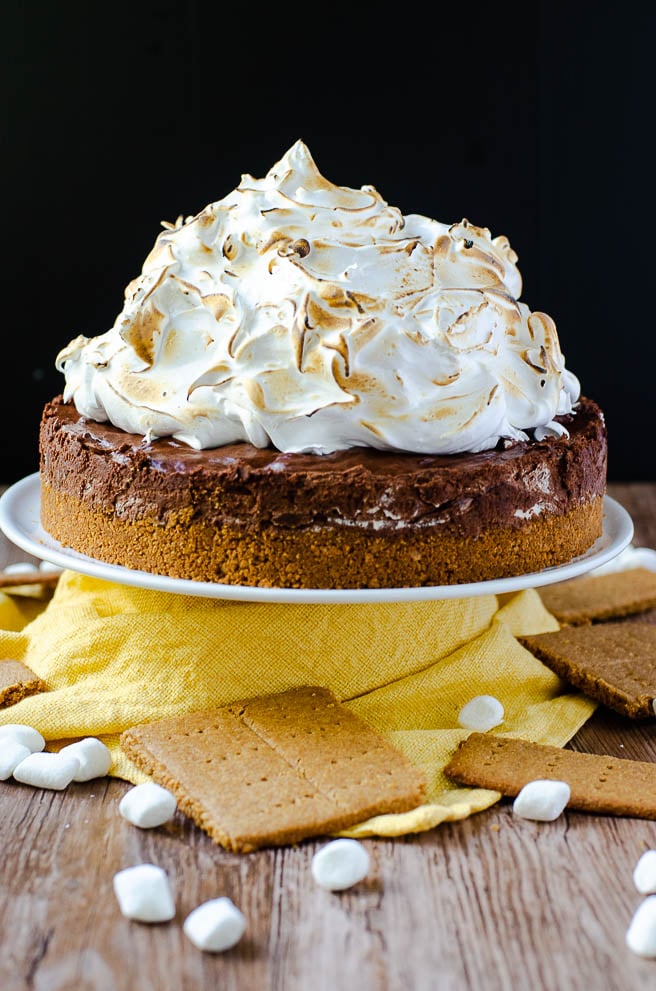 My favorite thing about this s'mores pie recipe is that you don't need a bonfire to enjoy it. Plus, you don't have to worry about the melted chocolate bar dripping on you.
Bring on s'more pie, please!
How To Get A Perfectly Toasted Marshmallow Topping
To get a perfectly toasted marshmallow topping on this s'mores pie, I recommend using a kitchen torch. It allows you to get into the nooks and crannies and get the marshmallows as burnt as you like. It's the most authentic way.
However, if you don't have a kitchen torch at home, your broiler works well too. To toast the marshmallow topping in the broiler:
Place the rack in the upper third of the oven. Make sure to leave enough room to compensate for how much this s'mores pie recipe resembles a skyscraper. Preheat the broiler.

Place the s'mores pie on a sheet pan and put it in the oven for 1-3 minutes. How long you cook it depends on how toasted you want the marshmallow topping to be.

Remove from the broiler and allow to cool for a few minutes before serving.
I'm not normally an advocate of repeatedly opening and closing the oven door. However, it may be necessary to prevent the marshmallow topping from burning. If it's your first time making this s'mores pie recipe, check it every minute. I'd also recommend that you check it often if you don't regularly use your broiler.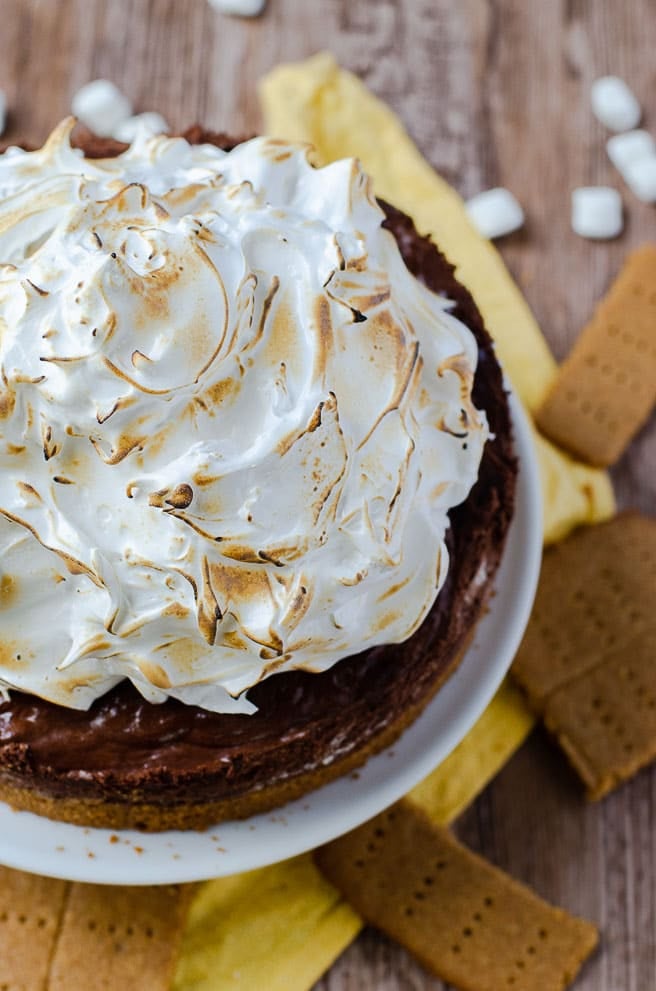 How To Make This S'mores Pie Recipe BETTER
There aren't many ways to improve upon a classic like s'mores, but we're all about amplifying the gourmet. To really take this s'mores pie recipe to the next level, I recommend reading the following articles.
How To Make A Graham Cracker Crust. We're lucky with this s'mores pie recipe because it is all the basics. However, getting the butter to graham cracker ratio varies depending on the graham crackers used. Brush up on how to get a perfectly moist (but not crumbly) crust.
Homemade Graham Crackers. These are surprisingly simple to make. For this s'mores pie recipe, just bake off the rolled out sheet. You'll be crushing it into crumbs anyway.
Perfect Homemade Marshmallow Fluff. Get all my tips for getting a thick, marshmallow fluff that you can sculpt for that sky high effect.
Do I Really Need A Candy Thermometer for This S'mores Pie Recipe?
Yes, yes, and let me repeat it again. Yes.
A decent candy thermometer costs about $10-15, and you'll be surprised how many uses you find for it. Plus, as a bonus, it doubles as a deep-frying thermometer. It's such a useful piece of equipment and it shouldn't be skipped.
For this s'mores pie recipe, the temperature of the syrup gets the marshmallow topping to the correct consistency. Plus, getting the mixture to the right temperature makes sure to kill any lurking bacteria in the eggs.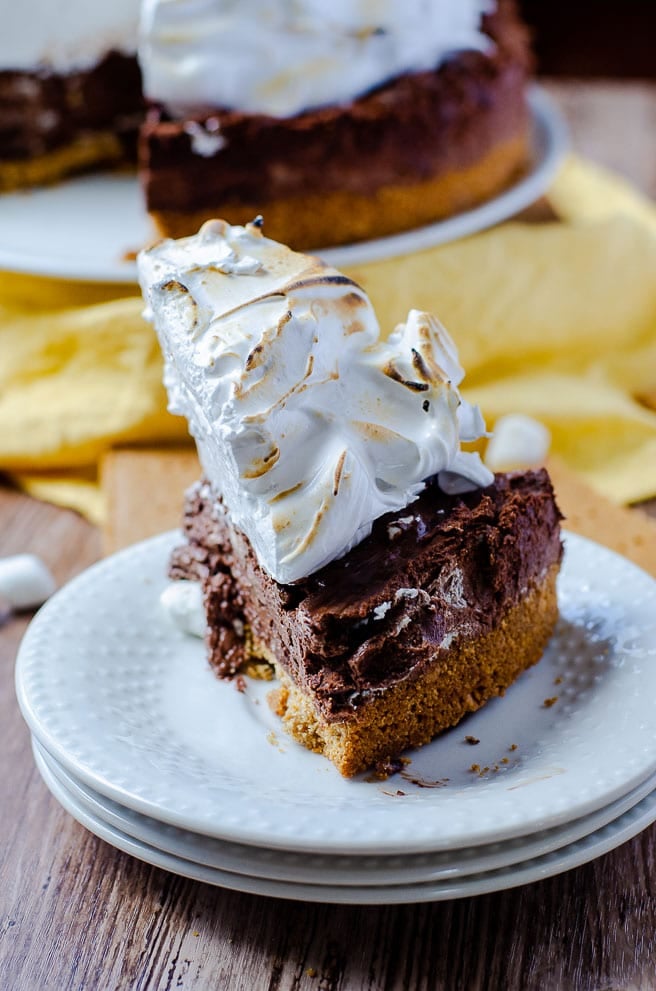 I Don't Like Dark Chocolate. Can I Use Milk Chocolate Instead?
Yes you can.
I recommend bittersweet chocolate for this s'mores pie recipe because it helps balance how sweet the marshmallow topping is. Milk chocolate tends to be a bit on the sweeter side, but it is also creamier than dark chocolate. It will also fall in line with the more traditional flavor of a s'more.
If you're not sure where you land on the sweetness, you can always opt for semi sweet chocolate. It's a balance between the two.
Happy Pi(e) Day!
This s'mores pie recipe is part of a collaboration with other food bloggers to celebrate food holidays. Pi(e) day is always one of my favorites because who doesn't love an excuse to eat pie? Plus, it's easy to remember since it's always celebrated on March 14th (3.14).
A super big thanks to Coleen for her hard work putting this together. If you would like to see some of the other great pie recipes, check out the list below.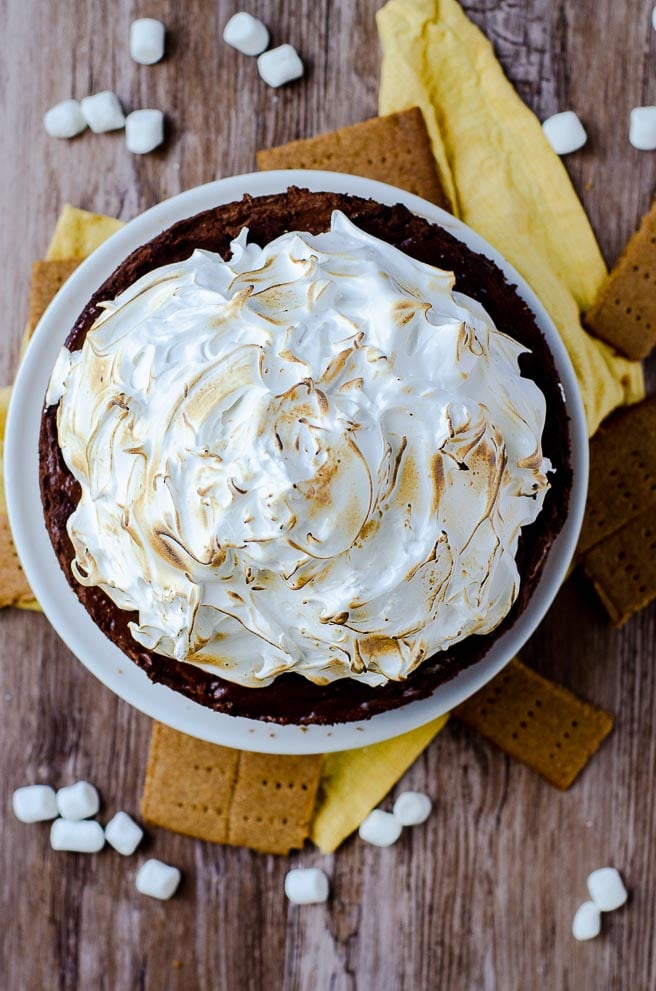 More Pie Day Recipes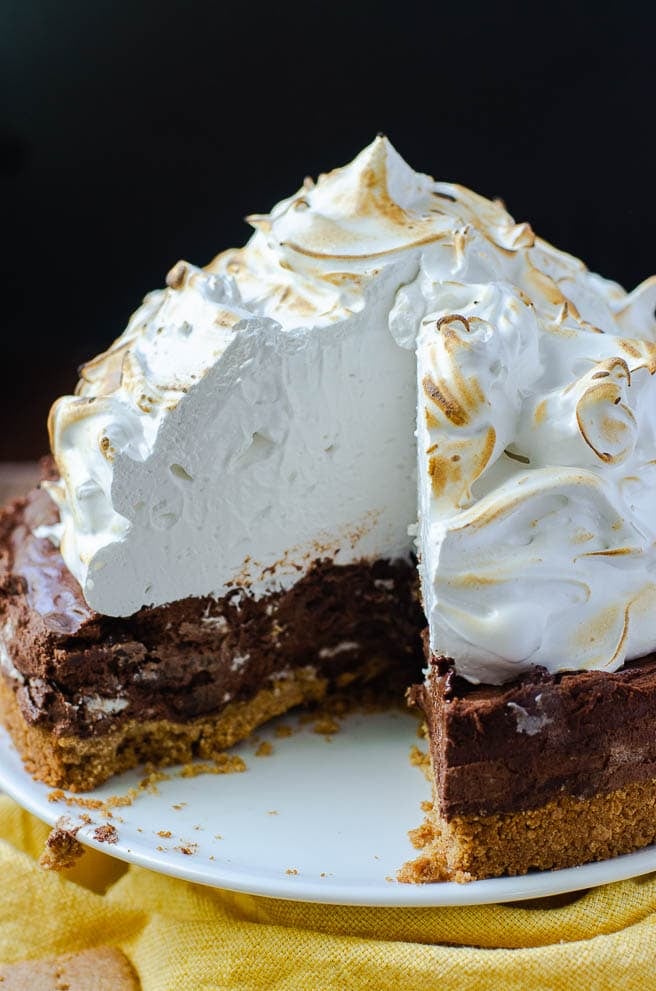 Sky High S'mores Pie Recipe
I know that the chocolate filling requires a bit more work than just melting together chocolate chips and marshmallows. Trust me though, it is worth it. It's like a cross between ganache and mousse. The heavy cream is whipped to help make the filling tender, but not soggy.
---
Thank you so much for stopping by!
Happy Cooking! 🙂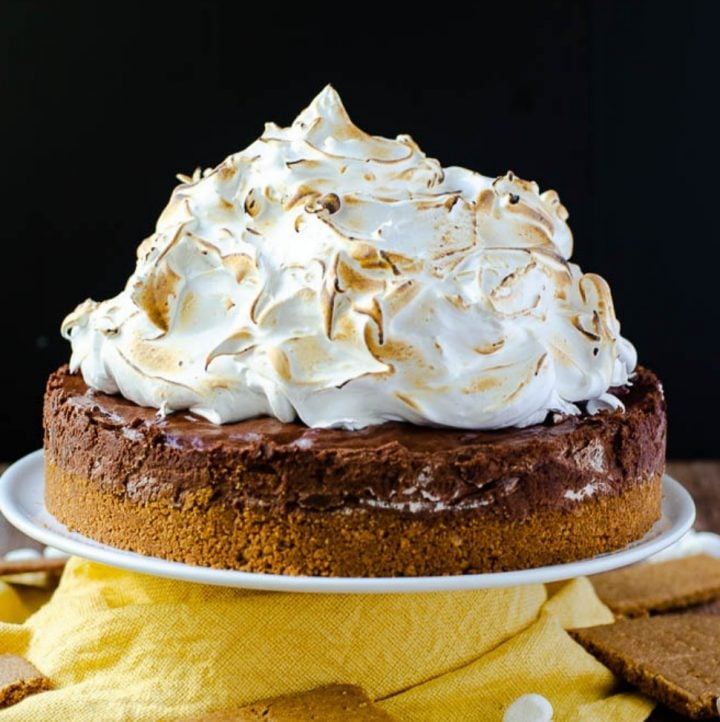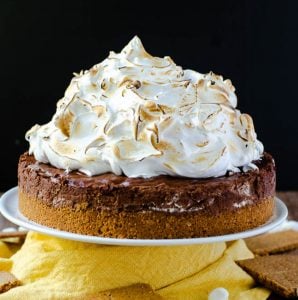 Sky High S'mores Pie
This stunning dessert is a perfect way to get the flavor of classic s'mores without the bonfire!
Pin it for later?
Ingredients
12

graham crackers

,

or 2 cups graham cracker crumbs

6

Tablespoons

butter

20

ounces

bittersweet chocolate

,

chopped

1

pint

heavy cream

1

Tablespoon

granulated sugar

1

teaspoon

vanilla extract
¼

cup

water

1

envelope gelatin

2

Tablespoons

water

¾

cup

granulated sugar

¾

cup

light corn syrup

3

egg whites

,

room temperature

½

teaspoon

cream of tartar

1.5

teaspoons

vanilla extract
Instructions
Graham Cracker Crust
Preheat the oven to 375°F. Grease the inside of a 9" springform pan.

Crush the graham crackers until fine. Melt the butter and stir in the crumbs until moistened. Use the back of a measuring cup to firmly press the graham cracker crumbs into place.

Bake for 10 minutes. Allow 30 to minutes to cool completely.
Chocolate Filling
Place a few inches of water in the bottom of a pot and bring it to a simmer. Pour the chopped bittersweet chocolate into an oven safe bowl. It should be large enough to fit on top of the pot without touching the water. Melt the chocolate, stirring occasionally.

While the chocolate melts, place the heavy cream, sugar, and vanilla extract in the bowl of a stand mixer. Use the whisk attachment to whip the heavy cream to stiff peaks.

Once the chocolate is done melting, remove it from over the water. In four additions, gently fold in the whipped cream. Pour the chocolate filling into the baked graham cracker crust. Chill in the refrigerator for 4 hours.
Toasted Marshmallow Topping
Pour ¼ cup of water into a small bowl and sprinkle the gelatin on top. Allow to sit.

Put the additional 2 tablespoons of water, sugar, and corn syrup into a small pot fitted with a candy thermometer. Bring it to boil over a medium heat.

While the syrup mixture heats, put the egg whites and cream of tartar into the bowl of a stand mixer. Use the whisk attachment and put the mixer on medium speed. Whip the eggs to soft peaks.

Once the syrup mixture reaches 240°F on the candy thermometer, turn off the heat and gently stir in the gelatin mixture. Once the gelatin is dissolved, turn the mixer on medium and slowly pour the syrup mixture into the mixer in a thin stream.

Once the syrup is completely incorporated, turn the speed to high and whip for 10 minutes. Add in the vanilla extract and whip for a few minutes more. The topping should be thick, glossy and room temperature.

Remove the filled graham cracker crust from the fridge and spoon the marshmallow topping over the top. Use the back of the spoon to sculpt the topping into the desired shape. Allow to set for 10 minutes then use a kitchen torch to toast the marshmallow topping.

Cut into to 16 pieces and serve.
Nutrition
Serving:
1
serving
|
Calories:
478
kcal
|
Carbohydrates:
49
g
|
Protein:
4
g
|
Fat:
29
g
|
Saturated Fat:
17
g
|
Cholesterol:
53
mg
|
Sodium:
141
mg
|
Potassium:
266
mg
|
Fiber:
3
g
|
Sugar:
37
g
|
Vitamin A:
585
IU
|
Vitamin C:
0.2
mg
|
Calcium:
53
mg
|
Iron:
2.7
mg
Tell me how much you love this recipe
and show off how you made it!