This leftover turkey vegetable soup recipe is bursting with flavor. It uses many of the same autumnal flavors you enjoyed on Thanksgiving, but put together in a new way.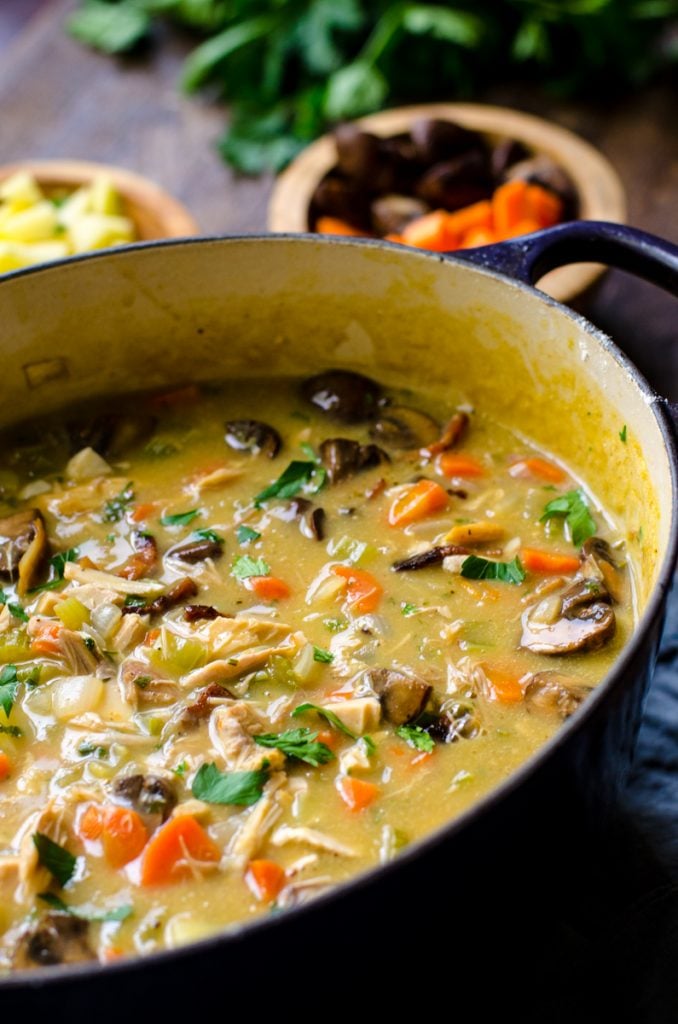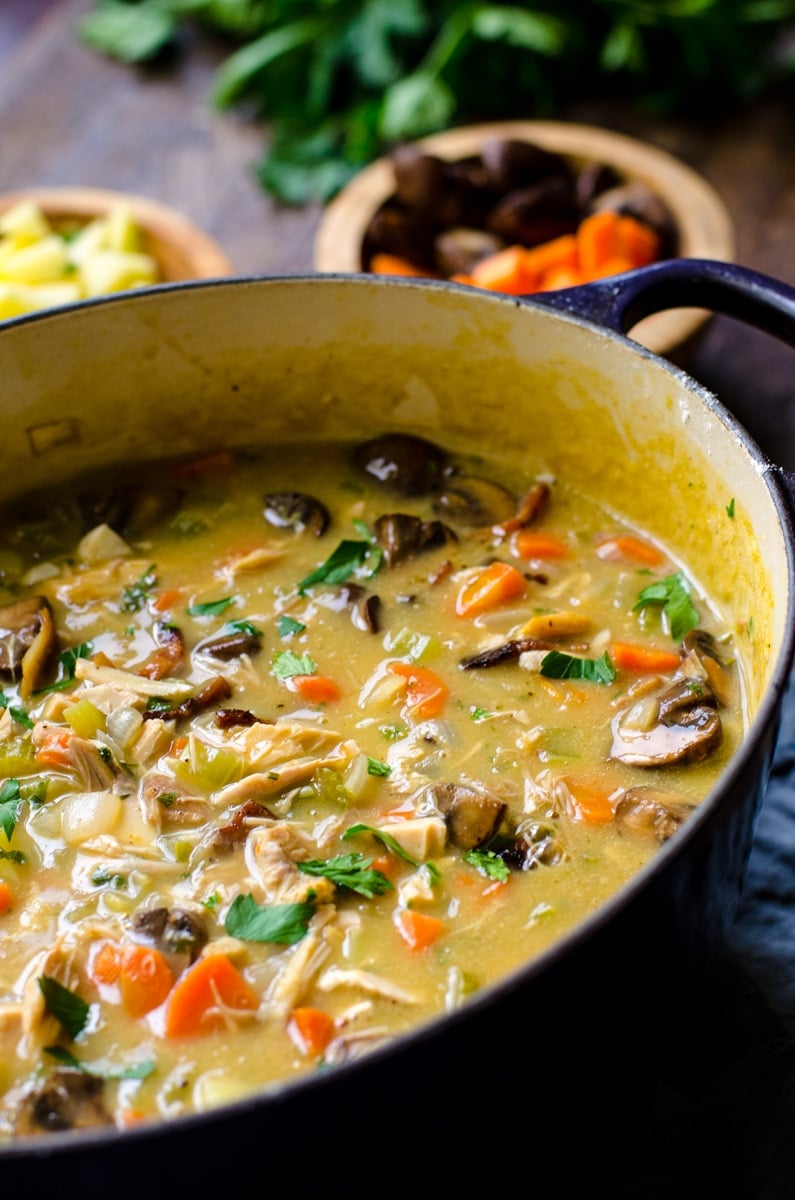 After Thanksgiving is over, I can enjoy Thanksgiving leftovers for one day. Afterwards I want a completely new flavor. Enter this leftover turkey soup.
How To Make Turkey Soup From Scratch
There are two key pieces to a really great turkey vegetables soup recipe. One is the turkey, the second the vegetables. Both need to be cooked properly to get a fantastic soup.
For this recipe, the cremini mushrooms are browned in rendedered bacon fat. This give the turkey soup a heartier, even "meatier" flavor. Followed by the carrots, onion, celery, and other vegetables, the soup is filled with autumnal veggies and turkey meat.
After the vegetables are cooked, the browned bits on the bottom of the pan (called fond) get lifted with white wine. This keeps the flavor of the soup bright and vibrant instead of weighing it down.
To make the flavor of this turkey soup recipe unique from others, it utilizes some fresh rosemary and tarragon. These lend a fantastic aroma to the soup and the half and half at the end gives it a creamy texture.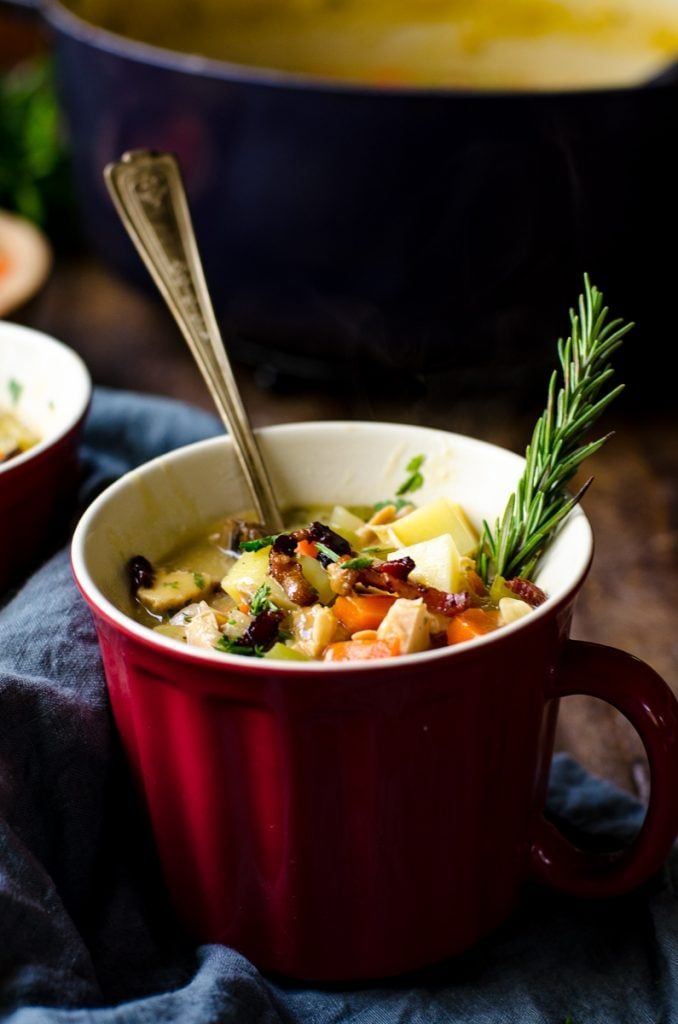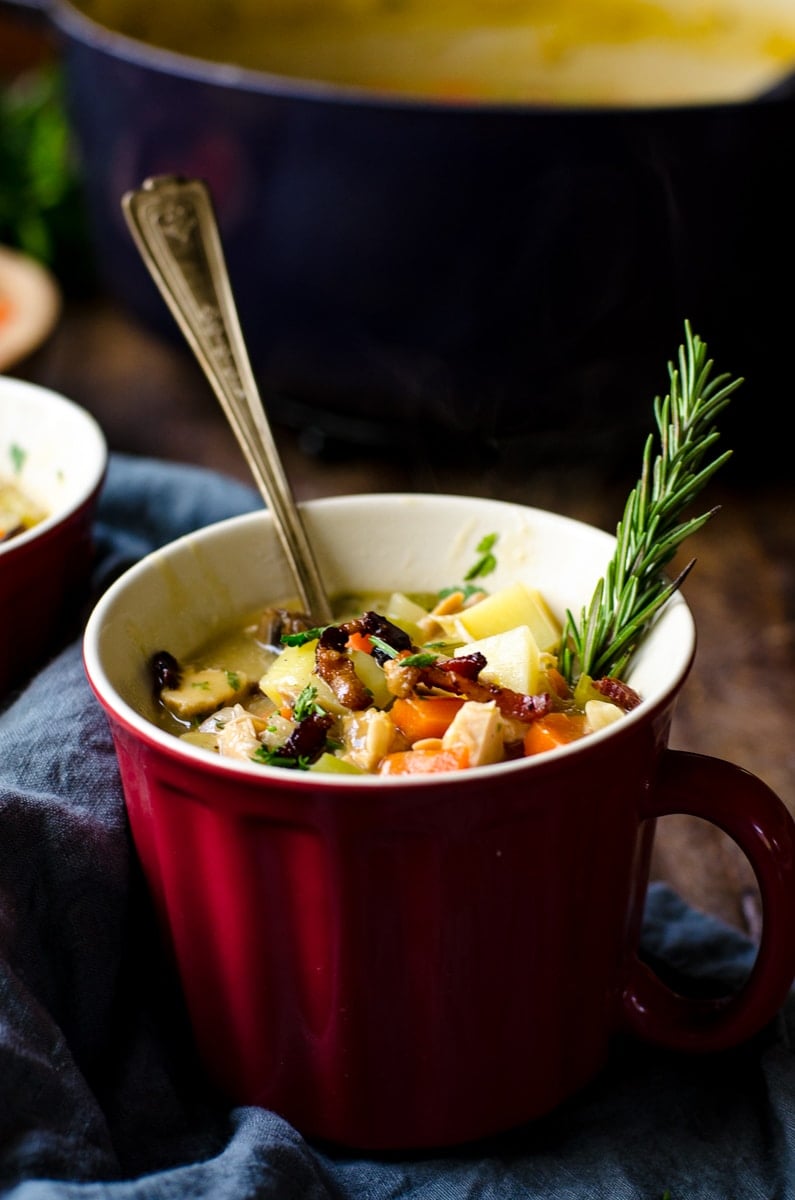 How To Get Meat off the Turkey Carcass
After you have cooked the turkey, it is sometimes a bit difficult to get the meat off the bones. Especially as it cools down. To help get this leftover turkey meat off, you need to cook the carcass even more. You can remove the leftover turkey meat in a slow cooker, or you can boil it.
I recommend boiling for this recipe because the carcass gives extra flavor to the chicken broth and removes extra meat.
To do remove the meat:
Place the turkey carcass in a large pot and cover with at least an inch of chicken stock. (You can use water as well, this will make chicken broth.).
Bring to a boil, then reduce to a simmer over medium heat. Add in a bay leaf. Simmer for at least one hour, or until the bones start to separate from each other.
Once the carcass has broken down, turn off the heat and use a slotted spoon to remove the turkey meat. Separate out any bones from the meat and reserve the liquid for making soup.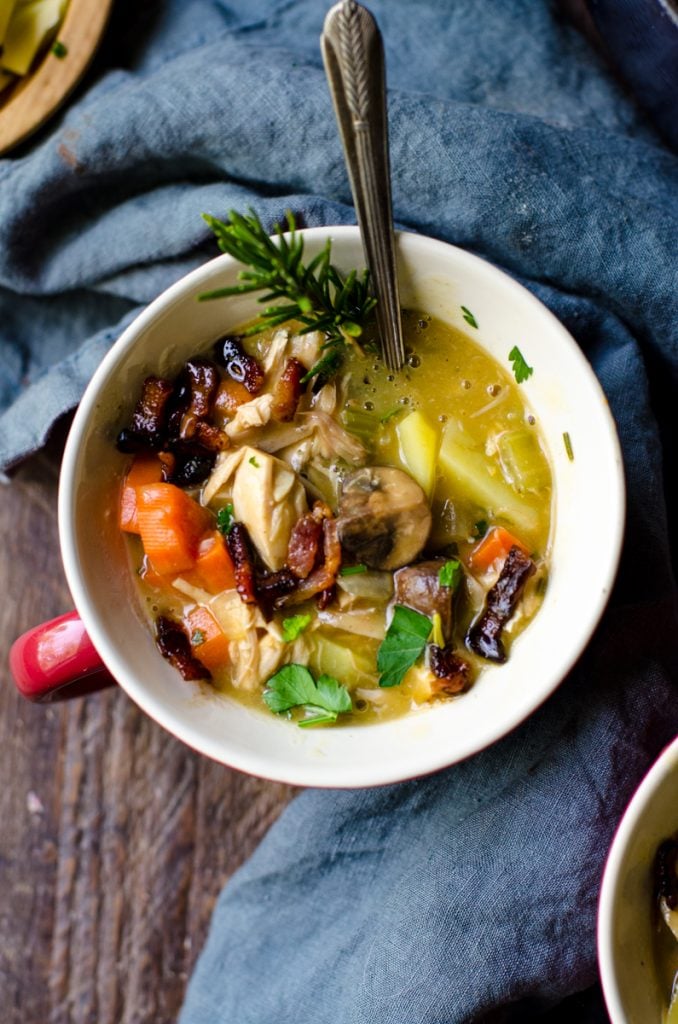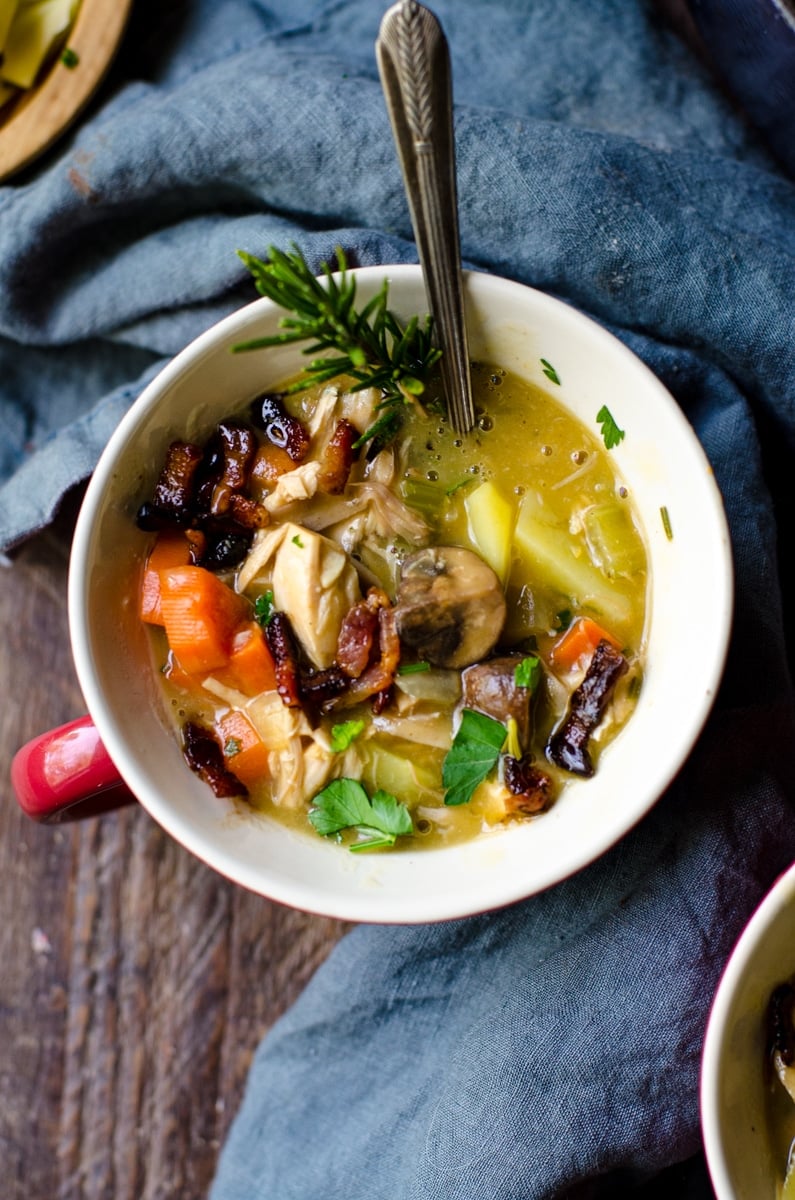 Ways to Use Other Leftovers
If you want to use side dish leftovers in this turkey vegetable soup you absolutely can. Just remember, this changes cooking times so make sure to add it at the optimum step in the soup-making process.
Want to use up mashed potatoes?
This is a great way to cut down the time it takes to make this leftover turkey vegetable soup. It also makes it a smoother and chowder-like. Simply substitute 2 ½ cups of mashed potatoes and an extra ½ cup of chicken stock.
Maybe you have some extra gravy?
Substitute it for chicken broth in equal amounts. This cuts down on your cooking time and helps intensify the flavor. Because gravy is already thickened, you need to make sure there's enough liquid to cook the potatoes. Add more chicken broth if needed.
What about extra veggies?
This is where things get a bit trickier. If you feel the flavor of the extra leftover vegetables pair nicely with this soup, go ahead and add them. Don't do it until the end though because they are already cooked and you don't want to make them soggy. Some great additions might be parsnips, green beans, or butternut squash.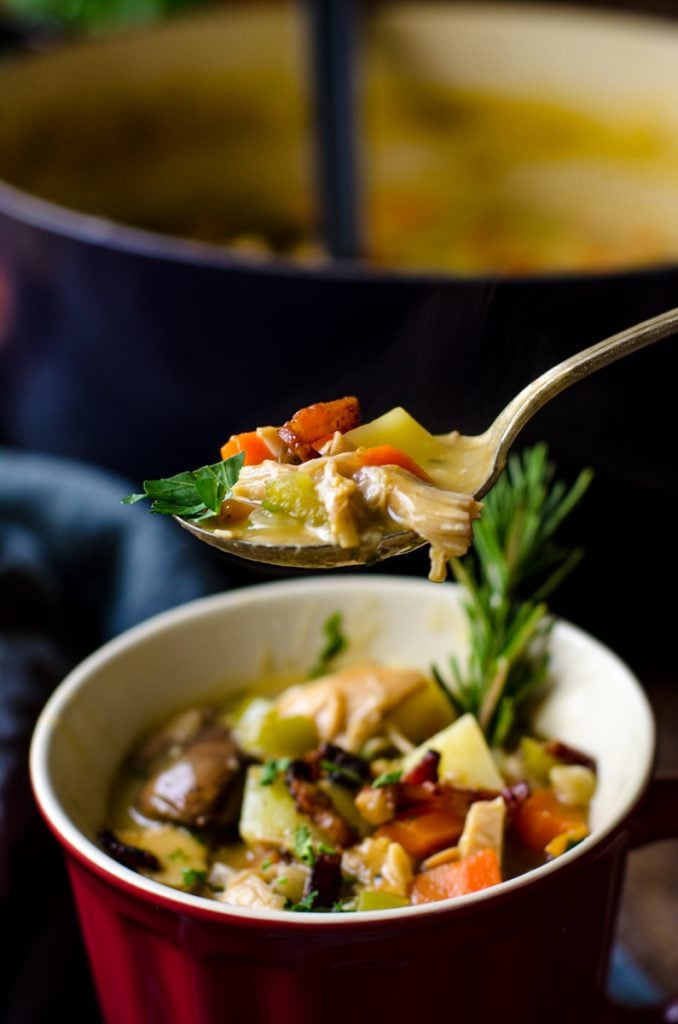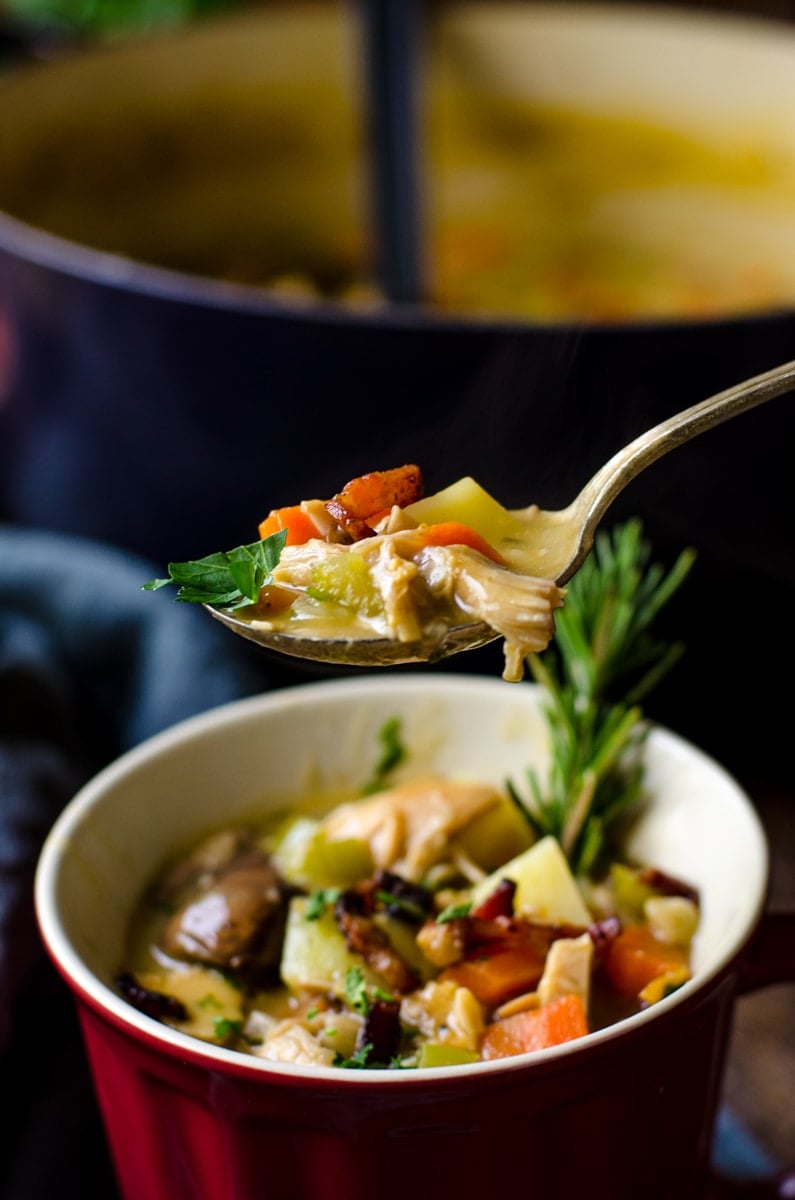 Professional Recipe Tips
Thick cut bacon is the best in soups. After it is simmer in with the soup, it still maintains a lot of texture instead of disappearing into the soup.
To get the best flavor from the cremini mushrooms, don't overcrowd the pan. Try to keep them in a single layer and cook until they are deeply golden brown. They shrink a lot during cooking, so you can add more as needed or work in batches. Take your time, this isn't a step to rush.
Cooking the mushrooms will use up almost all of the bacon fat. If you need more cooking fat, you can use a little olive oil.
To make this soup gluten free, simply substitute tapioca flour for the all-purpose flour.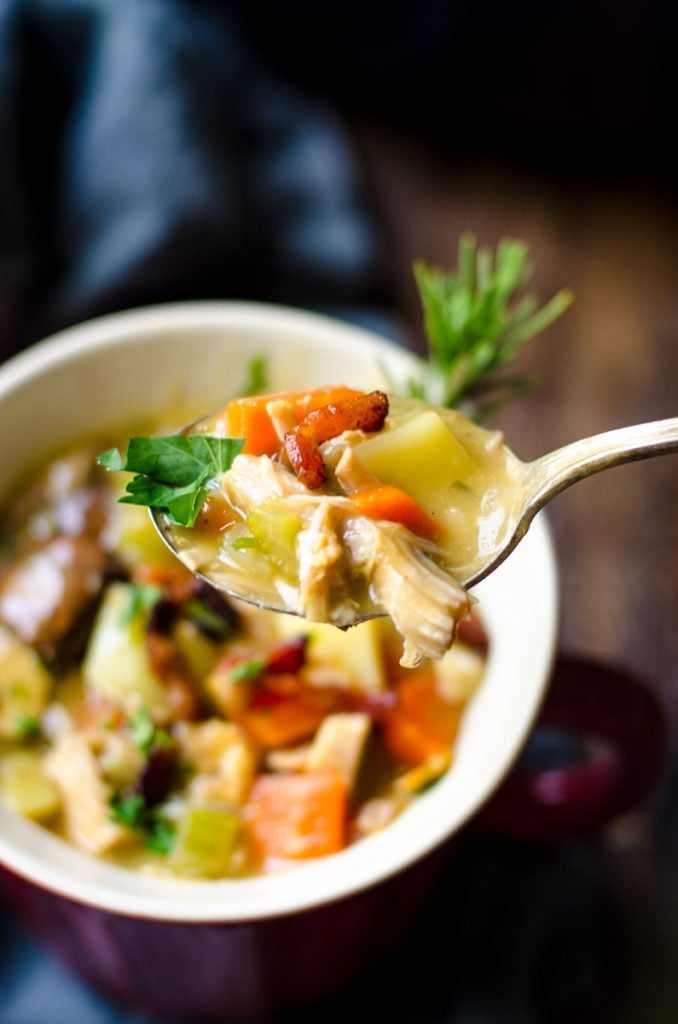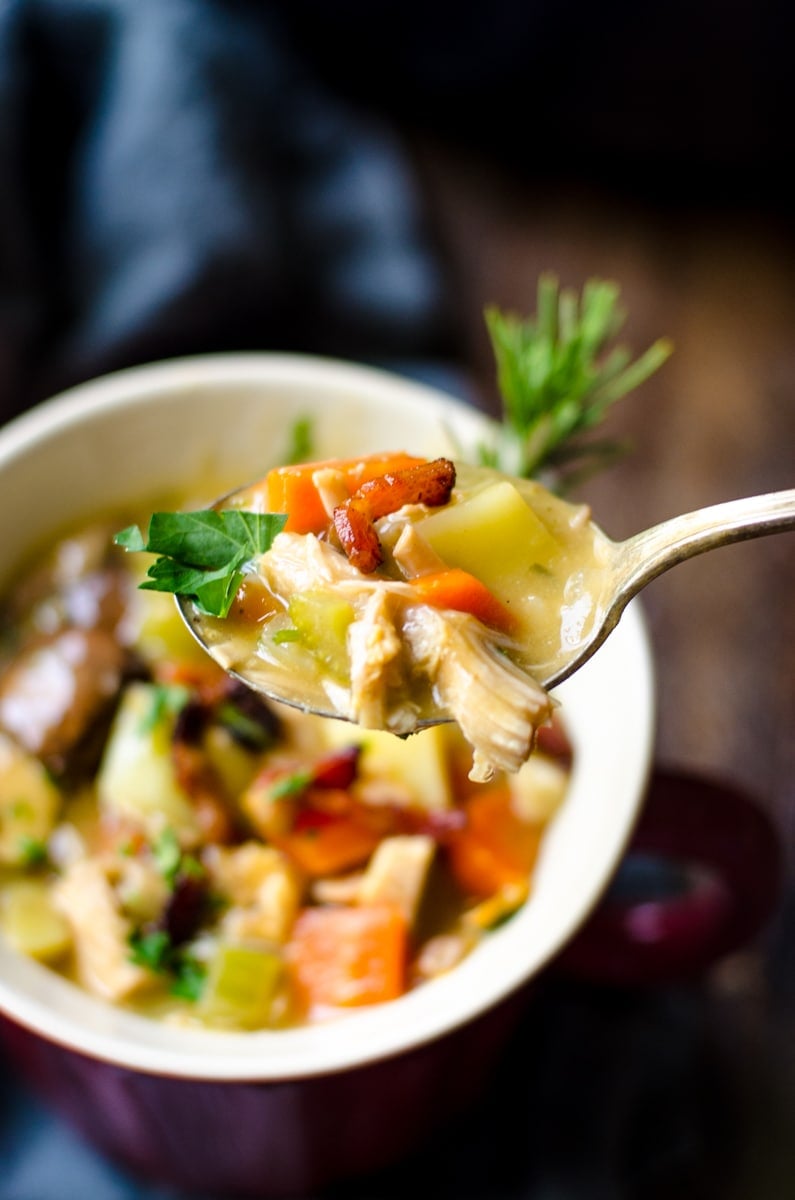 Leftover Turkey Vegetable Soup Recipe
This leftover turkey vegetable soup is wildly delicious, but requires some attention and time because the flavors build each other. I know you're thinking about how you just spent all that time making Thanksgiving dinner, but the effort will be rewarded.
---
Simplify grocery shopping with this printable grocery list for this leftover turkey vegetable soup recipe.  Everything is listed in standard grocery store amounts. If no size is specified, even the smallest package will provide more than enough.

Happy Cooking! 🙂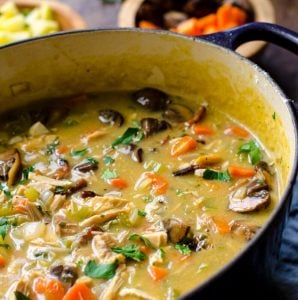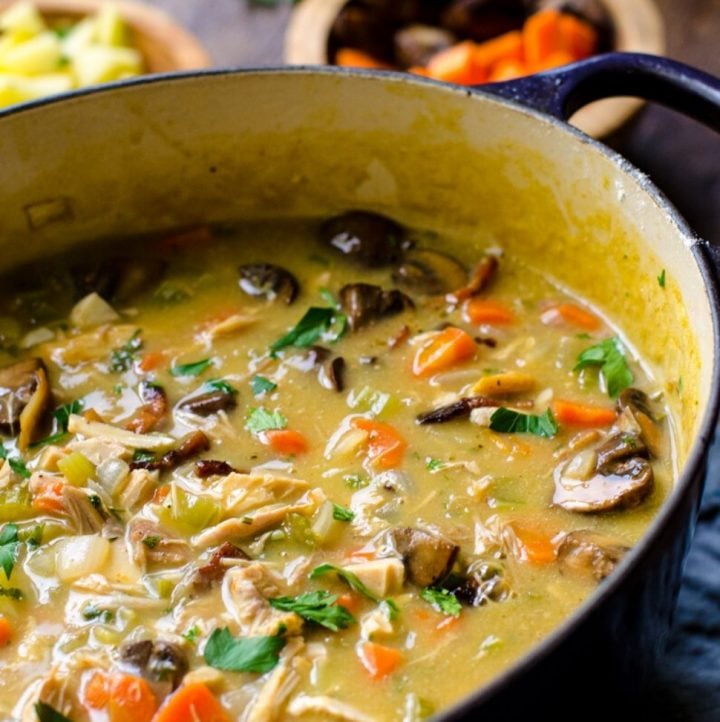 Turkey Vegetable Soup with Bacon
This is simply the best soup for enjoying leftover turkey meat. Comfort food at its best.
Pin it for later?
Ingredients
4

thick cut bacon strips

8

ounces

cremini mushrooms,

quartered

6

garlic cloves,

minced

1

pound

carrots,

peeled and chopped small

6

celery ribs,

chopped

1

yellow onion,

diced

½

cup

white wine

⅓

cup

flour

6

cups

chicken or turkey stock

2

bay leaves

1

tablespoon

minced rosemary

1

tablespoon

minced tarragon

3

medium yukon gold potatoes,

diced

3

cups

shredded turkey meat

½

cup

half and half

salt and pepper

,

to taste
Instructions
In a heavy bottomed pot, cook the cut bacon strips until crisp. Use a slotted spoon to remove them, but leave the bacon fat behind. Cook the sliced cremini mushrooms until golden brown on both sides.

Stir in the minced garlic and cook until fragrant. About one minute. Stir in the carrots, celery, onion and cook until the onions are translucent. Stir in the flour and cook for another minute. Deglaze the bottom of the pan with the white wine and scrape up any browned bits from the bottom of the pan.

Mix in the bay leaves, rosemary, tarragon, Yukon gold potatoes, shredded leftover turkey meat and chicken/turkey stock. Bring to a simmer. Cook for 20-25 minutes or until the potatoes are cooked but not falling apart.

Stir in the half and half, season with salt and pepper then let simmer for another two minutes. Serve with additional fresh herbs and the cooked bacon for garnish.
Notes
To make this gluten-free, simply substitute the flour for tapioca flour.
Tarragon and rosemary are both strong herbs.  I went light in this recipe because they aren't always to everyone's liking, but you may want to add more or less depending on your tastes.
Nutrition
Serving:
1
serving
|
Calories:
312
kcal
|
Carbohydrates:
32
g
|
Protein:
22
g
|
Fat:
10
g
|
Saturated Fat:
3
g
|
Cholesterol:
53
mg
|
Sodium:
448
mg
|
Potassium:
1010
mg
|
Fiber:
4
g
|
Sugar:
7
g
|
Vitamin A:
9599
IU
|
Vitamin C:
19
mg
|
Calcium:
80
mg
|
Iron:
2
mg
Tell me how much you love this recipe
and show off how you made it!