Christmas cookies week is a sponsored event that includes gifts to me from the participating brands. All thoughts and opinions are my own, but I think you'll enjoy this lace cookies recipe as much as I do. Thank you for supporting the brands that make Food Above Gold happen.
Despite their delicate structure, these lace cookies are filled with flavor from sweet and spicy candied pecans.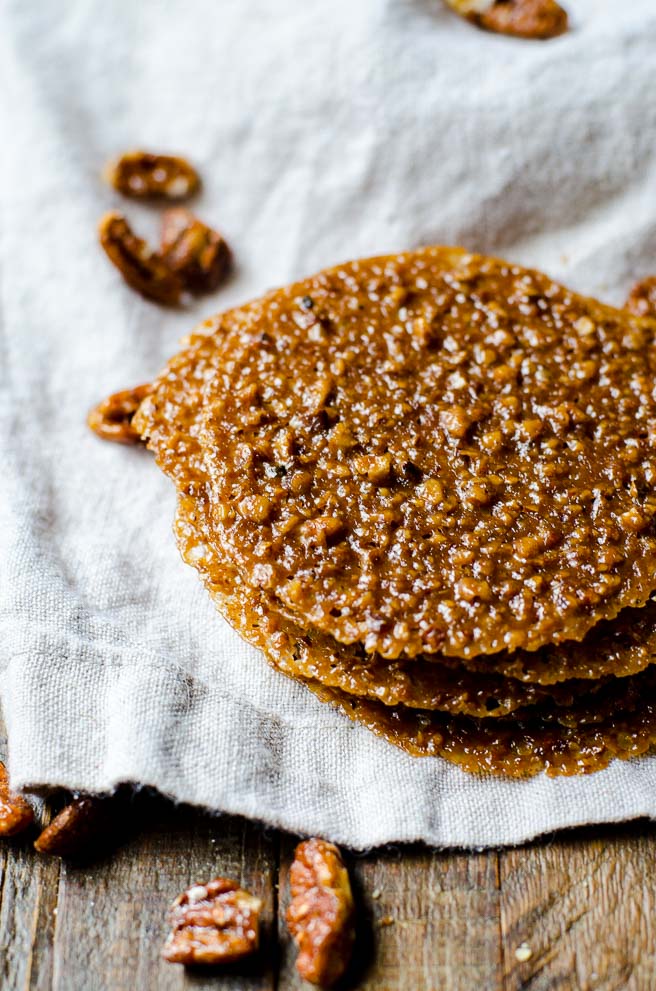 What Are Lace Cookies Made Of?
With a foundation of melted butter, brown sugar, vanilla and corn syrup, this cookie recipe has a deep caramel flavor to it. Lace cookies can vary in their structure, but usually only with the type of flour used, as this is what gives it that lacy look. Some use the most common variations are with almond flour or oat flour.
To get that lacy look, I'm using extremely finely ground sweet and spicy candied pecans. The finer the pecans are ground, the better the cookie will hold its shape. If you choose to just make these with regular pecans, opt for pecan meal if you can find it.
These pecan lace cookies are great for a gluten-free cookie. The cook quickly, with only 8 minutes of baking time per cookie sheet, they require no refrigeration, and the batter is so quick to assemble.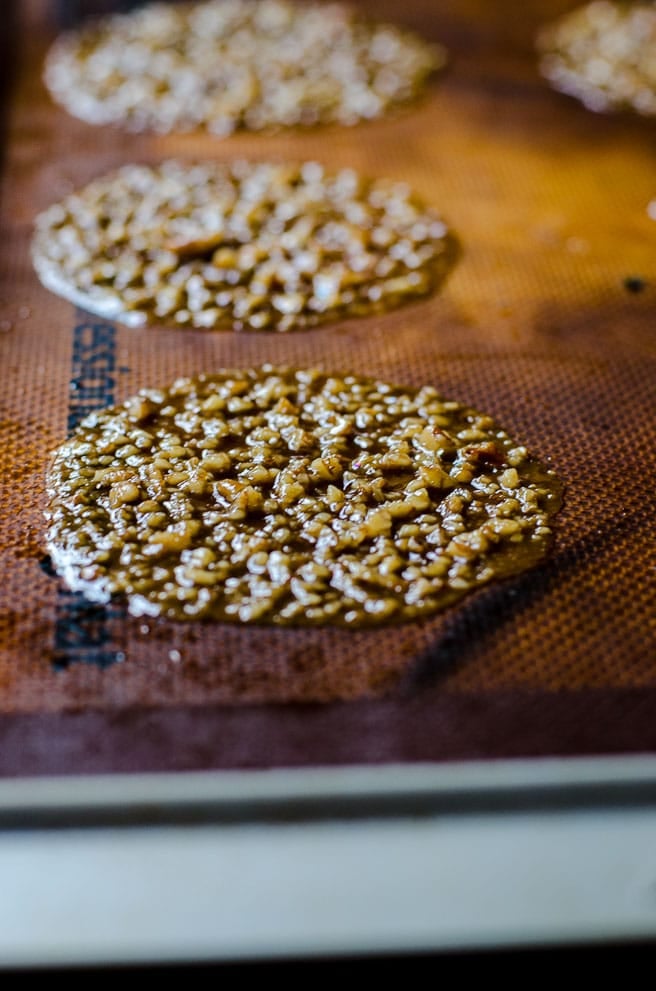 Why Are My Lace Cookies Breaking?
The primary reason lace cookies break is because the pecans weren't ground into a fine enough meal. Since the pecans are used as a flour alternative, they need to be extremely small like flour. This gives the cookies something to bind them.
In positive news, if you do get a bunch that break, they make an excellent topping for ice cream or hot chocolate!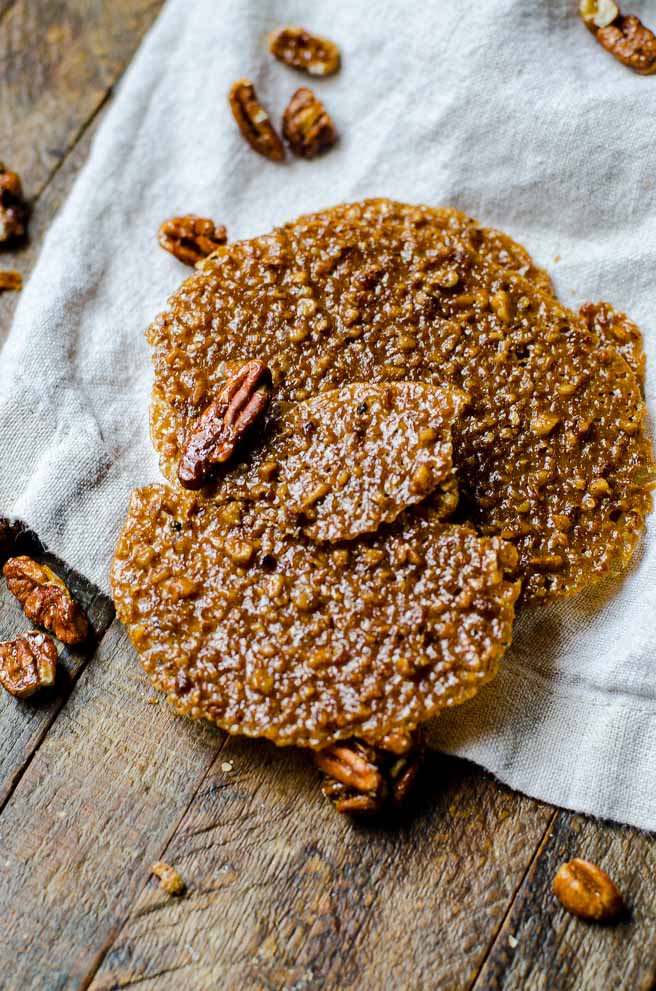 How To Store Lace Cookies
As long as the lace cookies are appropriately cooked, the cookies should stay crisp in an airtight container for up to a week. I recommend keeping them at room temperature so as not to dampen the texture of the lace cookies with extra moisture.
If you don't get the cookies cooked completely, where they seem done, but are moldable rather than crisp, they will turn into a sticky glob after more than a day. Especially if they touch.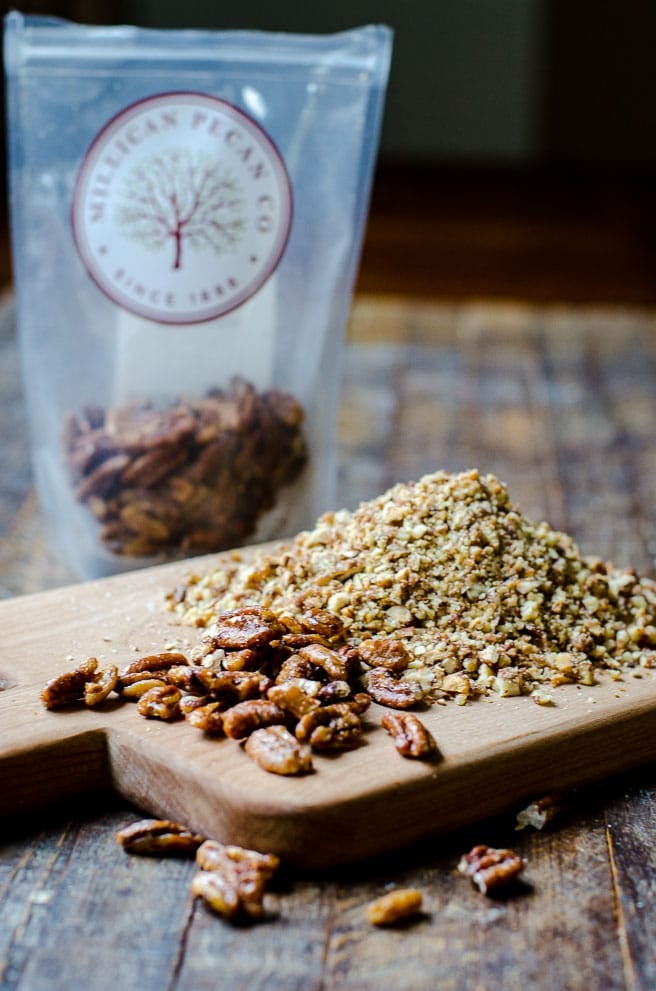 How To Make Pecan Meal
The easiest way to make the pecan meal for these cookies is with a food processor. You can pulse the sweet and spicy pecans in there until they are finely ground. If you don't have a food processor available, you can certainly use a knife or a nut chopper, it will just take much longer.
To get the really wonderful look of a lacey cookie, the cookie has small holes in it that look like lace, you want your pecan meal to have a slight variance in size. Don't pulverize the pecans until they make a flour, make sure a few pecans are left chopped super small.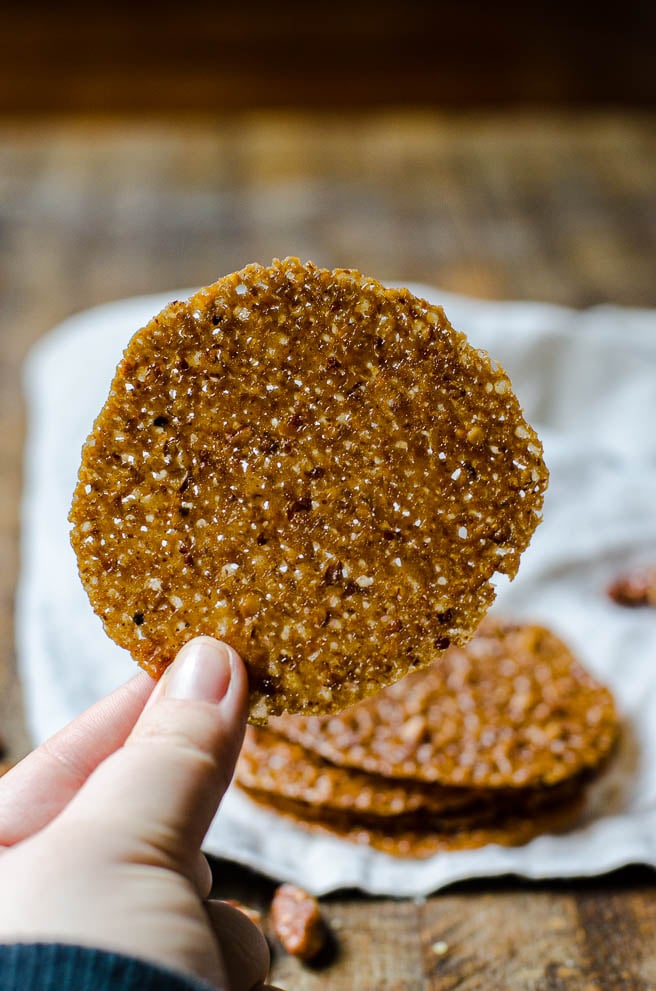 Pro Tips For Making Lace Cookies
Dark brown sugar may make them look burnt. They may not actually be burnt, the deeper color from the molasses in the sugar may make them appear to be overly caramelized. Judge by whether or not they are crisp.
Uneven parchment sheets will make your cookies lopsided. I recommend using a silicone baking mat or lining your baking sheets with parchment paper that is cut to fit the pan. If the sheet angles upwards in a rimmed sheet, that angle is likely to make your cookies become lopsided during cooking. The same thing happens if your pan is warped as well.
If the butter is separated from the dough, it hasn't cooled enough. As the batter for the lace cookies cools, the butter will congeal into it. If you stir it up and the butter is still separating from the brown sugar, give it another minute or two and try again.
It is easy to use too much batter. Lace cookies spread a lot when they cook. As a result, you only need about a teaspoon of batter for each cookie. Each standard prepared baking sheet should fit roughly 6 cookies at a time.
As the batter cools, you need to use less. As the batter cools in the pan, the ingredients begin to congeal. When the batter is warm, you only need a scant tablespoon per cookie. However, if you use that amount when the batter is at room temperature, it will make a cookie twice as large. Reduce the size of the cookie as it cools to keep them uniform.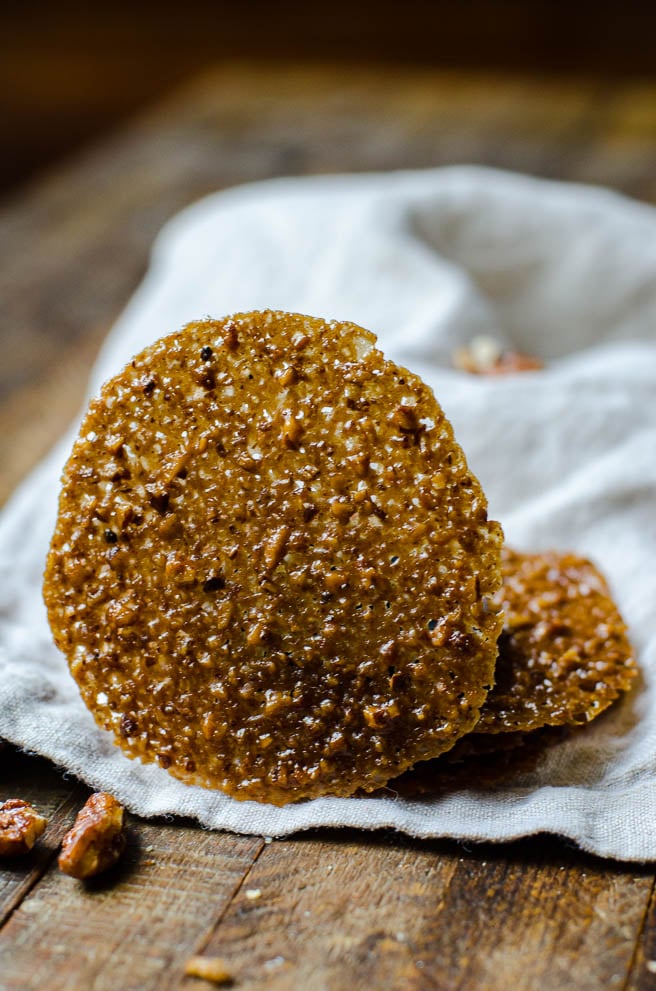 #ChristmasCookies Week
Thank you to Ellen of Family Around the Table and Christie from A Kitchen Hoor's Adventures for hosting #ChristmasCookies Week And a huge thank you to our sponsors Adams Extract and Millican Pecan Company for supporting the bloggers and events like Christmas Cookies Week.
Check out today's cookie recipes:
Black Forest Stuffed Cookies
by A Kitchen Hoor's Adventures
Bourbon Molasses Cookies
by Cookaholic Wife
Cake Mix Chocolate Peppermint Cookies
by Love and Confections
Candied Pecan Lace Cookies
by Food Above Gold
Caramel Butter Pecan Cookies
by Hezzi-D's Books and Cooks
Chocolate Pecan Thumbprint Cookies
by Intelligent Domestications
Coconut Grinchy Christmas Breakfast Cookies
by Faith, Hope, Love, & Luck Survive Despite a Whiskered Accomplice
Cinnamon Pecan Snickerdoodles
by Blogghetti
Dark Chocolate Pecan Croissant Cookies
by Daily Dish Recipes
Easy Snickerdoodle Cookie
by Everyday Eileen
Fruit Cake Biscotti
by Creative Southern Home
Fruitcake Cookies
by Red Cottage Chronicles
Gluten Free Hungarian Rugelach
by Frugal & Fit
Goat Cheese & Rosemary Thumbprints with Cherry Jam
by The Spiffy Cookie
Hot Chocolate Chip Cookies
by Cheese Curd In Paradise
No Bake Chocolate & Marshmallow Stained Glass Cookies
by Hardly A Goddess
Pecan Butterscotch Shortbread Cookies
by Karen's Kitchen Stories
Pecan Sandies
by Books n' Cooks
Pecan Tassies
by Strawberry Blondie Kitchen
Peppermint Blossom Cookies
by Family Around the Table
Speculaas Stars
by Palatable Pastime
Triple Chocolate Mint Cookies
by Sweet Beginnings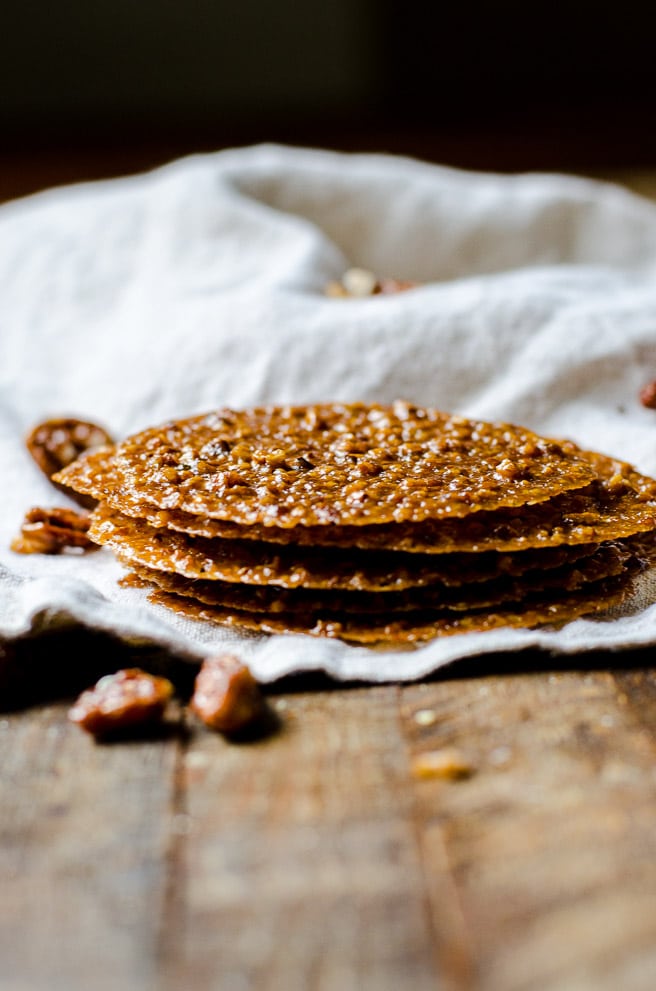 Sweet and Spicy Pecan Lace Cookie Recipe
Since the candied pecans already have the sweet and spicy flavor built into them, you don't have to add any additional spices to your cookies. This makes these a cinch to put together, especially during the holidays where candied and spiced pecans are easy to find.
Happy Cooking! 🙂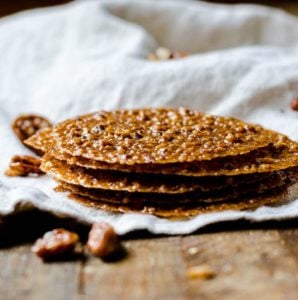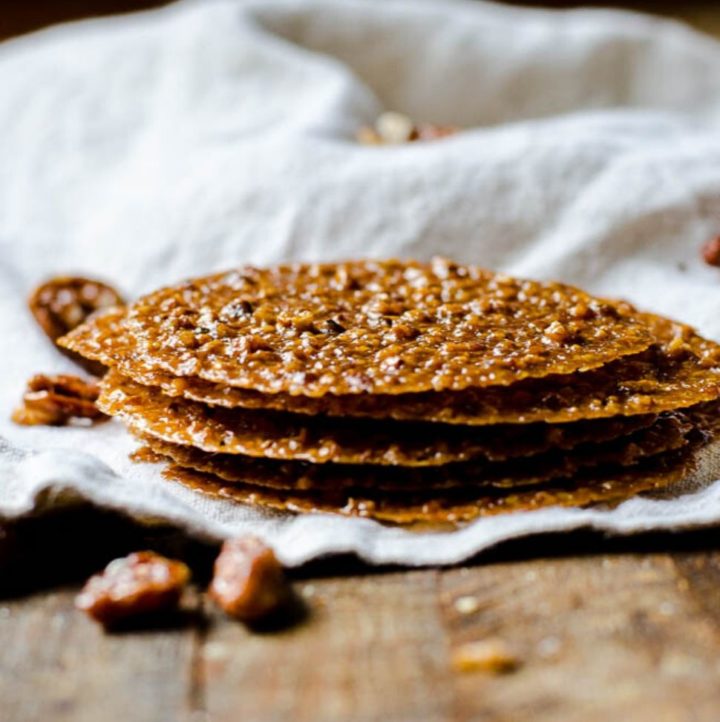 Sweet and Spicy Pecan Lace Cookies
With just a slightly spicy finish, these pecan lace cookies are wafer-thin, crispy, and delicious.
Pin it for later?
Ingredients
½

cup

butter

⅔

cup

packed brown sugar,

(dark or light)

¾

cup

sweet and spicy pecans,

ground fine

1

Tablespoon

corn syrup

½

teaspoon

salt

1

teaspoon

vanilla extract
Instructions
Melt butter in a small saucepan over low heat.  Stir in the brown sugar, salt, pecan meal, and corn syrup.  Whisk until sugar is dissolved. Remove from the heat and stir in vanilla extract.  Set aside to cool for 10-12 minutes.

Preheat the oven to 350 degrees.  Line two baking sheets with parchment paper or a silicone baking mat and drop a scant teaspoonful of cookie dough on the sheet, three inches apart.  

Bake for 7-9 minutes, or until the cookies are golden brown.  Remove them from the oven and allow to finish cooking on the baking for sheet for at least 5 minutes.  Transfer to a wire rack to cool completely.
Nutrition
Serving:
1
cookie
|
Calories:
63
kcal
|
Carbohydrates:
7
g
|
Protein:
1
g
|
Fat:
4
g
|
Saturated Fat:
2
g
|
Cholesterol:
8
mg
|
Sodium:
79
mg
|
Potassium:
7
mg
|
Fiber:
1
g
|
Sugar:
6
g
|
Vitamin A:
95
IU
|
Calcium:
7
mg
|
Iron:
1
mg
Tell me how much you love this recipe
and show off how you made it!