This homemade bbq sauce recipe has complex flavoring that makes it unique. Balanced with black coffee and a little (optional) liquid smoke, you'll never want store bought again.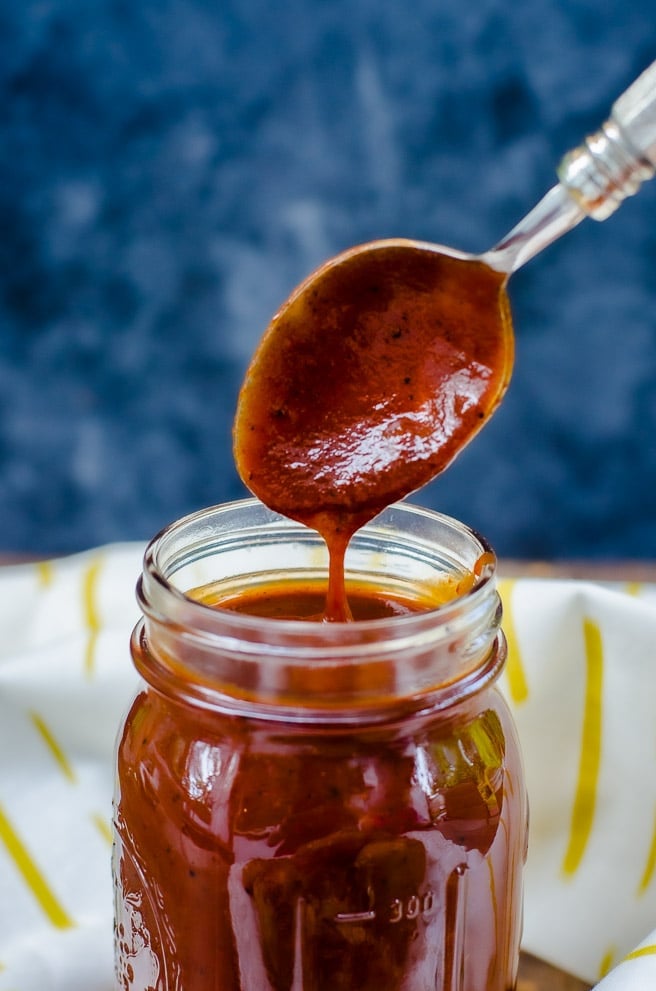 Making any barbecue sauce recipe from scratch feels like black magic. Something so flavorful and delicious shouldn't be easy to make, right? It's exactly the opposite. Homemade barbecue sauce is surprisingly simple, and the flavors can range from simple to complex.
This homemade bbq sauce uses some less common ingredients to make a flavor profile that puts store bought sauces to shame.
What's In Barbecue Sauce?
There are three major categories of barbecue sauces that are commonly used: Carolina, White, and Kansas City. Carolina is a really tangy vinegar or mustard based sauce that is often used with pulled pork. Alabama White is a mayonnaise based sauce that is light of flavor and pairs really well with smoky meats. And finally, there is Kansas City style (KC), which is the sweet and sour version most commonly used in American cooking.
This homemade bbq sauce recipe is based off of Kansas-City style barbecue. It has a foundation of tomato (both paste and ketchup), brown sugar, and apple cider vinegar. From there, select flavors are added to bring in complexity.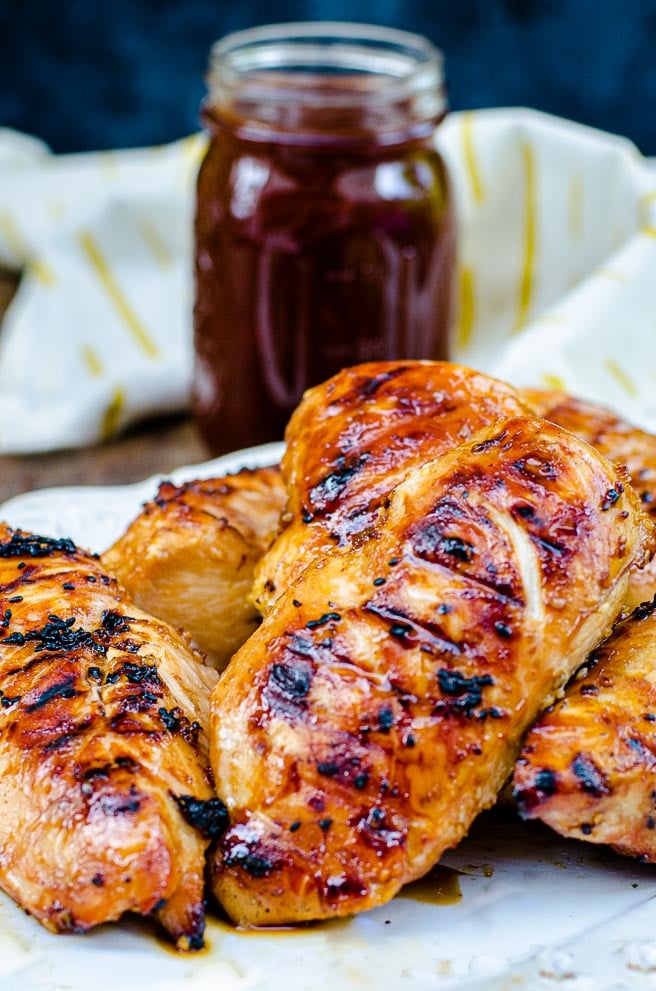 How Long Does Homemade BBQ Sauce Last?
Even though this homemade barbecue sauce is packed with vinegar and sugar, which are natural preservers, it is only good for about five days stored in an airtight container in the fridge.
The good news however is that it freezes really really well. Which means you can make a super large batch and have enough to last you all summer. To freeze homemade bbq sauce, put it in a freezer safe container and freeze for up to six months.
How To Thicken BBQ Sauce
The best way to thicken any homemade bbq sauce recipe is through simmering. After combining all of the ingredients, it only takes about 15 minutes to simmer them to the correct consistency.
A lot of recipes call for thickening with flour, but it takes about 30 minutes just to simmer out the taste of it. By the time that happens, your sauce is too either too thick or tastes slightly chalky. If you really need to hurry it along, you can use a cornstarch slurry. Once your homemade bbq sauce is to a boil you can add it in and cut out the simmering time.
The high quality flavor that comes from the brief simmering time will far outshine either of these thickeners.
How To Make This Barbecue Sauce Recipe Even Better
A really well made homemade bbq sauce can be a foundational flavor for the meal. If you want yours to truly shine, check out these helpful ways to improve your culinary expertise.
Are Your Dried Spices Fresh? If you haven't used your dried mustard, smoked paprika, or other dried spices in a while, they may have lost their strength. Find out how to tell if your dried spices are too old, plus a helpful hack to know when to throw them out.
Grilling 101. This explains the best ways to achieve those perfect grill marks when you take to your grill this summer.
If you need some ways to use this bbq sauce, here are some recipes I recommend: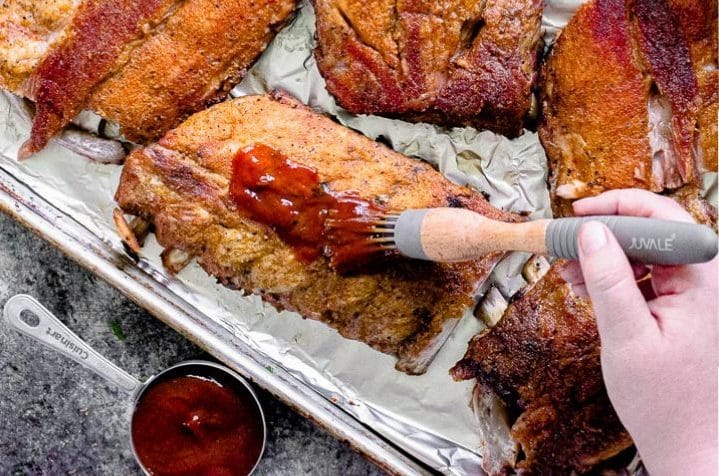 Homemade BBQ Sauce Recipe
There is a large mistake that is usually made when making a strong cup of coffee, and that's oversteeping. If you overly steep the coffee, yes it will get stronger, but it also gets extremely bitter. Instead letting it steep longer, use more grounds and brew for the same amount of time you usually would.
Thanks so much for stopping by!
Happy Cooking! 🙂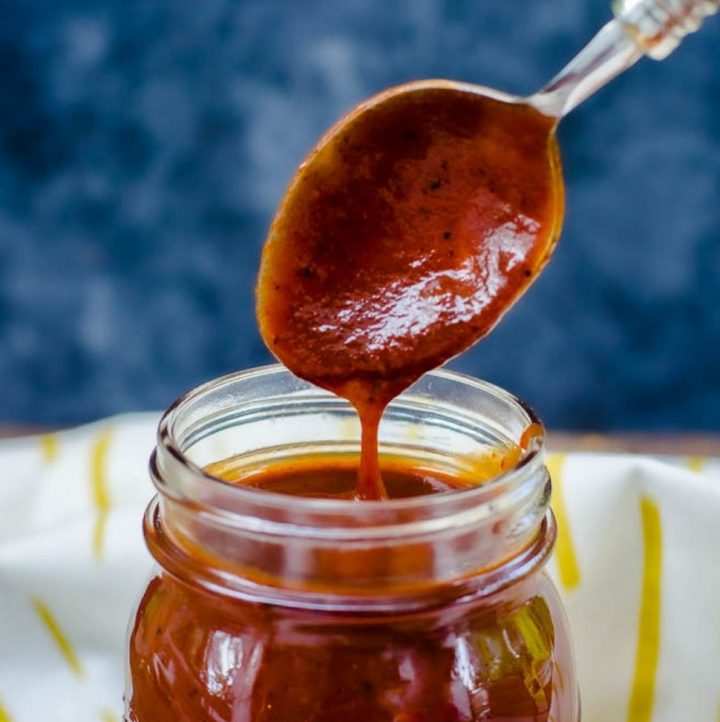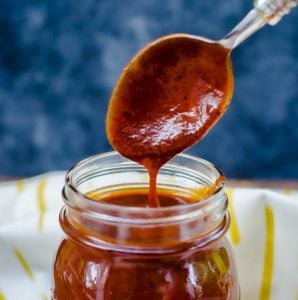 Homemade BBQ Sauce
Use this easy homemade bbq sauce recipe to make ribs, bbq chicken, epic burgers and so much more!
Pin it for later?
Ingredients
1

teaspoon

oil

½

cup

minced onion

3

cloves

garlic

,

smashed and minced

1

jalapeno

,

seeds removed and minced

2

Tablespoons

chili powder

6

ounces

tomato paste

¼

cup

ketchup

½

cup

strong brewed coffee

¾

cup

apple cider vinegar

¾

cup

apple cider or apple juice

¼

cup

packed brown sugar

¼

cup

Worcestershire sauce

1

teaspoon

salt

1

Tablespoon

smoked paprika

1

teaspoon

dry mustard

1

teaspoon

liquid smoke
Instructions
Over medium heat, sauté the onion, garlic, and jalapeno in the oil until the onion begins to turn translucent. Add in the chili powder and tomato paste and cook until it turns to a rust color. About

3 minutes.

Add in the rest of the ingredients and bring to a boil. Reduce the heat and bring to a simmer for

15 minutes

or until the sauce is thick enough to coat the back of a spoon.  Season with additional salt and fresh cracked black pepper to taste.

Let the sauce cool to room temperature before storing in an airtight container in the refrigerator until use.
Nutrition
Serving:
1
serving
|
Calories:
187
kcal
|
Carbohydrates:
40
g
|
Protein:
3
g
|
Fat:
2
g
|
Saturated Fat:
1
g
|
Sodium:
833
mg
|
Potassium:
882
mg
|
Fiber:
4
g
|
Sugar:
29
g
|
Vitamin A:
2825
IU
|
Vitamin C:
18.9
mg
|
Calcium:
78
mg
|
Iron:
3.6
mg
Tell me how much you love this recipe
and show off how you made it!