Whether you're making a pumpkin spice latte, popcorn, or oatmeal, this homemade pumpkin pie spice recipe is the best.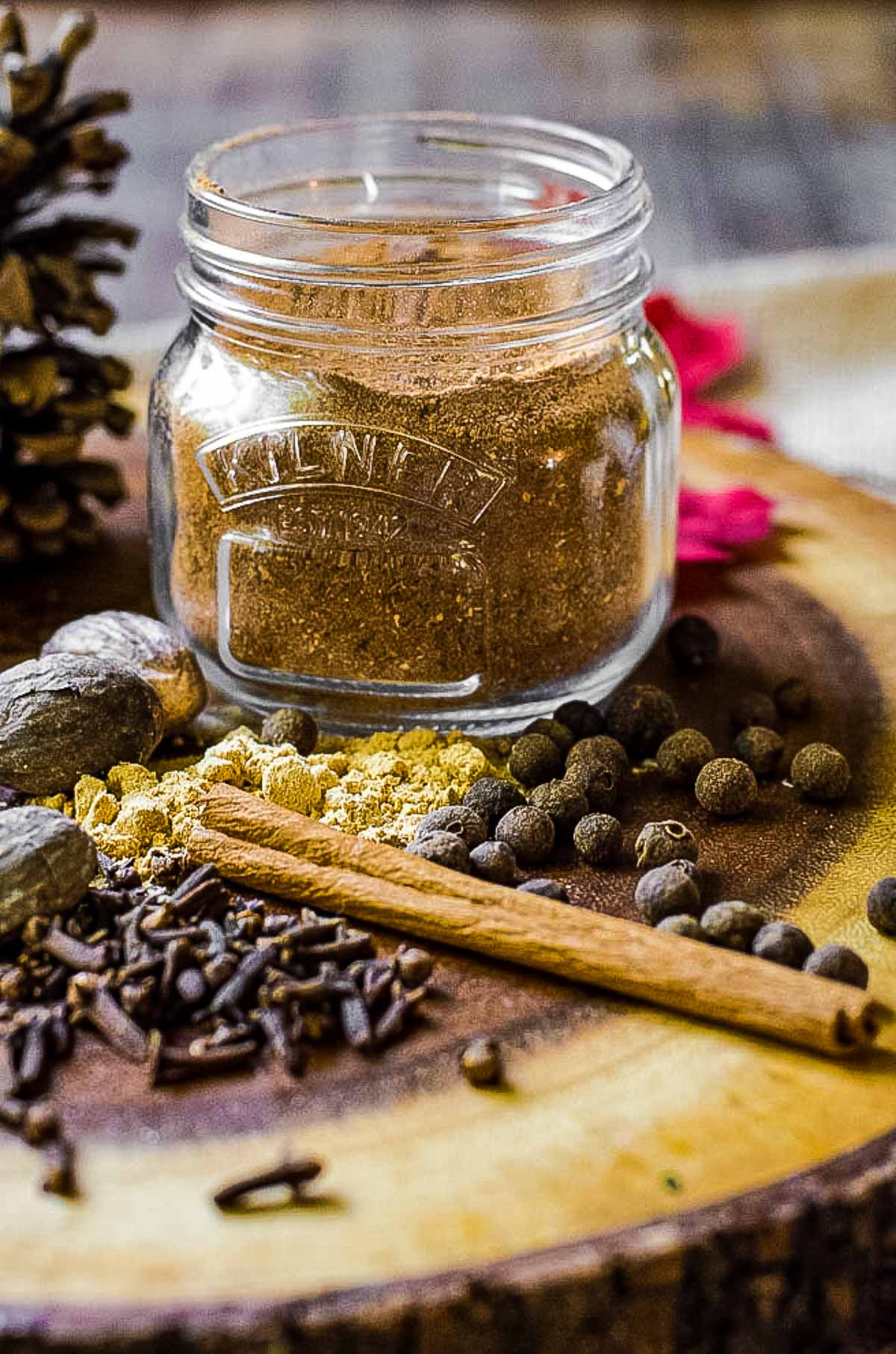 Did you know that by the time you get store bought pumpkin pie spice home, the spices are usually already over a year old? If not closer to two.
Did you also know that dry spices have a shelf life of only one year? This doesn't make sense does it? That's why it is important to know how to make pumpkin spice at home so you have better control over the quality and flavor of your favorite recipe calling for pumpkin.

What Is In Pumpkin Pie Spice?
This simple spice blend is traditionally made of cinnamon, cloves, ginger, and nutmeg, with some variations calling for allspice. These "warm" fall spices are easy to find both whole or ground in the grocery store, with the exception being the ground ginger. (Also called powdered ginger.)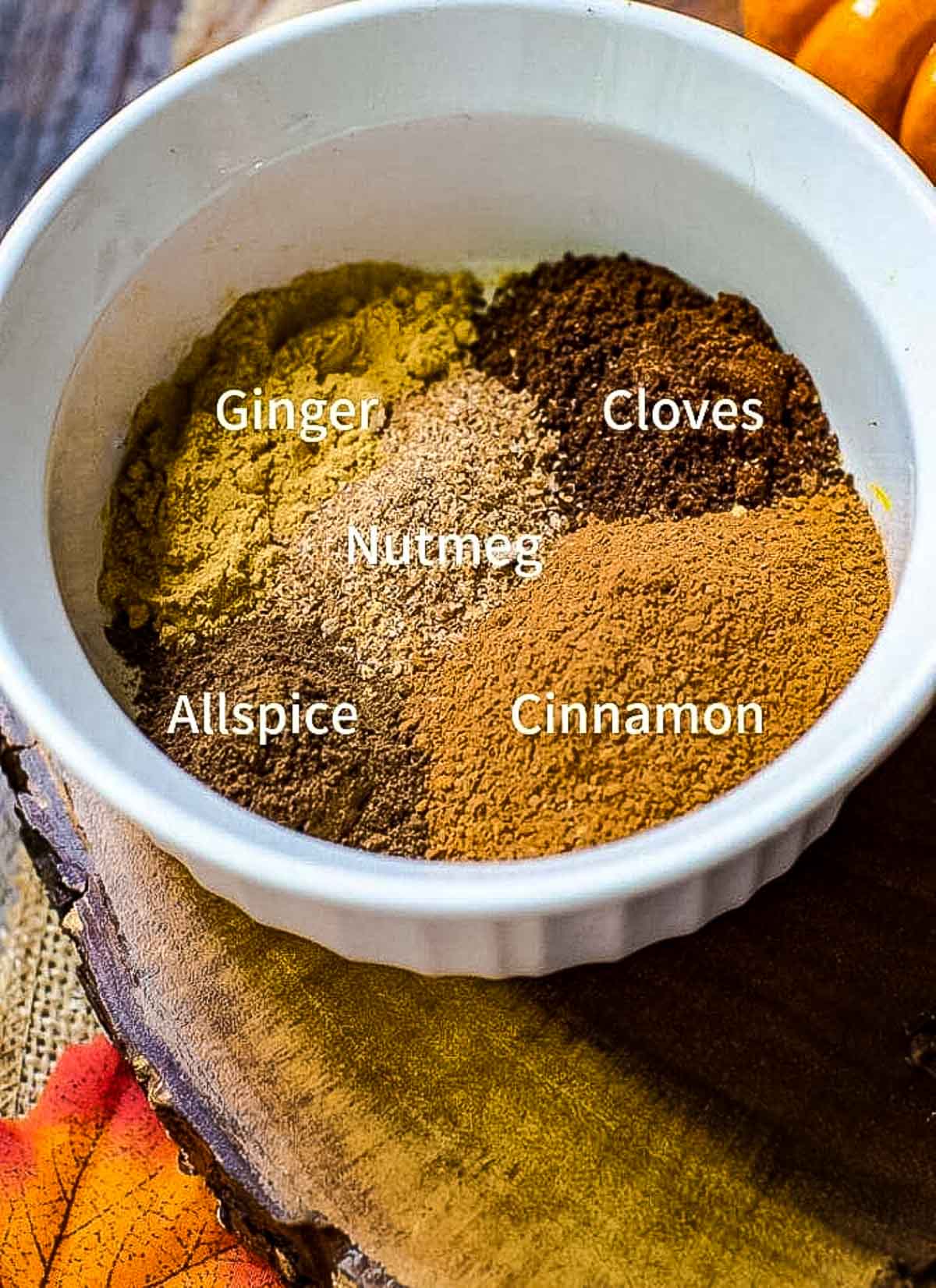 How To Grind Spices
Since you can buy most of these dry spices whole, this is the way I recommend going. It only takes a few extra minutes to grind the spices, and it completely changes the game for how effective and flavorful spice mix is. This is easily done with an electric appliance or a mortar and pestle.
My favorite way to grind spices is with the dry container for my Vitamix, however this is only really useful if you are making large batches. . If you want to go another route, I recommend using a basic level coffee grinder like this. If you keep it separate from your normal grinder, you won't deal with flavor cross contamination with your morning coffee. Once you have finely ground cinnamon, you can make the ground cloves, etc…  
After, all the spices are ground, just wipe it out the grinder with a slightly damp paper towel. Don't forget to get the underside of the blades as well!
Since nutmeg can't be ground in a grinder, use a simple citrus zester one gets the job done easily. Just make sure to do it over a container that it is easy to get the ground nutmeg out of for measuring.
In the picture below you can see the difference between the freshly ground and what you get from the store. This homemade pumpkin spice is a little more coarse, but it also doesn't clump. It is also more vibrant than the store bought because it isn't stale and oxidized.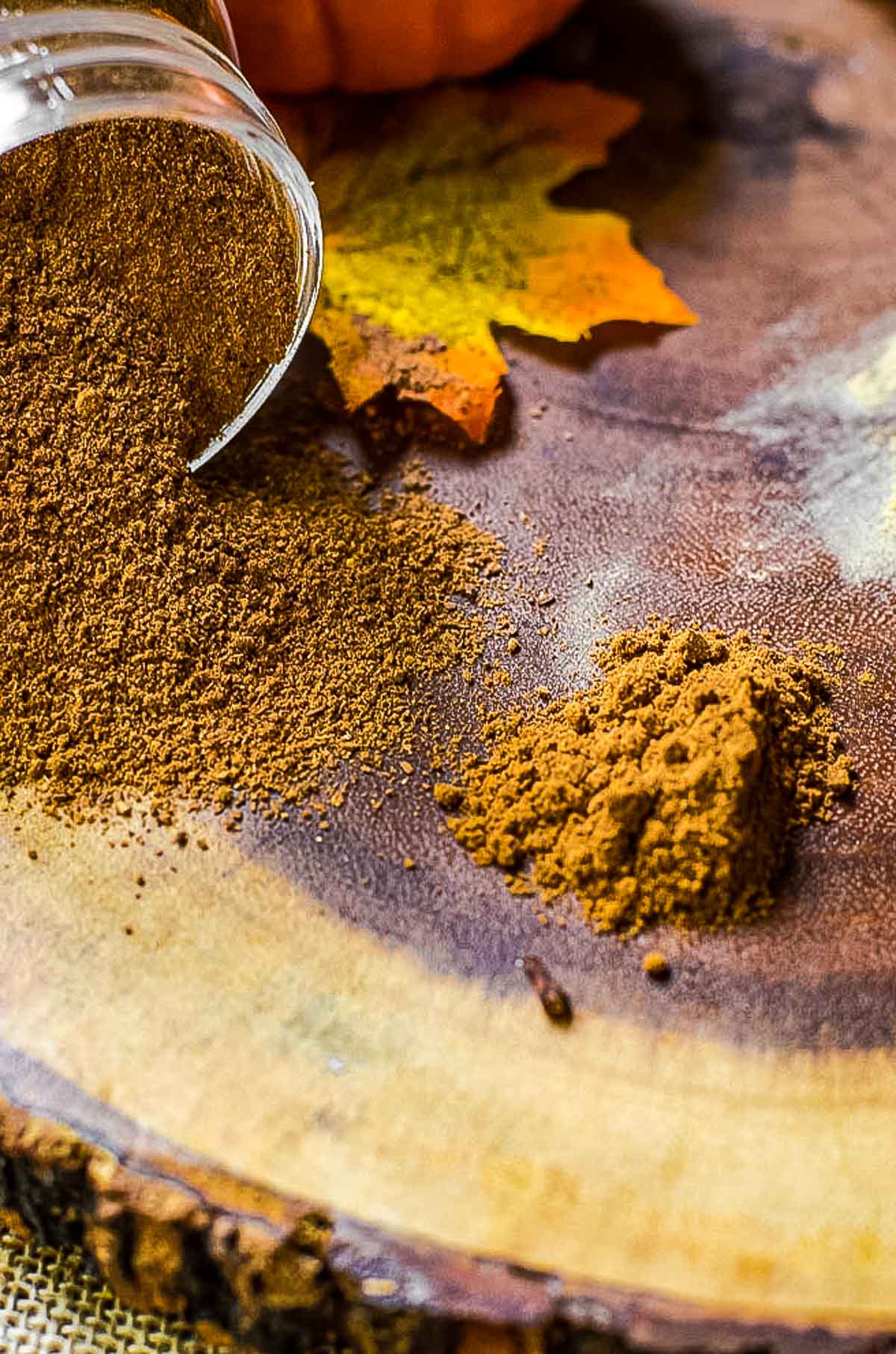 Ways to Use This Homemade Spice Mix
Beyond simple pumpkin pie, this spice mix can be used on almost any recipe calling for pumpkin. Additionally, it can be used for making anything flavored like autumn. For some great recipes that utilize this inviting spice blend, check out this list of my favorites below.
Pumpkin Overnight French Toast with Pecan Praline Topping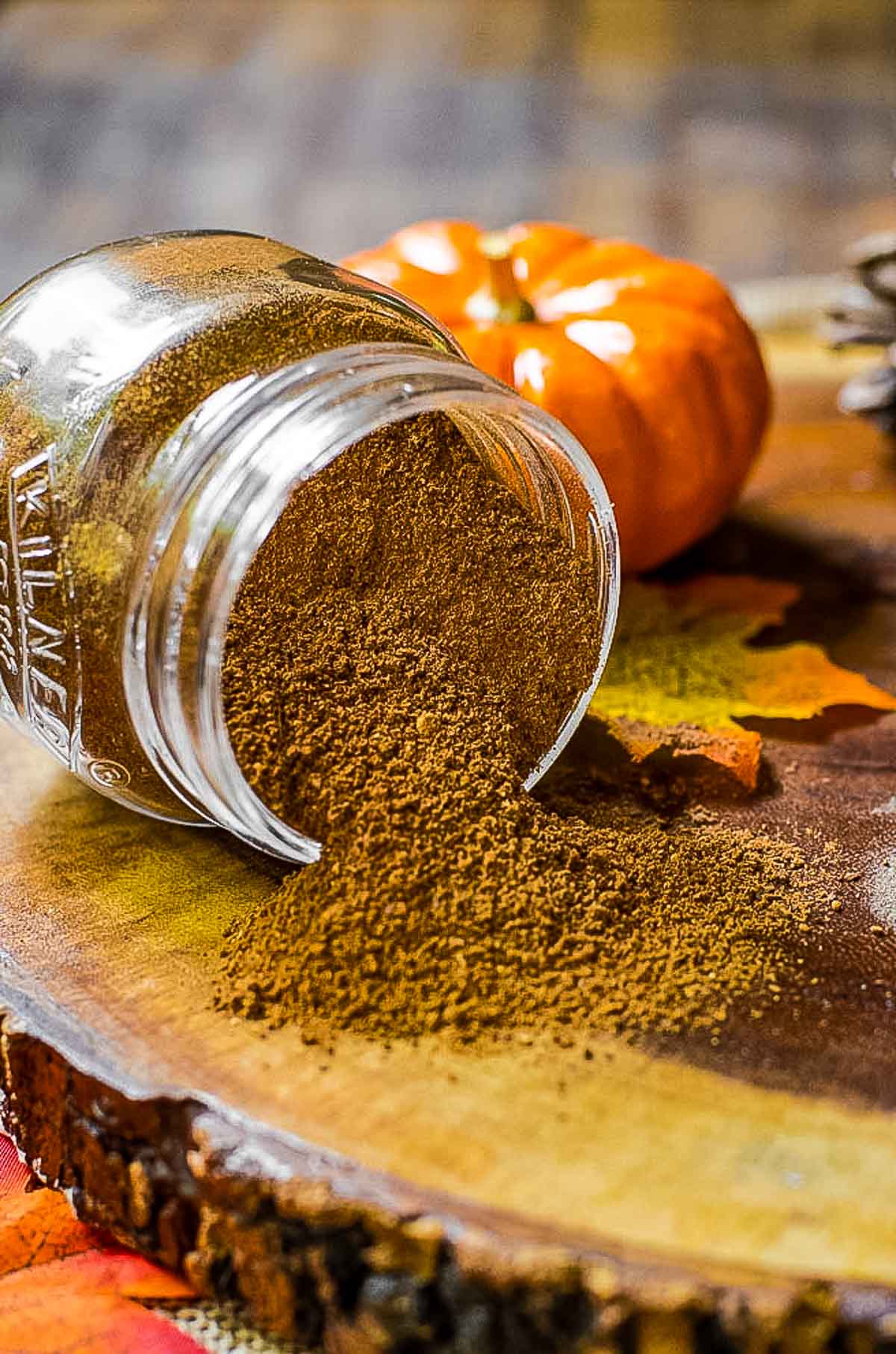 Homemade Pumpkin Pie Spice Recipe
Keep in mind that if you went the route of grinding whole spices, this pumpkin spice recipe will be much more potent than the store bought version. To keep from overwhelming what you're cooking, start by adding in only ¾ of what the recipe calls for, then taste test it and add additional if needed.
---
Thanks so much for stopping by!
Happy Cooking! 🙂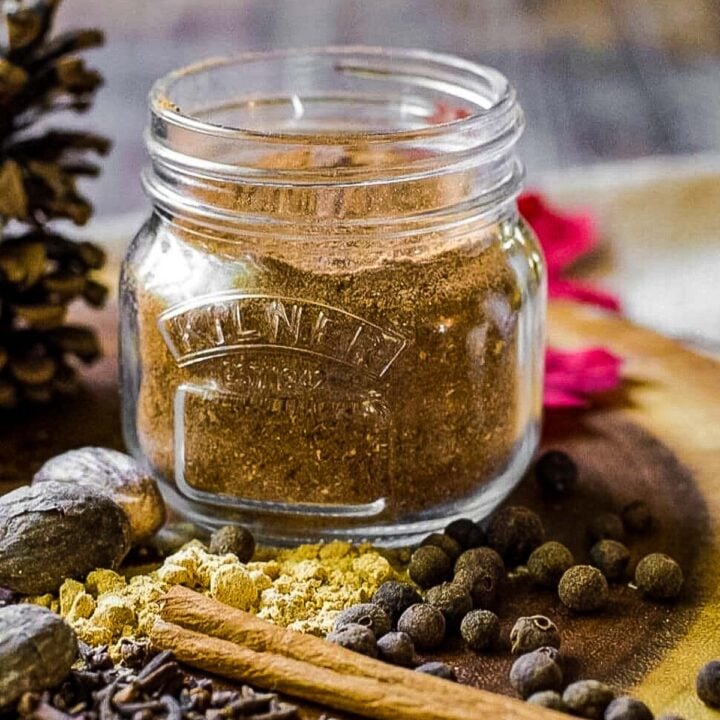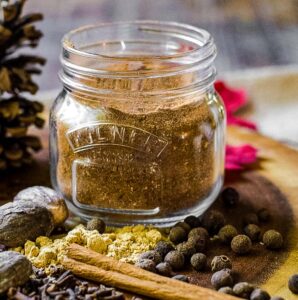 Homemade Pumpkin Pie Spice
This flavorful blend of freshly ground spices is warm, comforting, and perfect for all your autumnal recipes.
Pin it for later?
Ingredients
5

teasooons

ground cinnamon

1 ¼

teaspoon

ground allspice

1 ¼

teaspoon

ground nutmeg

,

(about ½ of a whole nutmeg)

1 ¼

teaspoon

ground cloves

1¼

teaspoon

ground ginger
Instructions
Using a mortar and pestle or spice grinder, grind the cinnamon, cloves, and allspice.  Put them in a small bowl and set aside.

Using a fine zester, grate the fresh nutmeg into the mix and add in the ground ginger.  

Stir the spices together and store in an airtight container.  
Notes
Make sure to put an expiration date of 6 months from when you made it.  Keep it in a cool, dark place to help prolong its shelf life.
Nutrition
Serving:
1
teaspoon
|
Calories:
3
kcal
|
Carbohydrates:
1
g
|
Protein:
1
g
|
Fat:
1
g
|
Saturated Fat:
1
g
|
Sodium:
1
mg
|
Fiber:
1
g
|
Sugar:
1
g
|
Vitamin C:
1
mg
|
Calcium:
4
mg
|
Iron:
1
mg
Tell me how much you love this recipe
and show off how you made it!