Try this simple custard-free strawberry lavender ice cream recipe and discover your new favorite treat. It's bright, refreshing, and full of summer flavors.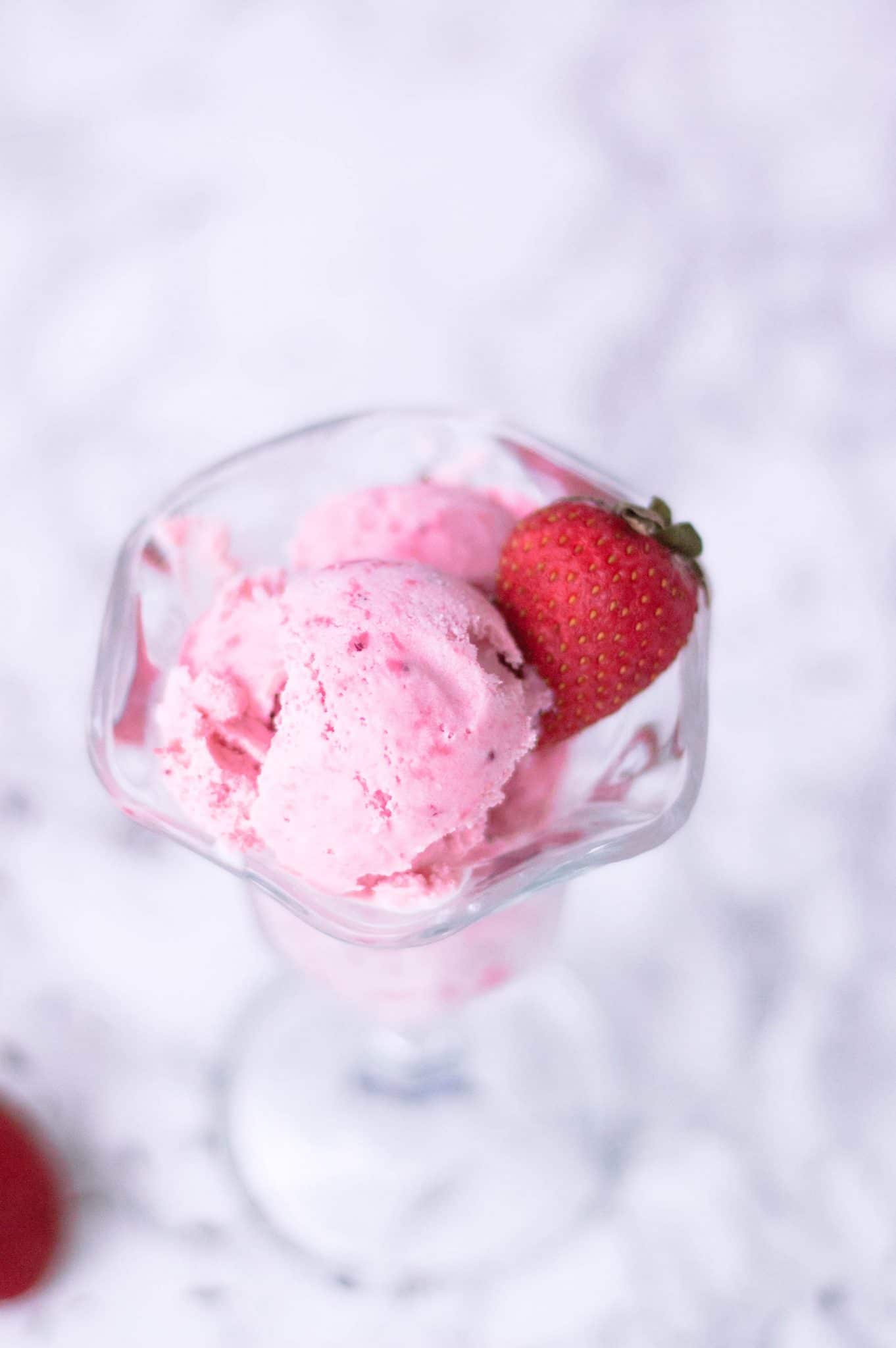 Hello all!  I'm super excited for today's post because we're finishing off our month of edible flowers recipes with a special one – a guest post for a blog I love – Cook.Craft.Love.  A few months ago, I got in touch with Meaghan, who runs this fantastic blog, and talked with her about the opportunity to do a fun guest post for her.  We landed on this recipe for custard-free Strawberry Lavender Ice Cream and I quickly got to work developing, taste-testing, and taking pictures of this delicious summer treat.  If you are an ice cream lover, this is a great recipe to try out.  It has great flavor, beautiful color, and is relatively quick and easy to make compared to many ice cream recipes out there.
If you pop on over to Meaghan's blog, you'll see that I wrote the post for her in the style of her blog.  Don't worry though, you'll still find all of the usual goodies from me below – including the grocery list, tips, tricks, skills & techniques that will help you make this ice cream to the best of your ability!
P.S. In the blog post, I tell a story about how I "acquired" the lavender used for this recipe. It's a bit . . . risky 🙂
Skills & Techniques
If you want to execute this strawberry lavender ice cream recipe to perfection, here are the articles about skills I recommend mastering first.
Leftovers?
Depending on how you like to eat your ice cream, you can eat it straight out of the ice cream maker (this is the one I use) and it will be like soft-serve.  If you want it to be more traditional, then you'll want to store it in the freezer for at least 4 hours (overnight is best) to give it a chance to really solidify.  Because of the water content of the strawberries, you run a bit more risk of freezer burn than you would with custard ice creams, so make sure to store your ice cream in an airtight container for best results.
Once your ice cream is stored, it will keep in your freezer for up to 1 month.  If you would like to make just the strawberry-lavender fruit base while the strawberries and lavender are both fresh and in season, it will keep in an airtight container in the refrigerator for 2 weeks or in the freezer for up to 1 year.

Strawberry Lavender Ice Cream
Below you'll find the grocery list for this tasty strawberry lavender ice cream, but you'll have to follow the link over to Meaghan's blog to get the recipe 😉 If you've not done a Food Above Gold recipe before, the grocery list has everything in easy to find grocery store amounts; grocery shopping should be easy, right?  If no amount is listed, that means you can get the smallest package available and still have plenty leftover.  Get the printable grocery list for this Strawberry-Lavender Ice Cream recipe HERE.
---
Ready for the Strawberry Lavender Ice Cream recipe?  Follow me HERE.
---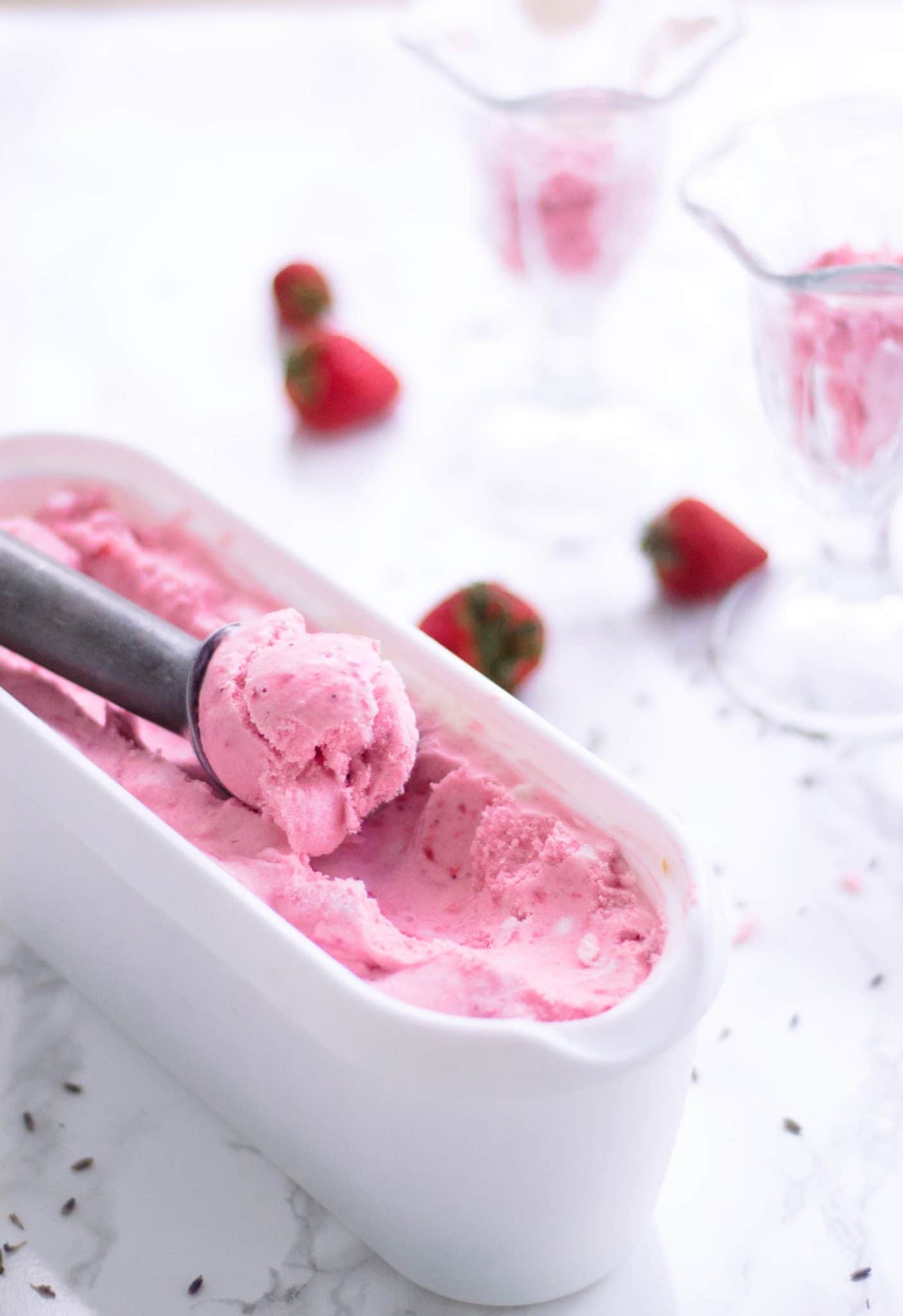 Thanks so much for stopping by!
Want to try some other edible flowers recipes?  Here are some I recommend:
Don't you just love Meaghan's blog?  Make sure to show her (and me) some love and leave a comment on the strawberry lavender ice cream post!  Also, if you like to take pictures of your food (like I do 🙂 ), snap a pic and show it to me on social media – @foodabovegold.  I love to see my recipes come to life in your kitchen!
Happy Cooking! 🙂