Enjoy this light and sweet strawberry, almond, and goat cheese salad that has a bright and zingy strawberry vinaigrette. The almonds give it a great crunch!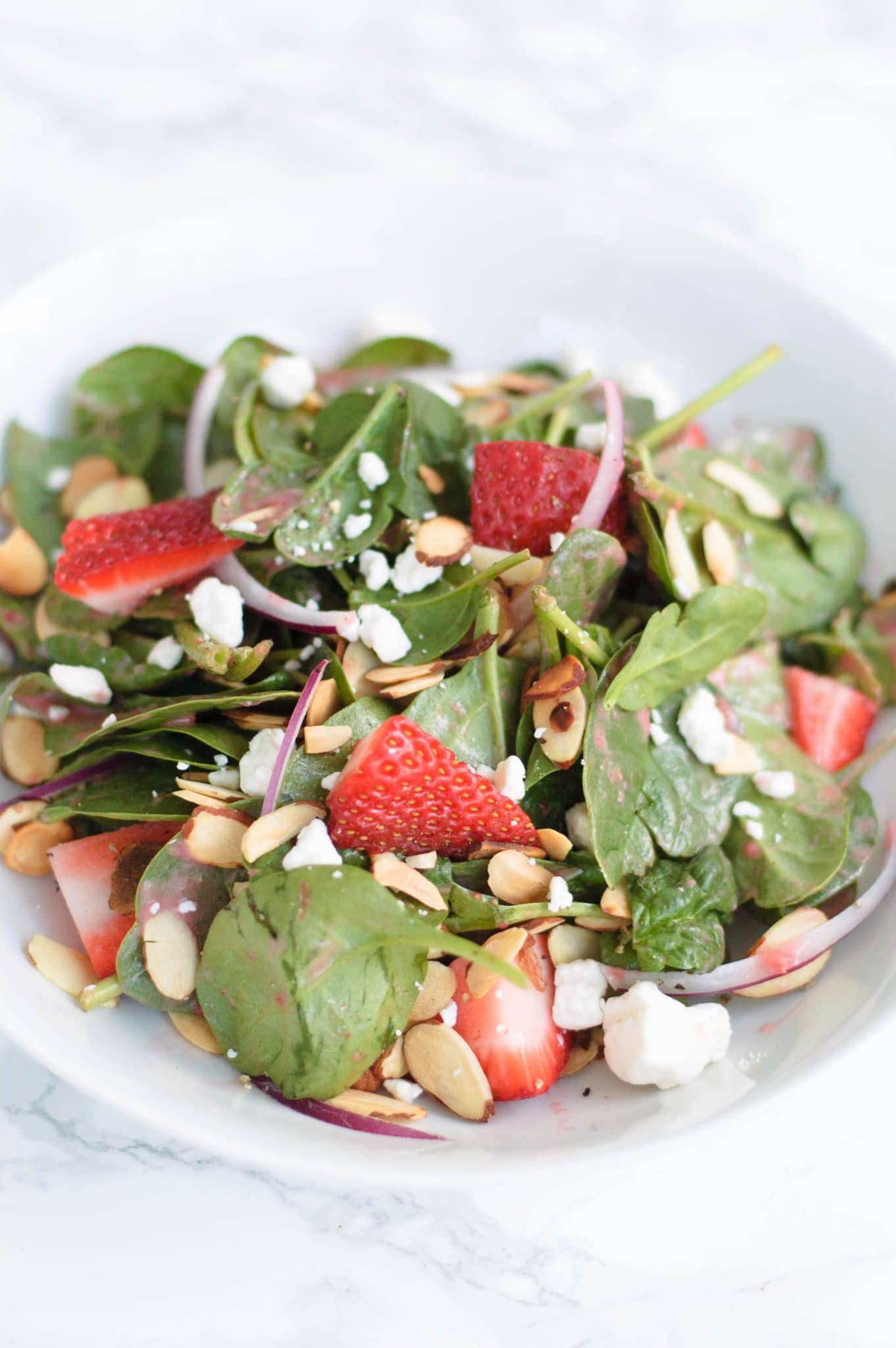 We're trucking along with our month of springtime salads, and today we're enjoying a strawberry, almond, and goat cheese salad.  This is the only "leafy greens" salad that we'll be covering this month, but it's a good one, and it builds on the strawberry and almond flavors in the strawberry vinaigrette.
Skills & Techniques
If you would like to master some other culinary talents, here are some things I recommend reading up on:
How To Make A Vinaigrette : This is great because you're making an unusual vinaigrette for today's strawberry, almond, and goat cheese salad since it puréed.
How To Purée : That just makes sense following the one before…right?
Buying & Storing Berries : Find out what to look for to get juicy and ripe strawberries

Leftovers?
Here's the deal with green salads; once they are dressed they begin to wilt.  That means that this salad isn't very good as leftovers.  So what do you do if you have extra?  Planning ahead is really about all you can do.  I recommend dressing each salad individually in an extra bowl before serving.  It creates an extra dish, but it allows you to have leftovers.  It's a bit of a you win-some lose-some situation, so pick which is more important with you and go with that.
If you don't dress your strawberry, almond, and goat cheese salad, it can sit in in airtight container in the fridge for up to 3 days, and the salad dressing can hold for up to 5 days in its own container.  You may start to notice that your vinaigrette separates over time.  A couple quick pulses through the blender will fix the problem quickly.

Strawberry, Almond, and Goat Cheese Salad
Don't get weirded out by the almond extract in the vinaigrette, it can add a bit of a sweetness to the strawberry, almond, and goat cheese salad without adding in any actual sweetener.  It can also be easily overpowering, and to many people it tastes like Christmas, so this is an optional ingredient.  Taste the vinaigrette after you've put it in and adjust the seasonings accordingly.  If it ends up being to strong for you, add a few extra strawberries and that should help even it out.
---
Get your free printable grocery list for this Strawberry, Almond, and Goat Cheese Salad recipe HERE.
---
If you've never used one of your grocery lists before, all of the ingredients are listed in easy-to-find grocery store amounts.  Grocery shopping shouldn't be stressful, so hopefully this will help out!  If no amounts are listed, that means you can buy the smallest amount available at the store and still have some leftover.
Happy Cooking!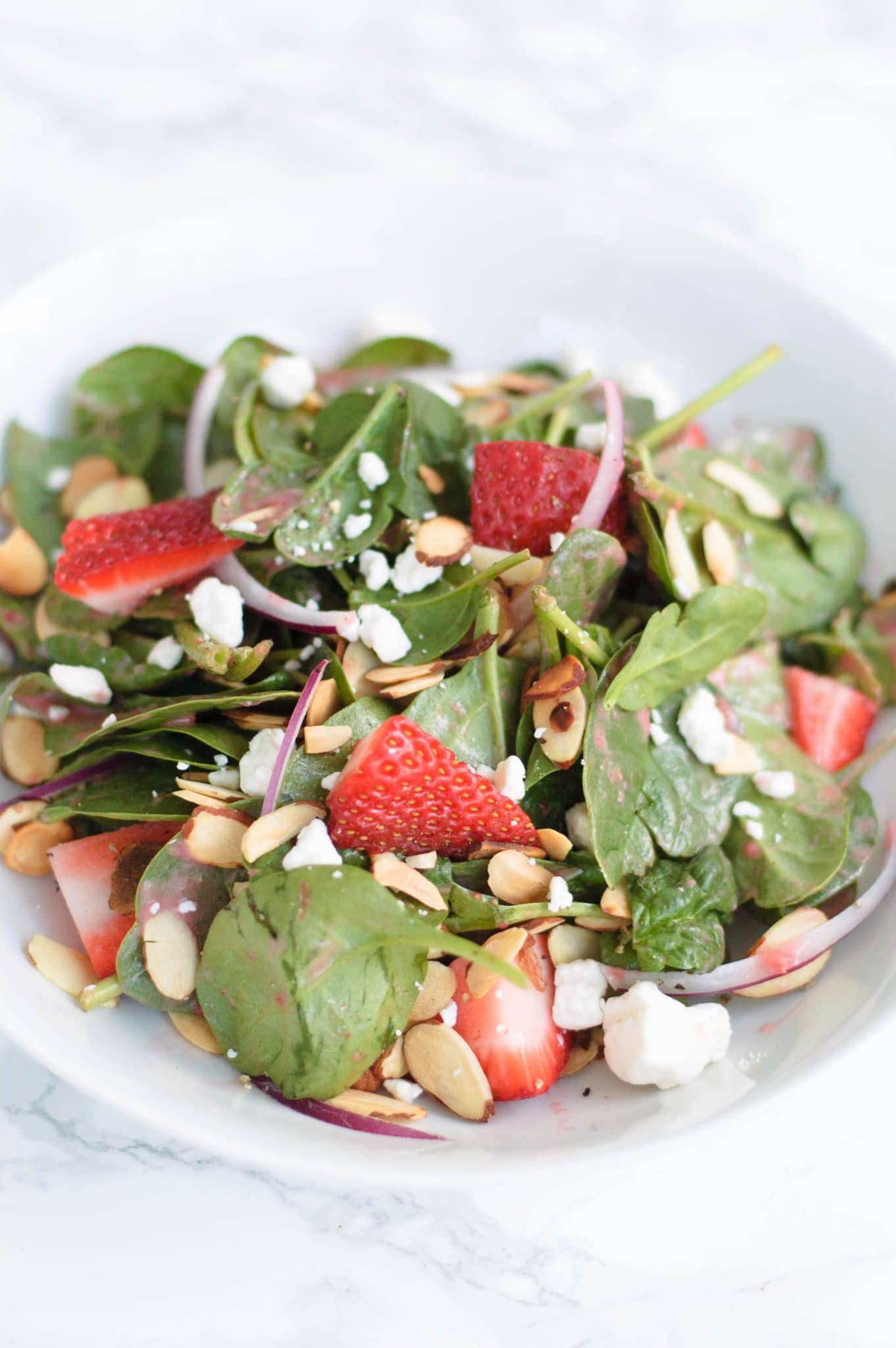 Strawberry, Almond, & Goat Cheese Salad
This sweet and tangy Strawberry, Almond, & Goat Cheese Salad with Strawberry Vinaigrette is light enough for a hot day while staying filling.
Ingredients
Strawberry Vinaigrette
1

cup

chopped strawberries

3

tbsp

white wine vinegar

3/4

cup

neutral cooking oil

, like avocado oil

1

clove

garlic

, peeled

1

tbsp

dijon mustard

1/4

tsp

almond extract

(optional)

salt & pepper

, to taste
Salad
8

cups

baby spinach

3

cups

strawberries

, stem removed and quartered

5

oz

goat cheese

, crumbled

1

small red onion

, sliced
Instructions
Toasted Almonds
In a small sauté pan over medium heat, toast the almonds until they are golden brown, stirring occasionally.
Strawberry Vinaigrette
In a blender, blend together the strawberries, garlic, mustard, white wine vinegar, and optional almond extract until smooth.

While pulsing the blender repeatedly, slowly pour in the oil until the vinaigrette is combined. Season with salt & pepper and set aside.
Salad
In a large bowl, combine the baby spinach, quartered strawberries, sliced red onion, and crumbled goat cheese.

Toss the salad with the strawberry vinaigrette, garnish with the toasted almonds, and serve.