If you're looking for a lasagna that is light and packed with lots of delicious veggies, look no further!  This Pesto Primavera Lasagna is filled with spring veggies and amazing flavor that will be a quick favorite!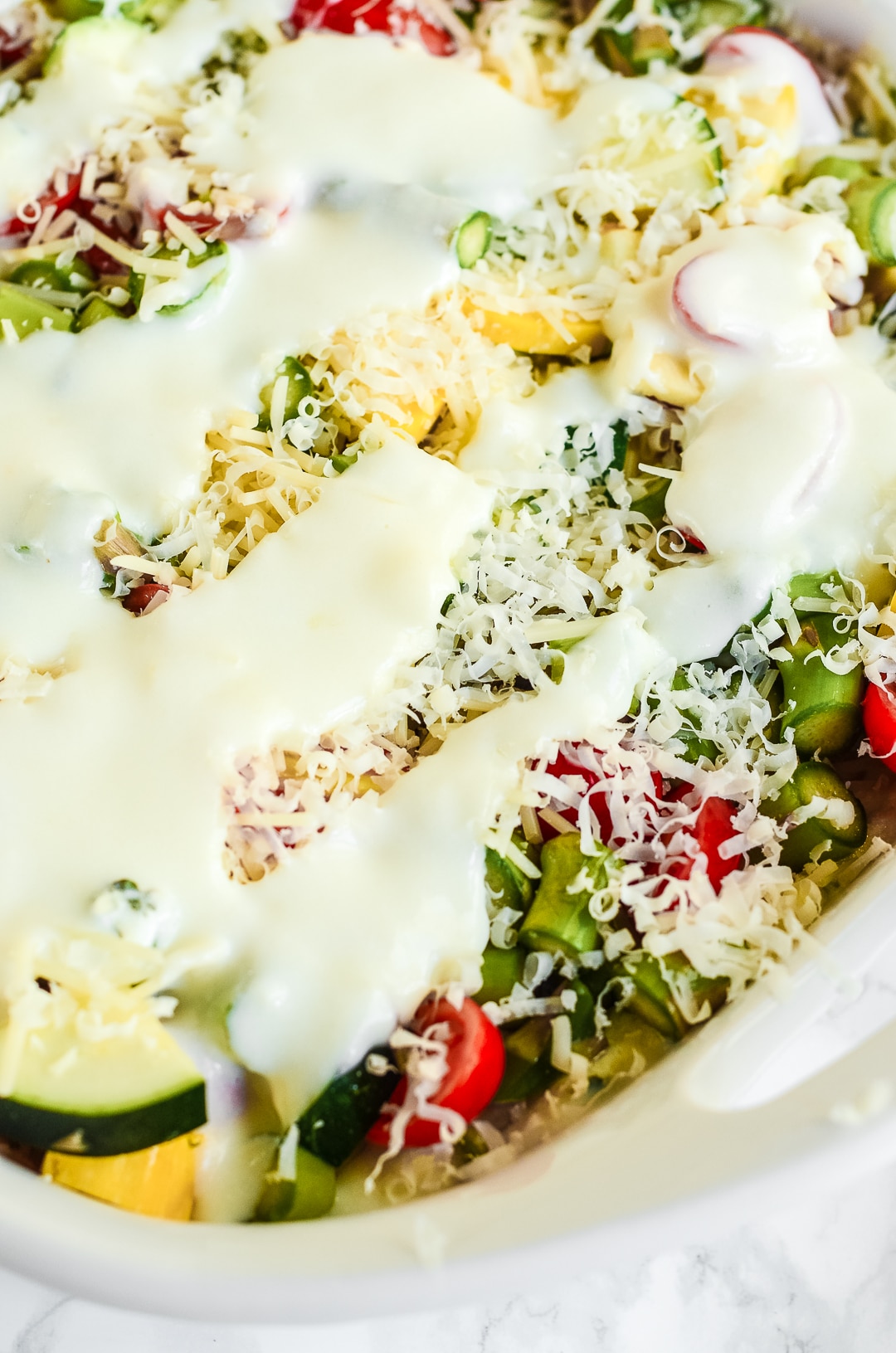 This Pesto Primavera Lasagna mixes all of the quintessential spring flavors together into one comforting meal.  Tomatoes, squash, asparagus, and pesto has it teeming with freshness, and classic béchamel cream sauce has it packed with cheesy goodness!
#SexyEats
As we continue on with our month of aphrodisiacs, you may be wondering what ones are in this Pesto Primavera Lasagna.  Let's look closer at the many ways this can help get you turned on.
Basil.  Like we talked about last week with the Aromatic Arousal cocktail, basil is one of the strongest aromatic aphrodisiacs out there.  Women used to dust their breasts with dried basil in the hopes of catching a man!
Pine nuts.  These are specifically geared towards men, as they are believed to help promote potency.
Asparagus.  Great for both men and women, asparagus is high in Vitamin E which helps increase sex drive.
Skills & Techniques
To really do justice to this Pesto Primavera Lasagna, master these cooking skills first.

Leftovers?
Lasagna is one of my favorite meals because it usually makes enough for leftovers.  If you have some of this Pesto Primavera Lasagna leftover, it will keep in the refrigerator for up to 5 days in an airtight container.
Béchamel sauce tends to separate when microwaved, which makes the lasagna taste greasy. If you want to reheat it, I recommend:
Preheat the oven to 350°F.
Cover the pan of lasagna with aluminum foil and bake for 30 minutes, or until heated throughout.
Remove from the oven, let sit for 5 minutes before serving.
To help give it an extra boost of freshness, you can sprinkle a little extra shredded cheese on top before baking, then remove the aluminum foil during the last 10 minutes of reheating.

Pesto Primavera Lasagna
A small thing I want to mention before you get the recipe.  In my post for Béchamel sauce, I discuss the different thicknesses for cream sauces.  While it isn't necessary, you may want to consider making the sauce a little thicker for this lasagna because the fresh tomatoes will thin it out just a bit.  All of the cheese will help bulk it up, but it won't completely do the trick.
---
 Get your free printable grocery list for this Pesto Primavera Lasagna HERE.
---
This grocery list has everything that you'll need to make this Aromatic Arousal Cocktail (Basil Ginger Gimlet) recipe.  To help in making grocery shopping simple, each ingredient is listed in easy-to-find grocery store amounts.  If there is no amount specified, that means that you can buy the smallest (or largest) container available and still have plenty left over.
Thanks so much for stopping by!
If you would like to try some of our other alluring aphrodisiac recipes, here they are.
Happy Cooking! 🙂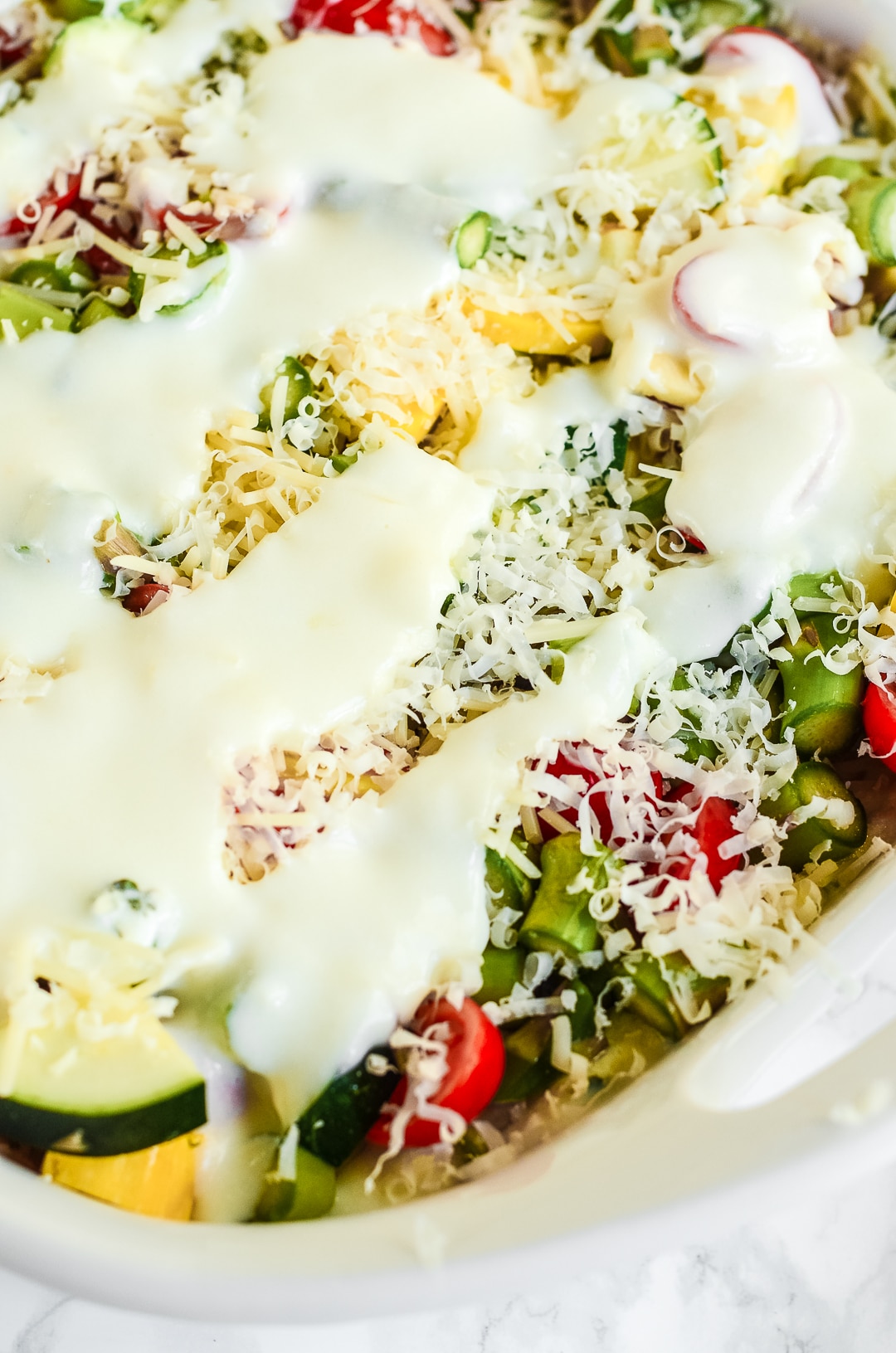 Pesto Primavera Lasagna | #SexyEats
Who says lasagna has to be heavy? This pesto primavera lasagna is full of delicious spring veggies, lots of aphrodisiacs, and gobs of gooey cheese, but won't leave you feeling weighed down.
Total Time
1
hour
40
minutes
Ingredients
PESTO FILLING
3/4

cup

pesto

15

oz

tub of whole-milk ricotta cheese

2

eggs
VEGGIES
1

pint

heirloom grape tomatoes

, halved

1

lb

asparagus

, trimmed and cut into 1/2" rounds, spears left intact

1

small zucchini

, diced

1

yellow squash

, diced
LASAGNA
1

lb

lasagna noodles

6

cups

Béchamel Sauce

1 1/2

cup

parmesan cheese

1 1/2

cup

pecorino-romano cheese
Instructions
PREHEAT
Preheat the oven to 375°F.
PESTO FILLING
In a bowl, whisk together the ricotta cheese and the two eggs until smooth. Stir in the pesto and season with salt. Set aside.
VEGGIES
Combine all of the veggies together in a bowl and stir until well distributed. Set aside.
LASAGNA
Lightly coat the bottom of a 9x13 pan with 1/4 of the béchamel sauce. Make a layer of the lasagna noodles so they are slightly overlapping and cover the entirety of the pan.

Slather the noodles with half of the pesto filling. Sprinkle it with 1/2 cup each of the pecorino-romano cheese and parmesan cheese, then top with half of the veggie mixture. Pour on 1 1/4 cups of the béchamel sauce.

Add another layer of overlapping lasagna noodles and repeat the previous step.

Add a final layer of overlapping lasagna noodles, pour on the remaining béchamel sauce and sprinkle on the last of the cheese. Cover the lasagna with aluminum foil, but be careful not to let it get to close to the cheese or it may take the cheese with it when you remove it later.

Bake for 45 Minutes, then remove the aluminum foil. Continue to bake for another 25 Minutes or until the lasagna is cooked through and the cheese is browned.

Remove from the oven, let sit for 10 Minutes, then serve.
Recipe Notes
Don't have time to make a Béchamel sauce? Substitute it with Alfredo sauce.
Want a little extra flavor in your lasagna? Try adding in half of a red onion (diced small) or up to 6 cloves of garlic.
Nervous about the cheese sticking to the aluminum foil? Try spraying the underside of the foil with nonstick spray, or rubbing it with butter before putting it on the pan.