Bonus Time!!!  Today, I'm throwing in an extra blog post for the week because I want to tell you about a new cookbook that I just had a lot of fun exploring and cooking from: The Make Ahead Kitchen, by Annalise Thomas.  I enjoyed it so much that I agreed to be part of her blog tour (which is like a book tour, but where other bloggers review her book) and tell all of you about it!
What Is The Make Ahead Kitchen Cookbook About?
"Skip the hassle of last-minute meals and leftovers and replace them with simple, healthy, delicious, and easy-to-prepare make-ahead dishes! Your family will love these comfortable meals, new favorites, cozy drinks, and tantalizing desserts—all of them prepared ahead of time so you don't have to worry! Enjoy simple, soul-filling foods without the chaos of preparing them at the last minute."
A lot of the recipes in The Make Ahead Kitchen are twists on familiar favorites.  So you know you'll be getting something fun, without straying too far from your usual meals.  It covers everything from snacks, to cookies, to dips, to drinks.
I noticed pretty quickly when flipping through the cookbook that a lot of the recipes are sweet. This isn't a bad thing by any means, but as someone who tends to eat more savory foods than sweet, this made it a little harder to find something more up my family's alley.  Upon closer inspection, I also noticed that Annalise's cooking style favors delicious, delicious, ingredients, like: bacon grease, heavy cream, half & half, and butter.  The part of me that is a French-Method Trained chef and knows that fat = flavor, feels right at home with this.  However, for the part of me who worked at a spa after graduating, and has a husband with a family history of heart disease, it made me realize that the recipes in The Make Ahead Kitchen would be special occasion recipes, not every day recipes.
My Experience
I put this cookbook to hard use while my Mother and my niece have been in town visiting for three weeks (did you see the instagram photo of our EXTREMELY pink cake?).  Knowing that I didn't want to spend their entire visit in the kitchen, this cookbook quickly made it to the top of the pile for recipes to try, and I had at least one meal a week planned out from it.
When I first heard about The Make Ahead Kitchen, I pictured it being more like a "prepping party" that you see on pinterest.  You know, where you spend an entire day making a whole bunch of meals that you can just reheat or cook throughout the month.  I was expecting everything to be laid out in a way where you can make the entire dish (mostly raw) ahead of time and the only cooking done would be cooking from frozen or chilled.  To my surprise, a lot of the meals required a bit more cooking on the front end than I expected.
Recipes I Tried
There were many recipes that I tried, but I want to focus on three:
#1:  Rosemary Chicken Pot Pie
Rosemary is a flavor that has grown on me over the last few years.  I don't normally care for it as a primary flavor, but I think that this recipe had the perfect amount of rosemary to it – just enough that my mother, who is a bit picky, noticed that there was something different about it compared to most pot pies, and not too much to turn off my 7-year-old niece who mainly subsists off of McDonald's at home.
The pot pie turned out beautifully, but before I even transferred my filling into the raw pie crust, most of the potatoes had disintegrated into the sauce, making the filling seem less bulky and the heavy cream a little unnecessary.  Also, I noticed during the cooking process that the recipe calls for cooked and crumbled bacon, but the instructions completely left them out (I had Trever double check for me to make sure I wasn't going crazy!).  My best guess, based on the location of the bacon in the ingredients list is that it was intended to be added with the "chicken and spices" at the beginning of step five.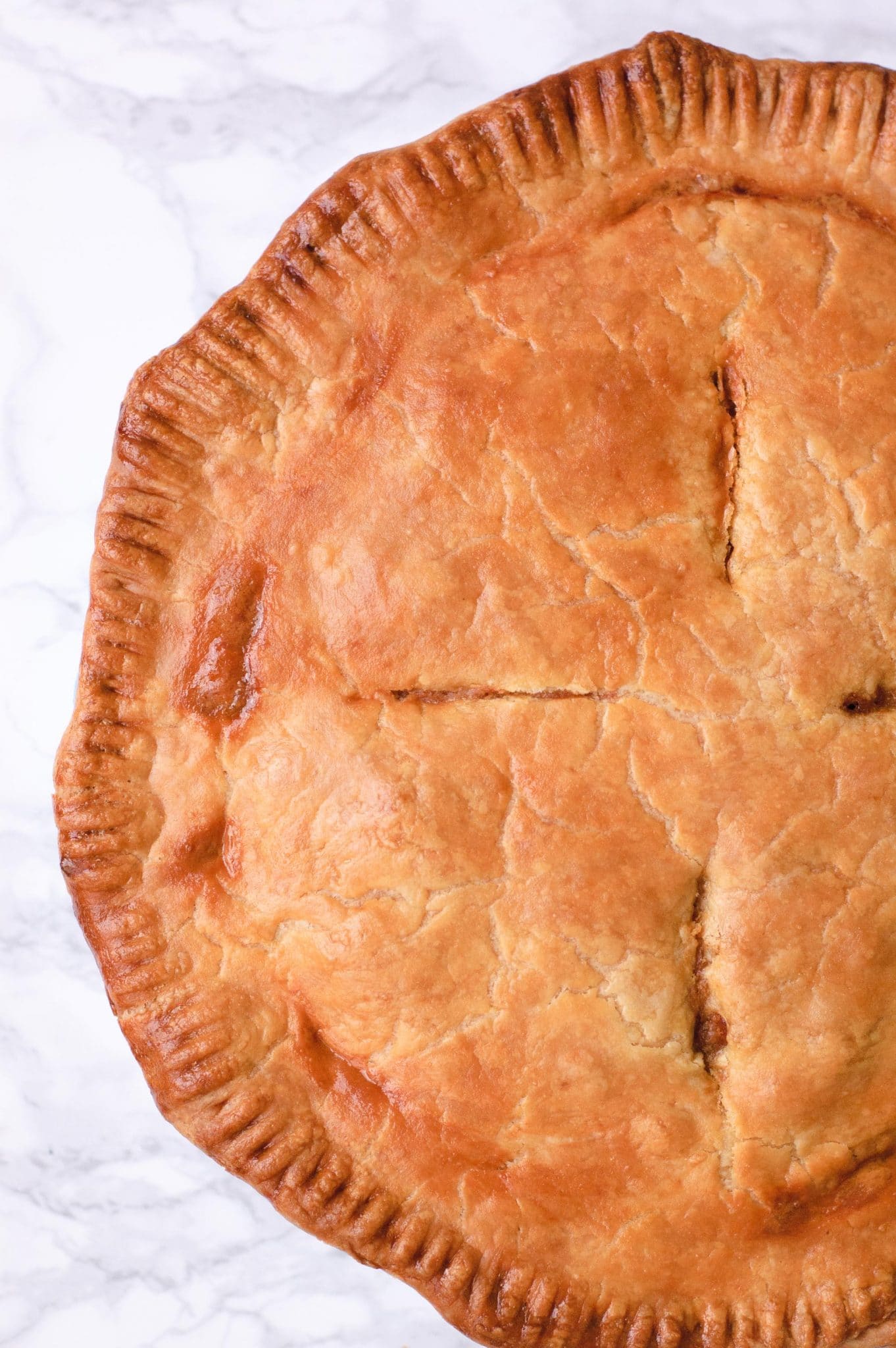 #2: Mexican Corn Chowder
This was my least favorite out of the recipes I'm telling you about, but I'm telling you about it because it was my family's favorite of the savory meals.  I'm a hearty soup person, and this soup is thin compared to how I like them (and it had a quart of half and half). It also reminds me greatly of tortilla soup.  Annalise mentions in the description that she would love to have you over to share this soup with you, and that she would serve it with some crusty bread; I chose tortilla chips.  If you're anything like me and you prefer your soup to be more bulk than liquid, this may not be the soup for you.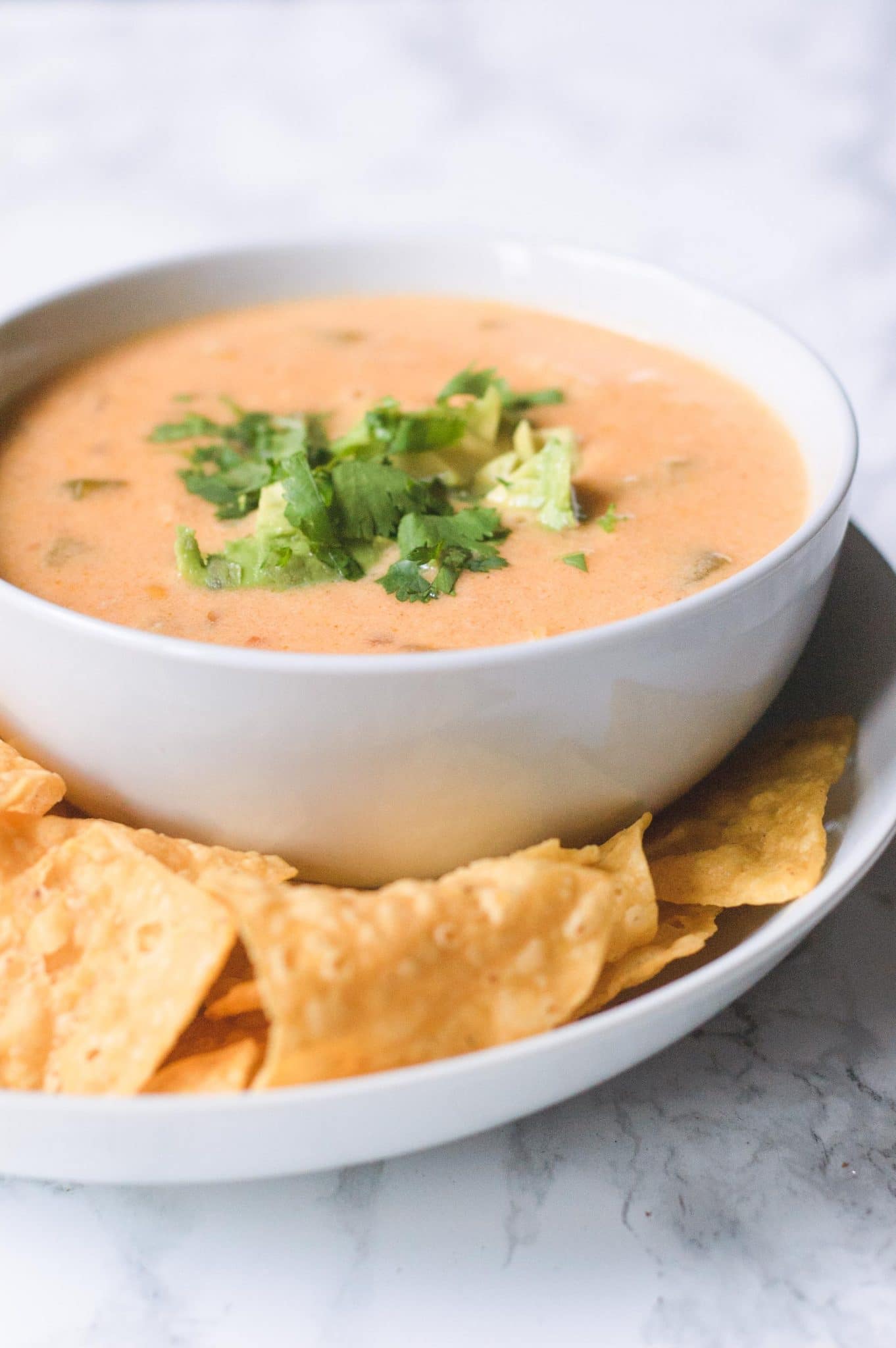 #3: Overnight, Baked Maple Pecan French Toast
This is the one that I am most excited to tell you about because it was FREAKING AMAZING!!!!  I've tried a lot of pinterest overnight french toast recipes, and none of them have ever turned out like this.  The instructions were clear, it was easy to make (even with a 7-year-old helper) and the maple-pecan baked caramel sauce that goes over the top of the french toast is addicting!  My niece, Sable, had never tried french toast before we made this, and after her very first bite she said to me:
"Oh my!  I think I've died and gone to heaven!  I'm in love!"
I seriously want every single person on Earth to eat this french toast.  Annalise has more than knocked it out of the park with this one!  Trust me, you'll want to eat this french toast for breakfast and dessert (and maybe keep some of the sauce around for pouring on top of everything!)!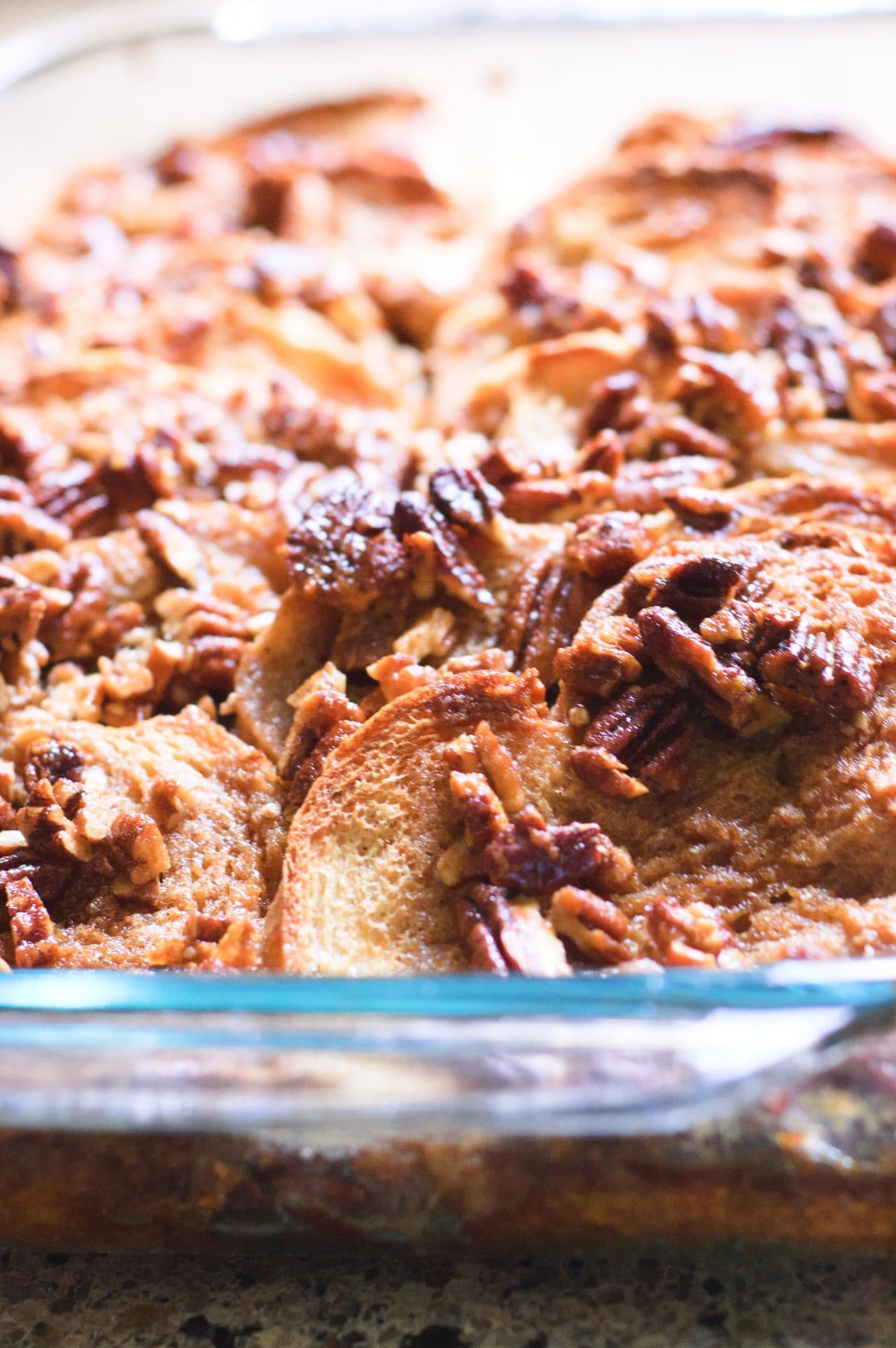 A Quick Note For Food Above Gold Readers:
Something I would like to point out to my regular readers:
One of the goals of this blog is to help you learn how to grow as a cook – focusing on skills, techniques, and easy to follow recipes.  I discovered in my use of The Make Ahead Kitchen , that some of the recipes were described in ways that were more suited for people who had culinary familiarity and fluency.  For example, during the recipe for the rosemary chicken pot pie, she describes using an egg wash of one egg and cold water on the pie crust before placing it in the oven, but does not mention the egg in the ingredients.  This is a very common practice for many cookbooks (Martha Stewart even does it), but I just wanted to give you a heads up that the cookbook I am reviewing for you does vary quite a bit from the way the recipes are formatted for you here.
If you are just learning your cooking methods, aren't comfortable in the kitchen, or are just getting the hang of cooking, I would recommend that you read through all of the directions before committing to a recipe so as not to find yourself surprised in the middle of cooking.  Note: I did not read through every single recipe to see if this happens anywhere else.
What Did I Think?
One of the things that I appreciated about this cookbook is that Annalise was considerate of those who are gluten-free.  All of her gluten-free recipes are clearly marked, and many of those that aren't gluten-free she's provided gluten-free alternatives for, so people with gluten sensitivities will find this cookbook very approachable.
Also, at the beginning of the cookbook, Annalise gives some general notes, which include a few tips that I find to be extremely helpful before making a recipe out of new cookbook, like: what method she uses for measuring flour, what kind of butter she recommends, and what to expect when it comes to the recipe yields.
There are beautiful full-page photos for almost every single one of the 75 tasty recipes.  I don't know about you guys, but when I'm trying something I've never made before, I always love to have a picture to compare my final results to.  What made it even better is that every single one of the recipes that I tried out, looked very similar to Annalise's photos (minus the pretty food styling) – which always makes me feel like I was successful in following the recipe well!
Here's my breakdown of my evaluation of The Make Ahead Kitchen:
Appetizing Recipes + Photos: 4.5 Stars
Recipe Construction & Clarity : 3 Stars 
Flavor of Food : 4 Stars 
Originality: 4.5 Stars
Overall Star-Rating: 4 stars
---
---
The first publication of Annalise's cookbook has already sold out and has started print on a second wave of books.  She's worked very hard on this book and I've loved being able to benefit from her hard work!  I hope you will, too!  If you would like to check out all the other reviews that have been done as part of the blog tour, you can follow me here.
The Make Ahead Kitchen & It's Author
If you would like more information about Annalise, you can pop over to her blog (which is terrific!), or check her out on any of these platforms below.  She is an absolute sweetie! Tell her I sent you 😉
Thanks so much for stopping by!
Have you tried any of Annalise's recipes (from blog or cookbook)?  Tell me about your experiences, or how much you really want to eat that overnight maple-pecan french toast in the comments!
Happy Cooking! 🙂
---
I received a copy of this cookbook in exchange for an honest review.  I would never recommend you something I wouldn't keep or use myself and all opinions and experiences are my own.
---