Whether you eat it as an appetizer or an entrée, get in the mood with the aphrodisiacs in this Caramelized Leek & Asparagus Bisque with Fried Oysters.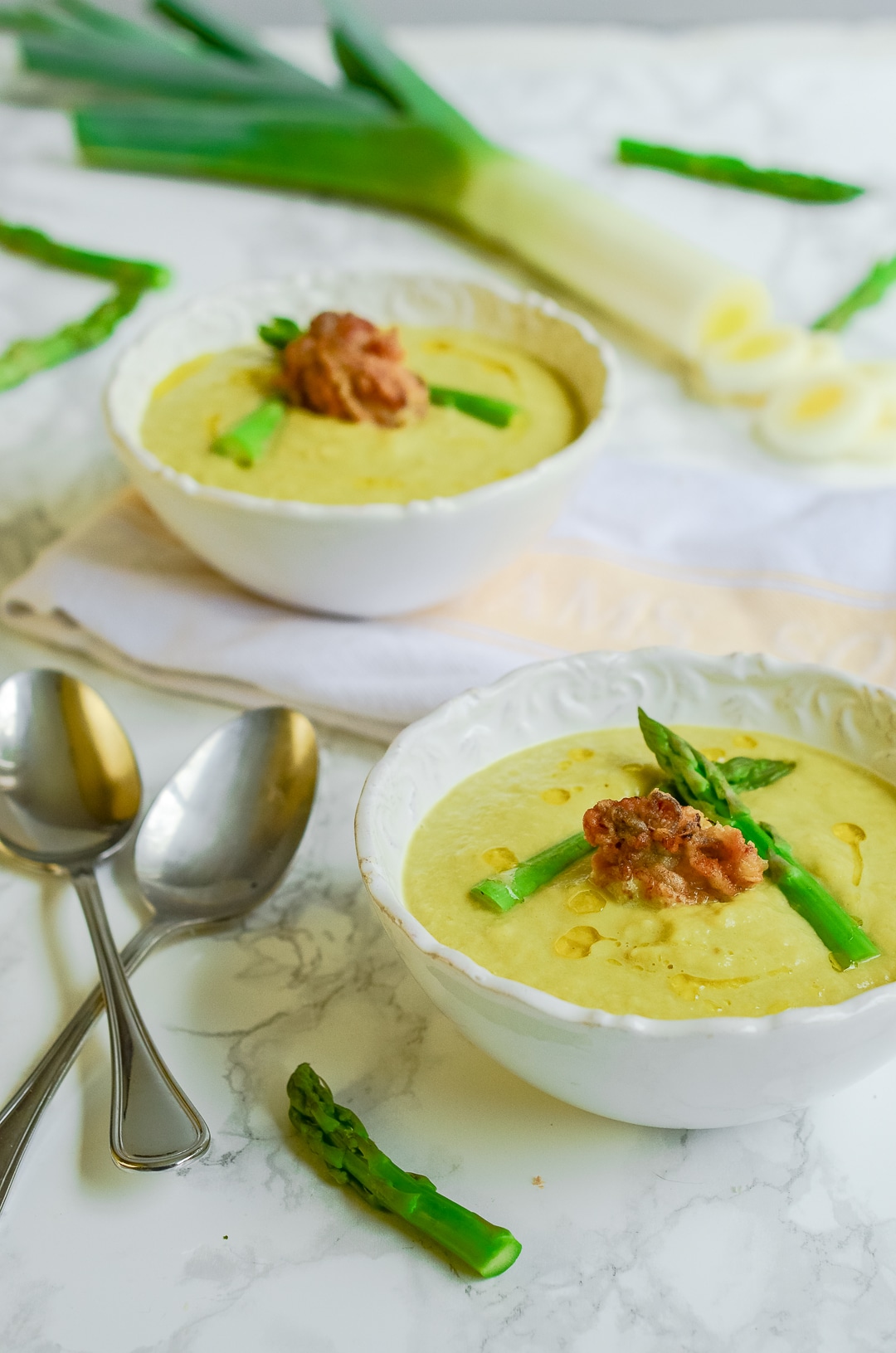 I love having a specific theme to focus on each month.  Some months it's a specific technique, some it's an ingredient, or others are more broad.  This month is one that is partially between an event and a ingredient.  Instead of giving you heart shaped foods dipped in chocolate for Valentine's day (although there is totally a time and place for that!), instead I'm giving you foods to get you in the mood for sexy time.  That's right – aphrodisiacs!
#SexyEats
Over the course of the month, we'll look at a three course meal (plus drinks), focusing on a different course each week.   Each of these recipes will feature at least one aphrodisiac designed to help spark some romance.  If you use one of the recipes or techniques laid out on the blog this month (or just decide to use an aphrodisiac in what you're making) show it off on social media with the tag #SexyEats
Skills & Techniques
To really get in the mood with this Caramelized Leek & Asparagus Bisque with Fried Oysters recipe, brush up on these skills so everything goes smoothly.
How To Purée.  Get my tips about puréeing hot foods so your blender doesn't get angry.
Make Your Own Stock.  This recipe uses vegetable stock.  Make your own to ensure phenomenal flavor.
Deep-Frying 101.  This one is extremely important.  Safeguard against injury and fire (and overly greasy food) by knowing your cooking method.

Leftovers?
If you have leftovers of this Caramelized Leek & Asparagus Bisque with Fried Oysters, the soup itself stores wonderfully. However, Have you ever gone out to eat and brought home fried leftovers?  They don't reheat that well, right?  The same rings true for the fried oysters in this soup.  In spite of this, if you keep the leftover oysters separate, there is a way to handle it.  If you're willing to put in the effort…
To reheat this Caramelized Leek & Asparagus Bisque I recommend:
Place the leftover soup in a pot over low heat.  Bring the soup to a boil and then reduce it to a simmer.
Cook for 5 minutes then serve.
To reheat the Fried Oysters I recommend:
Bring a small pot of high-temperature oil to 375°F.
Blot the fried oysters dry of any condensation and lightly dust them with flour.
Fry the oysters for 1-2 minutes, or until the fresh flour is golden brown.
It's incredibly important to blot dry the fried oysters before you put them in the pot.  Don't forget that step or you'll be dealing with unneccessary popping and splattering.
Caramelized Leek & Asparagus Bisque with Fried Oysters
This soup packs the ultimate punch for aphrodisiacs.  The leeks, asparagus, and fried oysters all fall into this category.  As a starter this soup makes 4 servings, but it serves two perfectly as a main dish.
You can go about getting the oysters in two different ways.  You can shuck them straight from the shell (and hopefully find a pearl!) or subsequently, you can get them jarred.  If you go with the jarred, you can usually find them near the artificial crab meat in the grocery's seafood case.  The ones I recently found were labeled as "extra small"; however, they were still the size of my pinky finger.  Cut them into smaller pieces for better distribution throughout your soup, or leave them whole for visual impact.
---
 Get your free printable grocery list for this Caramelized Leek & Asparagus Bisque with Fried Oysters recipe HERE.
---
This grocery list has everything that you'll need to make this Caramelized Leek & Asparagus Bisque with Fried Oysters recipe.  To help in making grocery shopping simple, each ingredient is listed in easy-to-find grocery store amounts.  If there is no amount specified, that means that you can buy the smallest (or largest) container available and still have plenty left over.
Thanks so much for stopping by!
Try some of the other #SexyEats we're making this month:
Caramelized Leek & Asparagus Bisque with Fried Oysters <— you are here
Happy Cooking! 🙂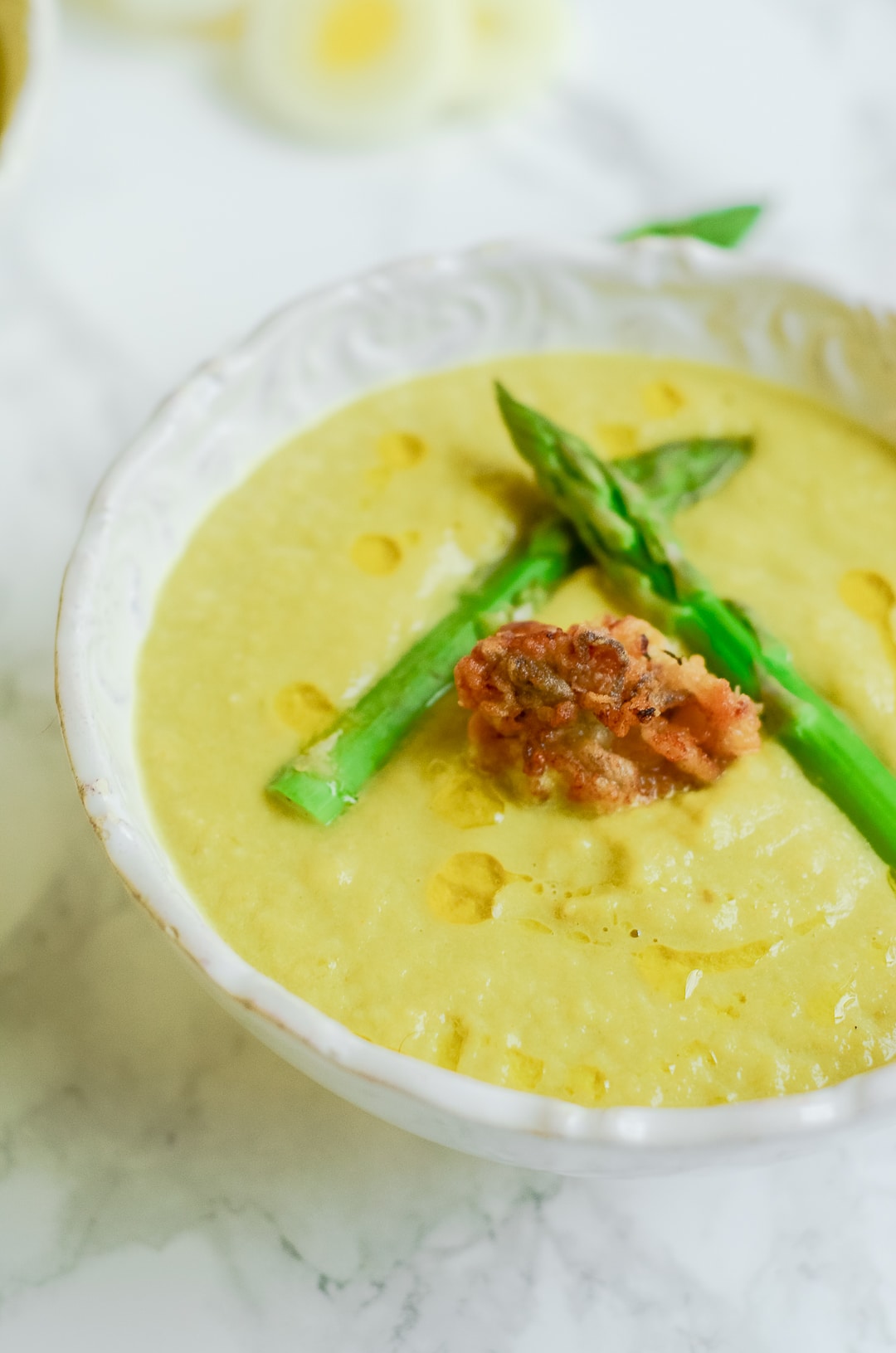 Caramelized Leek & Asparagus Bisque with Fried Oysters
Spark some romance with the help of the aphrodisiacs in this Caramelized Leek and Asparagus Bisque with Fried Oysters. It serves two as an entrée or four as an appetizer.
Ingredients
1/4

cup

olive oil

, plus some for garnish

3

leeks

, trimmed and sliced

2

garlic cloves

, sliced thin

1

bunch of asparagus

, ends trimmed and cut into 1/2 inch pieces

1/3

cup

white wine

1 1/2

cups

vegetable stock

1/4

cup

half and half
Fried Oysters
6

oysters

, shucked and patted dry

1/2

cup

flour

high temperature oil for deep frying

(like canola, vegetable, peanut or refined avocado)

salt and pepper

, to taste
Instructions
Leek and Asparagus Bisque
In a heavy bottomed pot over low heat, add the olive oil, trimmed and sliced leeks, and the garlic. Cook for 25 Minutes, or until the leeks are caramelized.

Add in the asparagus and cook for another 5 Minutes. Turn the heat up to high and cook for 1 Minute. Add in the white wine and lower the heat to medium. Add in the chicken stock and cook for 10 Minutes.
Fried Oysters
While the soup cooks, heat up your oil to 375°F in a deep pot, making sure the oil is at least 3 inches deep. Dredge the oysters in the flour until they are well coated and carefully lower them into oil. Let them fry for about 3 Minutes or until they are golden brown. Carefully remove them from the oil and place them in a strainer lined with paper towels.

While the oysters fry, use and immersion blender or transfer the soup to the basin of a blender, add in the half and half, and blend until smooth. Use extra vegetable stock as needed to reach the right consistency. Season with salt & pepper as necessary.

Pour the soup into two individual soup bowls, garnish with a drizzle of olive oil and the fried oysters and serve.
Recipe Notes
Make sure to use an accurate deep-frying thermometer to get an accurate reading on your oil. This will prevent your oysters from being overly greasy and reduce the risk of injury while deep-frying.