Take your love of ranch to the next level with this Homemade Chipotle Ranch Marinade.  It's great on chicken and veggies and done in 5 minutes!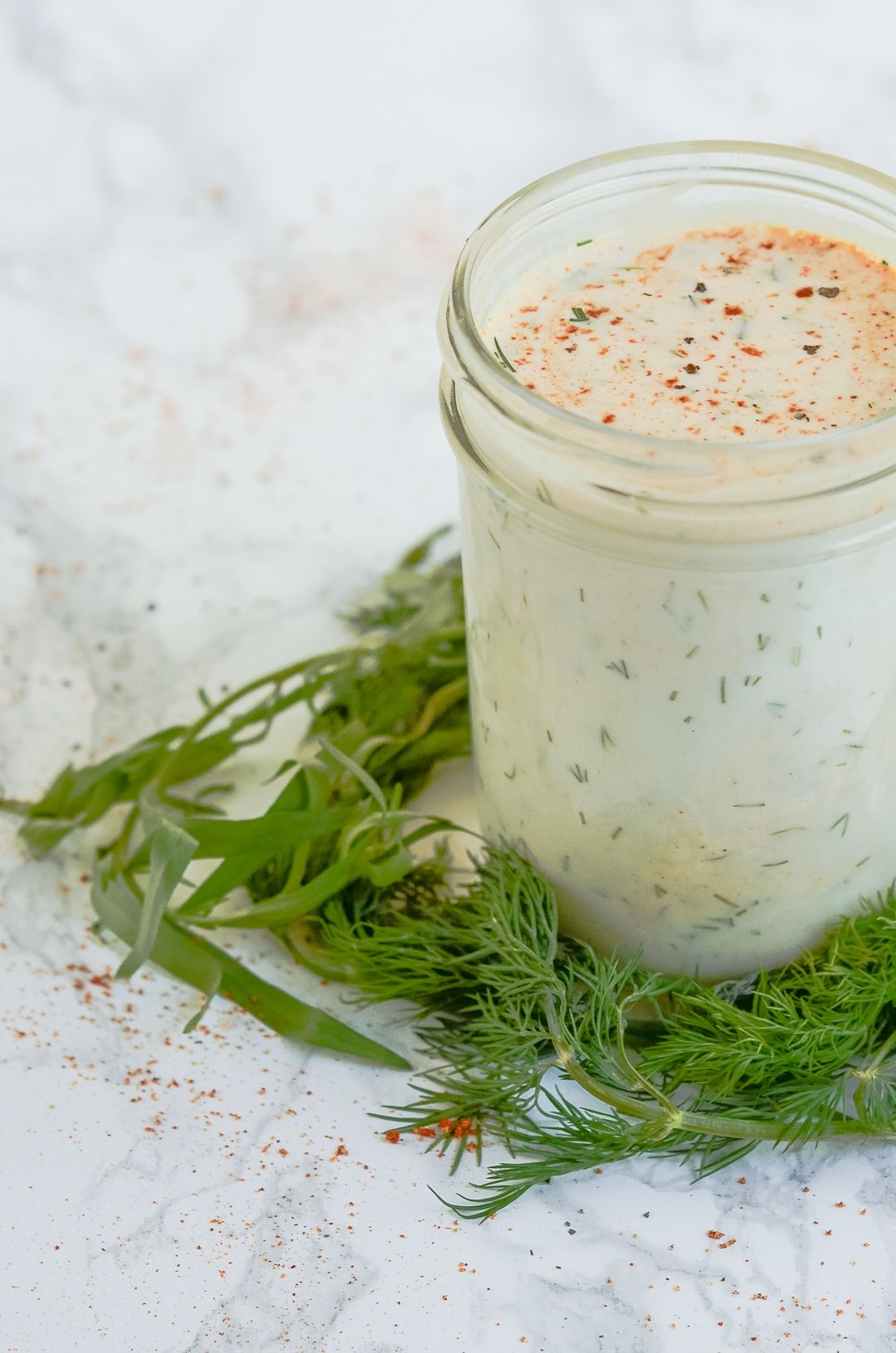 I feel like Ranch is a universal flavor that everyone loves.  If this is you, you're going to adore this Homemade Chipotle Ranch Marinade.  Fresh herbs and a perfect balance of smoky spiciness from the chipotle gives it a boost of flavor but doesn't drown out the classic ranch taste.
Skills & Techniques
Knock out this Homemade Chipotle Ranch Marinade by brushing up on these important cooking methods.
How To Marinate For Maximum Flavor.  Learn everything you need to know about making a killer DIY marinade.  Also, why the dairy in this marinade tenderizes so well.
How Long To Marinate.  This recipe can be marinated up to 24 hours.  Find out how to figure the right marinating time for what you're making.
Buy & Store Fresh Herbs For Freshness.  Nobody likes to feel like they wasted money buying fresh herbs.  Know what to look for at the grocery as well as how to get those herbs to last as long as possible.
How To Get Rid Of Kitchen Grease Responsibly.  Learn how to get rid of the leftover marinade without clogging your sink.

Storage & Leftovers
As with any marinade, once you've poured it out of the jar and onto something, it shouldn't be used again. (Unless you want to play salmonella roulette.)  If you have leftovers that are unused, or you want to store some for later, this Homemade Chipotle Ranch Marinade will keep in the refrigerator for up to 5 days in an airtight container.
Personally, I don't like to freeze this marinade because I find the dairy gets watery and weird when it thaws out.  If you would like to try though, it will keep frozen for 3-6 months.  Freezing liquids can be tricky, so I recommend putting a batch in a tightly sealed freezer bag then laying it flat to freeze.  This will make multiple batches easy to stack and take up less space in your freezer.  Don't forget to label it though!

Homemade Chipotle Ranch Marinade
This Homemade Chipotle Ranch Marinade is made with chipotle powder instead of chipotle chilis in adobo.  I find that this does a better job of preserving the ranch flavor.  The amount listed in the recipe gives a comfortable hint of spice and flavor, but feel free to add more and kick it up a notch.   I've found that this marinade works best on chicken and veggies, but would still work on almost anything.  Except maybe shellfish.
---
 Get your free printable grocery list for this Homemade Chipotle Ranch Marinade HERE.
---
This grocery list has everything that you'll need to make this Homemade Chipotle Ranch Marinade recipe.  To help in making grocery shopping simple, each ingredient is listed in easy-to-find grocery store amounts.  If there is no amount specified, that means that you can buy the smallest (or largest) container available and still have plenty left over.
Thank you so much for stopping by!
If you would like to try out some of the other tasty recipes being featured for our month of marinades, you'll find them below.  Make sure to sign up for the email list (on the right side bar) to get your exclusive marinade recipe and my secret hack for marinating in one hour!
Spicy Chipotle Ranch Marinade <— you are here
Happy Cooking! 🙂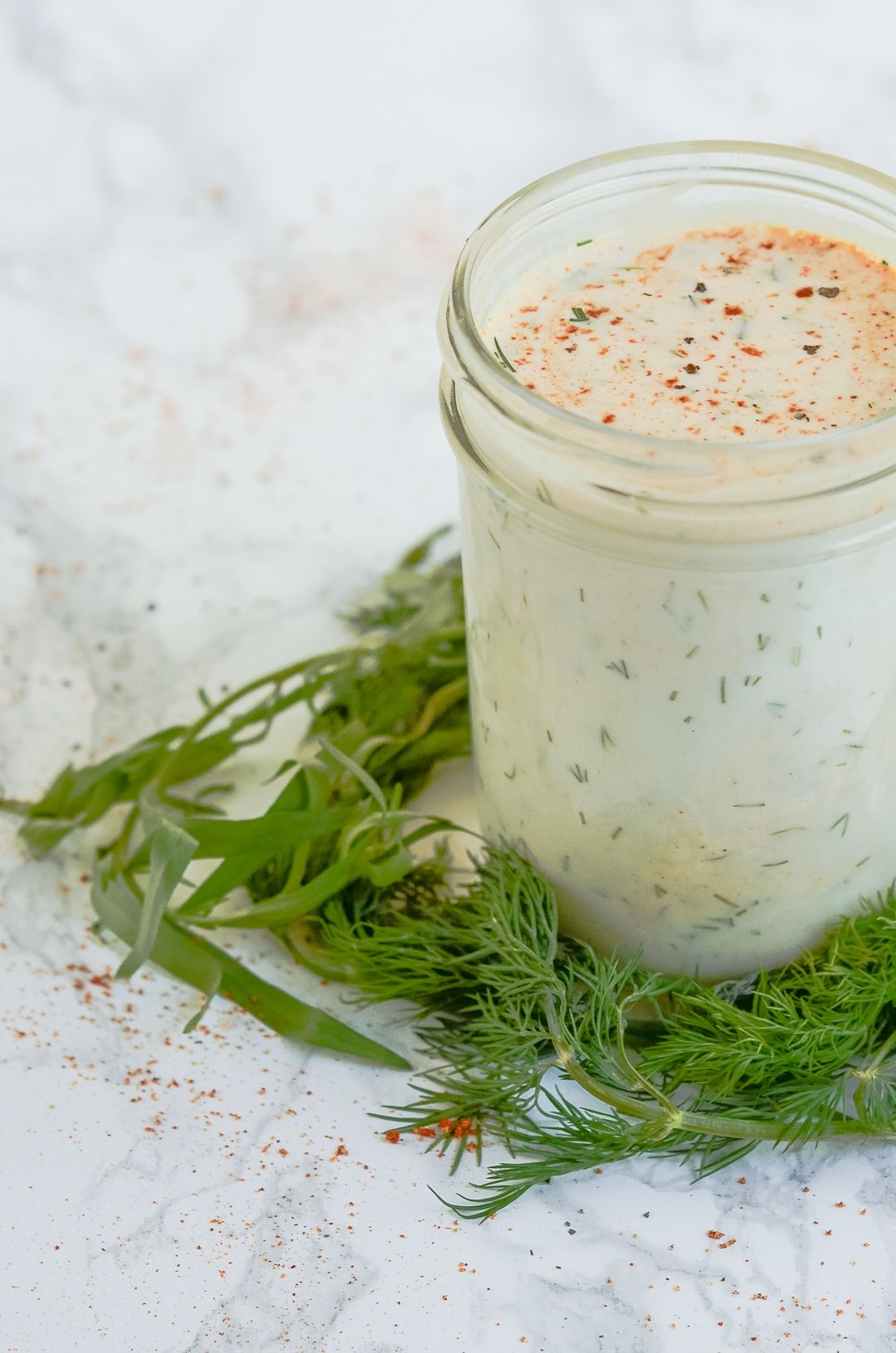 Chipotle Ranch Marinade
This spicy marinade brings together beloved flavors for a quick and easy flavor boost for your dinner.
Ingredients
1

5.4 oz. container plain greek yogurt

2

tbsp

fresh dill

, minced

2

tsp

fresh tarragon

, minced

1

tsp

onion powder

1/2

tsp

garlic powder

2

tsp

chipotle powder

1.5

cups

buttermilk
Instructions
Mix together the greek yogurt, fresh dill, fresh tarragon, onion powder, garlic powder and chipotle powder. Using a whisk or a fork, slowly pour in the buttermilk while whisking vigorously until the marinade is smooth.

In the smallest container that what you will be marinating will fit into, pour the marinade over the product until it is completely submerged. Let it marinate up to 24 hours.