This Green Apple, Fennel, & Colossal Sea Scallops Salad is an excellent side dish or great as an entrée salad!  Light, but full of flavor, it is a great way to enjoy the delicacies of in-season autumn produce!  This post is sponsored by Esplendido Douro olive oil.   All opinions are my own and not influenced in any way.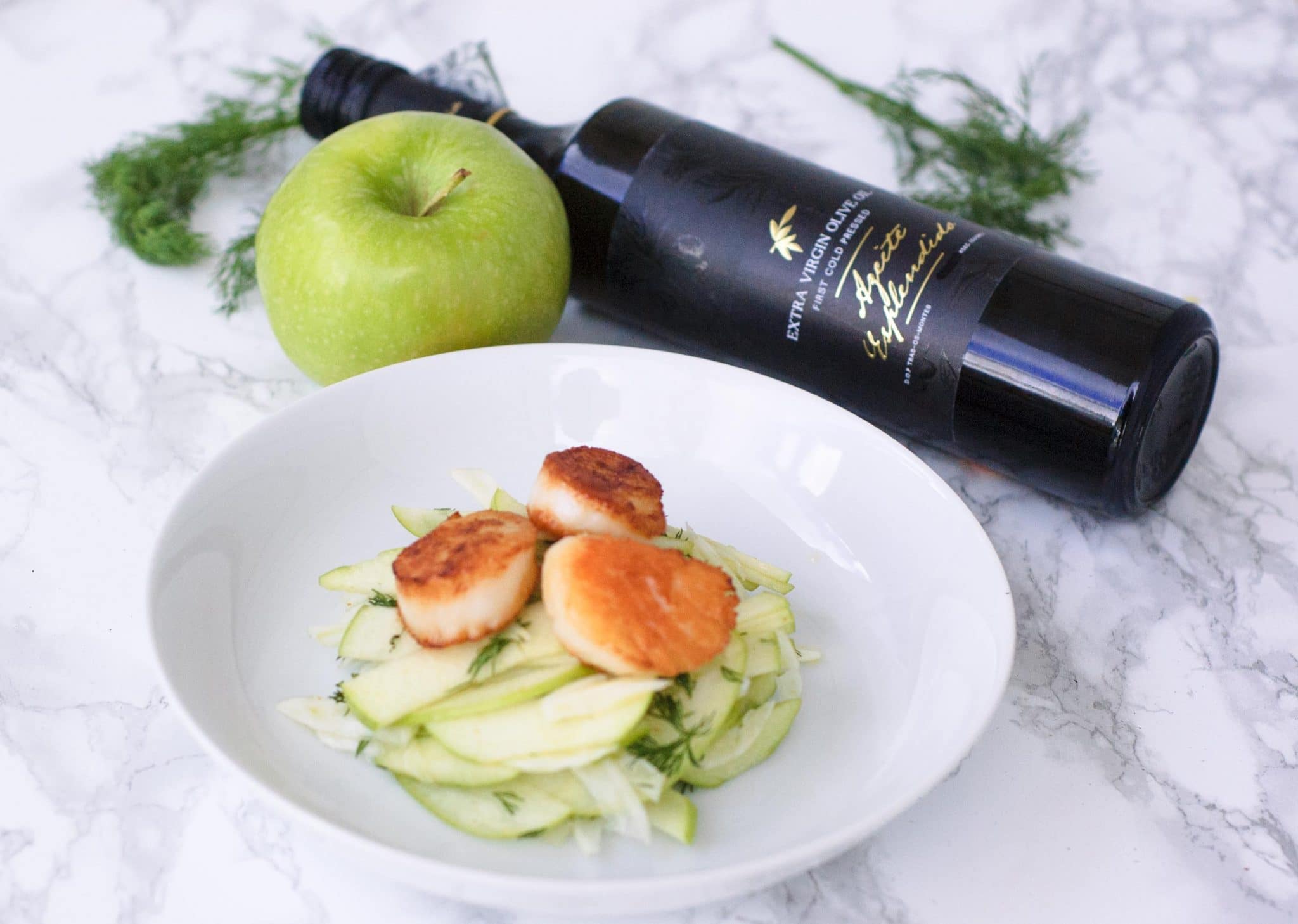 If you exercise a little creativity, this Green Apple, Fennel, & Colossal Sea Scallops Salad recipe becomes extremely versatile.  You can serve it as a skewered appetizer or on a crostini. You can eat it as a first course salad that whets your palate (but doesn't leave you feeling heavy) as you prepare for more meal to come.  Or you can enjoy it as an entrée salad on top of some lightly dressed arugula.   Also, did I mention that you'll finish this recipe in 30 minutes? If you have some extra rocking knife skills, it might even be done in fifteen!
Skills & Techniques
Before you start making this super simple Green Apple, Fennel, & Colossal Sea Scallops Salad recipe, here are a few culinary skills I recommend reading up on so your mad skills are perfectly honed and ready to take to the cooktop!
Leftovers?
The very best way to handle leftovers of this Green Apple, Fennel, & Colossal Sea Scallops Salad is to just not have them.  I mean, it's tasty enough you won't want to leave any behind, but overall, this recipe does not store well.  In just a little bit of time (despite storing it in an airtight container) your green apples will oxidize and dry out, the vinaigrette will separate, and your scallops will be chewy and tough.
It's very rare that I provide you with a recipe that you need to eat all of in one sitting.  The good news is that this scallops salad is a very reasonable portion of food, so you'll likely feel satisfied when you're finished and not overly full.

Esplendido Douro
If you're anything like me, the word "GIVEAWAY" probably caught your eye today.  In fact, it might be likely that you skipped over everything about the recipe and came straight here.  I don't blame you (although, when you get some of this olive oil, you should totally make the scallops salad recipe…).  Whatever your motivation, once you read all the awesome things about this brand you are going to be as excited as me.  Like how this Azeite Esplendido olive oil won the Gold Award at the New York International Olive Oil Competition.  Or how there is zero water waste from irrigation, as well as zero food waste from production.
This premium 100% single-estate extra virgin olive oil comes from the historic Tras-Os-Montes in Portugal, situated high in the hills overlooking the Douro Valley. Grown without pesticides, the fruit is picked early in the season and immediately cold-pressed to retain its deep fruity flavors and fresh spicy aromas. Because the area is ideal for growing olives, Azeite Esplendido has a distinctive robust taste from the rich soil that has been cultivated for more than a thousand years.
The exquisite golden-green oil of the Azeite Esplendido is exceptionally fragrant with grassy notes, a spicy taste and a pleasantly peppery finish. It is best represented when used in vinaigrettes, as a dip for crusty breads, or a finishing drizzle for grilled foods, bean dishes and crisp-tender vegetables.  If you would like to guarantee that you have a bottle of this delicious olive oil, you can find a store near you or buy directly from their website HERE.
Green Apple, Fennel, & Colossal Sea Scallops Salad
Did you know that when judges compare olive oil they cleanse their palates between tastes using green apples?  Green apples allow you to pick up on the flavor notes and textures of the olive oil, while also leaving your mouth feeling fresh.  For that reason, green apples make enjoying any type of olive oil an elevated experience.  It makes the meal taste clean and put-together, and this Green Apple & Fennel Salad with Colossal Sea Scallops recipe is no exception.  One of my favorite things about this recipe is that it uses the Azeite Esplendido olive oil both cold (in the salad) and hot (to pan-fry the scallops), so it let's you experience how a little heat can completely alter the flavor of the oil.  Isn't cooking neat?
---
Get your free printable grocery list for this Green Apple, Fennel, & Colossal Sea Scallops Salad recipe HERE.
---
This grocery list has everything that you'll need to make this recipe.  I feel that grocery shopping should be simple, so all the ingredients are listed in easy-to-find grocery store amounts.  If there is no amount specified, that means that you can buy the smallest (or largest) container available and still have plenty left over.
Thanks so much for stopping by!
Happy Cooking! 🙂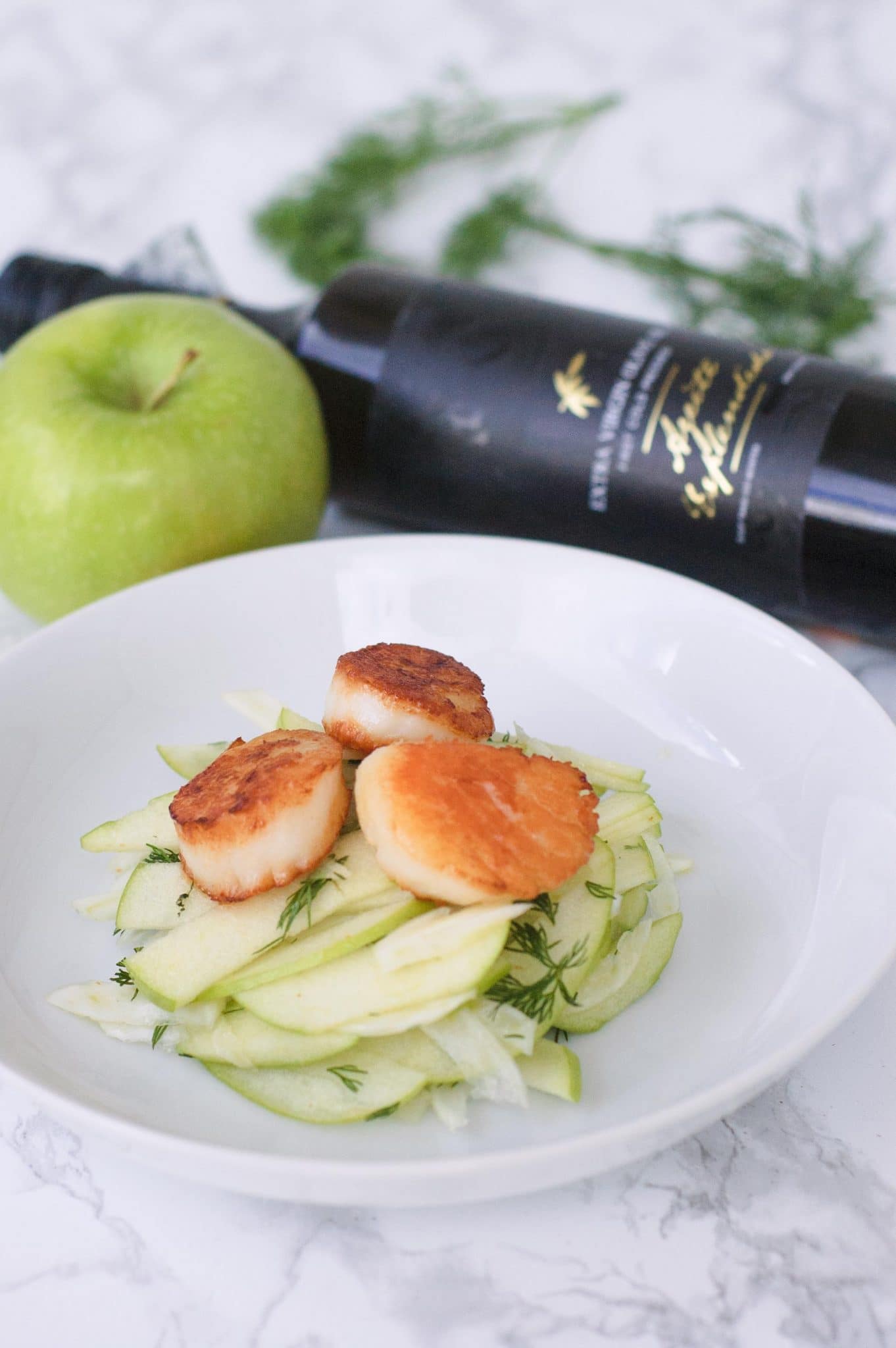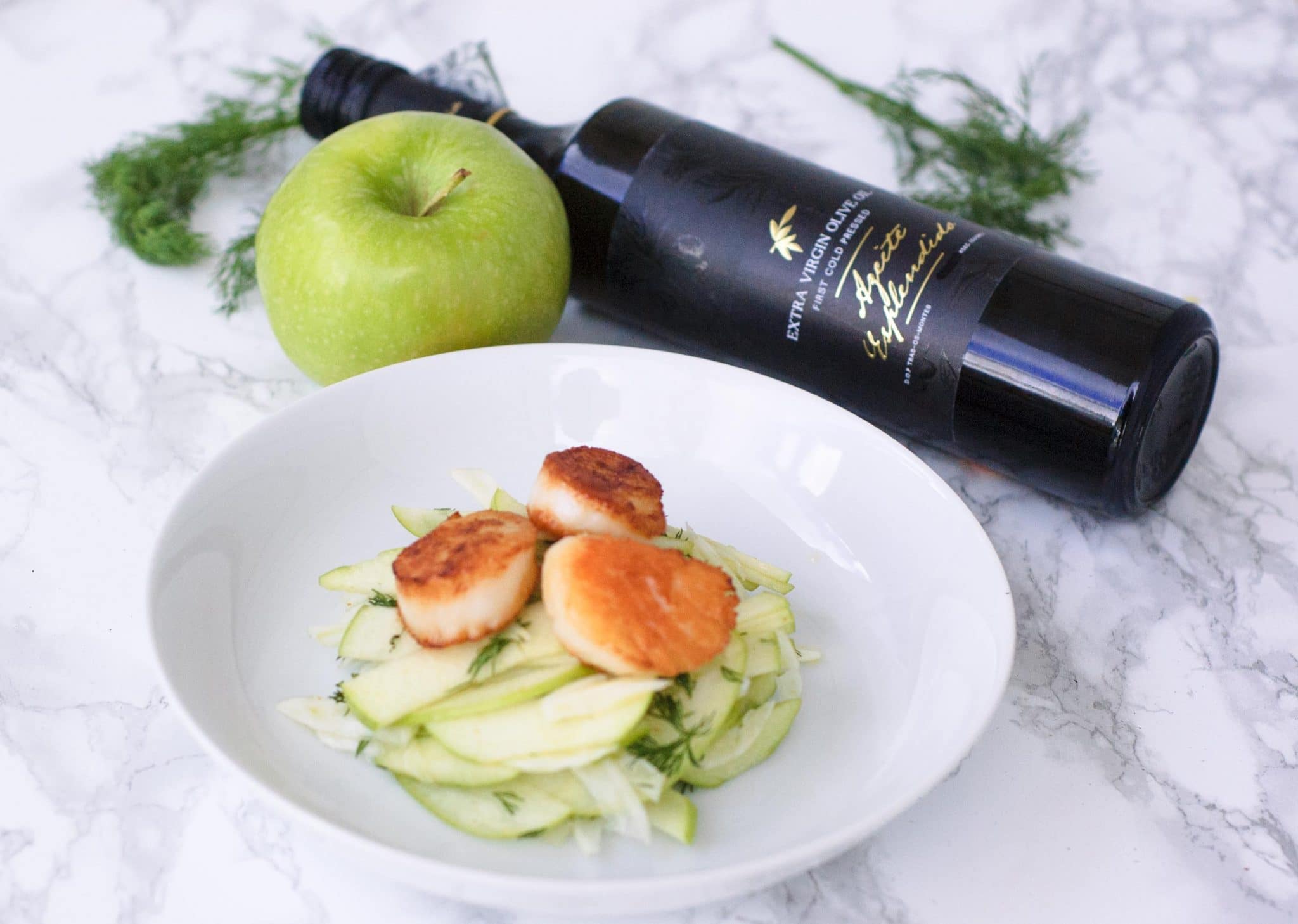 Green Apple, Fennel, & Colossal Sea Scallops Salad
This Apple and Fennel Salad with Colossal Sea Scallops is great as a light appetizer, or you can add it to some arugula and turn it into an entrée salad. The flavorful and slightly peppery Azeite Esplendido olive oil really shines in this fresh and bright salad.
Pin it for later?
Ingredients
6-8

Colossal Sea Scallops

,

(if they aren't labeled as "colossal" just get the biggest)

salt and pepper

,

, to taste
Green Apple & Fennel Salad
1

large granny smith apple

1

lemon

,

, juiced

1/2

head of fennel

1

tbsp

fresh dill

,

, minced

salt

,

, and pepper to taste
Instructions
Green Apple & Fennel Salad
Cut the leafy green top off of the head of fennel and set the fennel cut side down. Halve the fennel, cut off the root end and remove the bulb from the center. Slice the fennel into 1/4" thick slices, separating any pieces that may stick together. Put the fennel in a bowl and set aside.

Cut the apple into four pieces cutting around the core. Remove any stray seeds and cut the apple into 1/4" slices. Add to the bowl of fennel and squeeze the lemon juice on top. Toss gently and set aside.
Seared Colossal Sea Scallops
In a large heavy bottomed pan, lightly coat the bottom of the pan with your Esplendido Douro's Azeite Esplendido olive oil and put over medium high heat until very hot.

Season your colossal sea scallops with salt and pepper and place them into the hot oil and cook for

2 Minutes

or until they easily release from the pan and are golden brown. Flip and do the same thing to other side.
Assemble
While the scallops cook, mince your fresh dill and add it to the salad. Season your salad with salt and pepper, and toss the salad with Esplendido Douro's Azeite Esplendido olive oil until it is very lightly coated and transfer it to a plate. Top it with 3-4 colossal sea scallops and serve.
Notes
Be careful not to overcrowd your pan with the scallops to allow them to cook as evenly as they can. Scallops are best when they aren't overcooked, so try not to let them touch each other and don't cook them any longer than you have to.
Nutrition
Serving:
1
salad
|
Calories:
418
kcal
|
Fat:
29.4
g
Tell me how much you love this recipe
and join fellow foodie friends @foodabovegold
1