This Crab and Grapefruit Stuffed Avocado is delightfully refreshing and filling. Eat it as a low-carb breakfast, fast lunch, appetizer, or salad at a cookout.  It's extremely versatile!

Skills & Techniques
To really knock this Crab and Grapefruit Stuffed Avocado out of the park, master these culinary proficiencies first.
How To Segment Citrus (+ video). (coming soon)  Learn how to avoid getting bitter pith on your delicious grapefruit slices.
How To Make Your Own Mayonnaise.  Learn how to make this light mayonnaise from scratch for a clean and natural flavor.
How To Buy & Store Fresh Herbs.  This recipe uses some fresh parsley. Find out what to look for at the store and how to keep it fresh and crisp at home.
 
Storage & Leftovers
This simplicity of this recipe is matched with the simplicity of how to store it.  For best success, wrap each stuffed avocado tightly with plastic wrap; then refrigerate it for up to three days.  Over time your avocado will start to darken, but if use the body of your grapefruit to slather it with the juice before stuffing, it won't happen so quickly.
If you would like to double your chances for freshness, once you have wrapped each avocado you can stuff each of those into a air-tight container.  It will delay the browning process even further.
Crab and Grapefruit Stuffed Avocado
If you would like to use this Crab and Grapefruit Stuffed Avocado recipe as an appetizer, just cut each each half into thirds so it looks like a slice of cantaloupe; then stuff the cavity as usual.  If you would like to serve it as a salad, just dice the avocado and toss all of the ingredients in a bowl.
---
Get your free printable grocery list for this Crab and Grapefruit Stuffed Avocado HERE.
---
This grocery list has everything that you'll need to make this Crab and Grapefruit Stuffed Avocado recipe.  To help in making grocery shopping simple, each ingredient is listed in easy-to-find grocery store amounts.  If there is no amount specified, that means that you can buy the smallest (or largest) container available and still have plenty left over.
Thank you so much for stopping by!
If you would like to see some other delicious brunch recipes, I recommend:
Happy Cooking! 🙂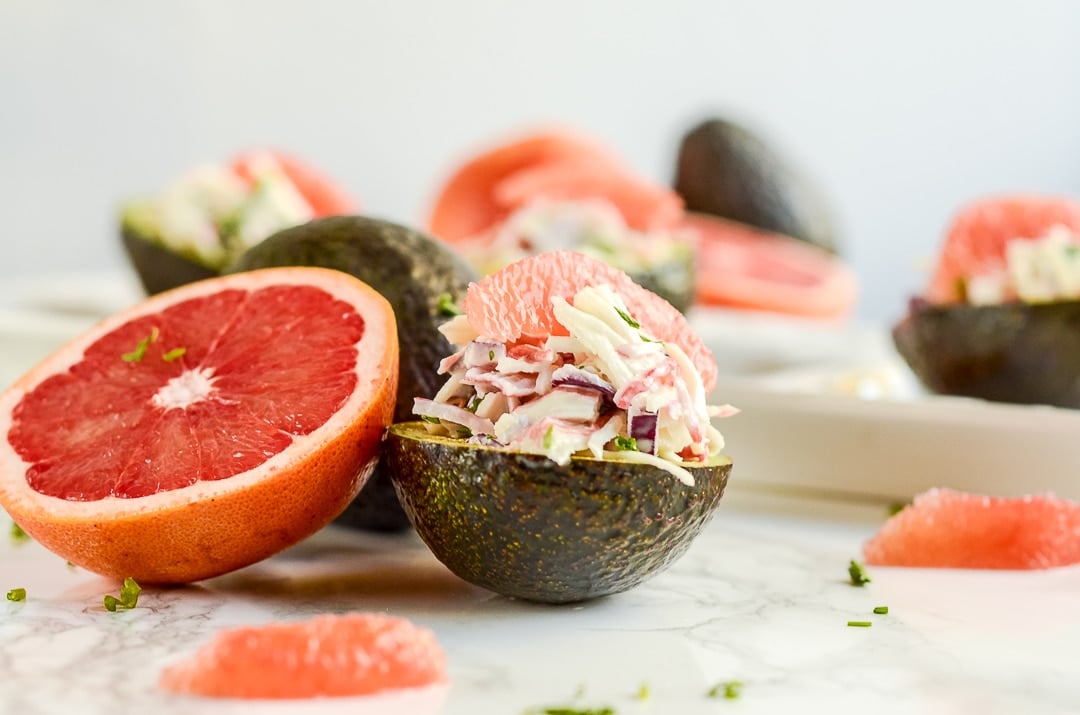 Crab & Grapefruit Stuffed Avocado
Looking for a bright and low-carb breakfast or brunch option? This Grapefruit and Crab Stuffed Avocado is delicious and the grapefruit gives it a nice sour kick. Want it a little sweeter? Try broiling the grapefruit first!
Ingredients
1/4

red onion

,diced small

1/4

c.

cucumber

,diced small

1/4

c.

mayonnaise

1

tbsp.

parsley

,minced

1/2

c.

crab meat

salt and pepper

,to taste

2

avocados

1

grapefruit,

halved (but save the body)
Instructions
In a small bowl, combine the red onion, cucumber, mayonnaise, parsley, and crab meat. Season with salt and pepper

Halve the avocados, remove the pit, and rub the avocado with the juice from the body of the grapefruit. Season the avocado with salt and pepper.

Scoop a heaping spoonful of the crab mixture into the hole from the avocado pit. Garnish with 1-3 segments of grapefruit and serve.
Recipe Notes
While it was completely unintentional, I discovered after making this recipe that there is a very similar one from Simply Real Health.