This recipe for blood orange & edible flowers pound cake is a nice way to introduce yourself to the world of edible flowers. It's easy, tasty and beautiful!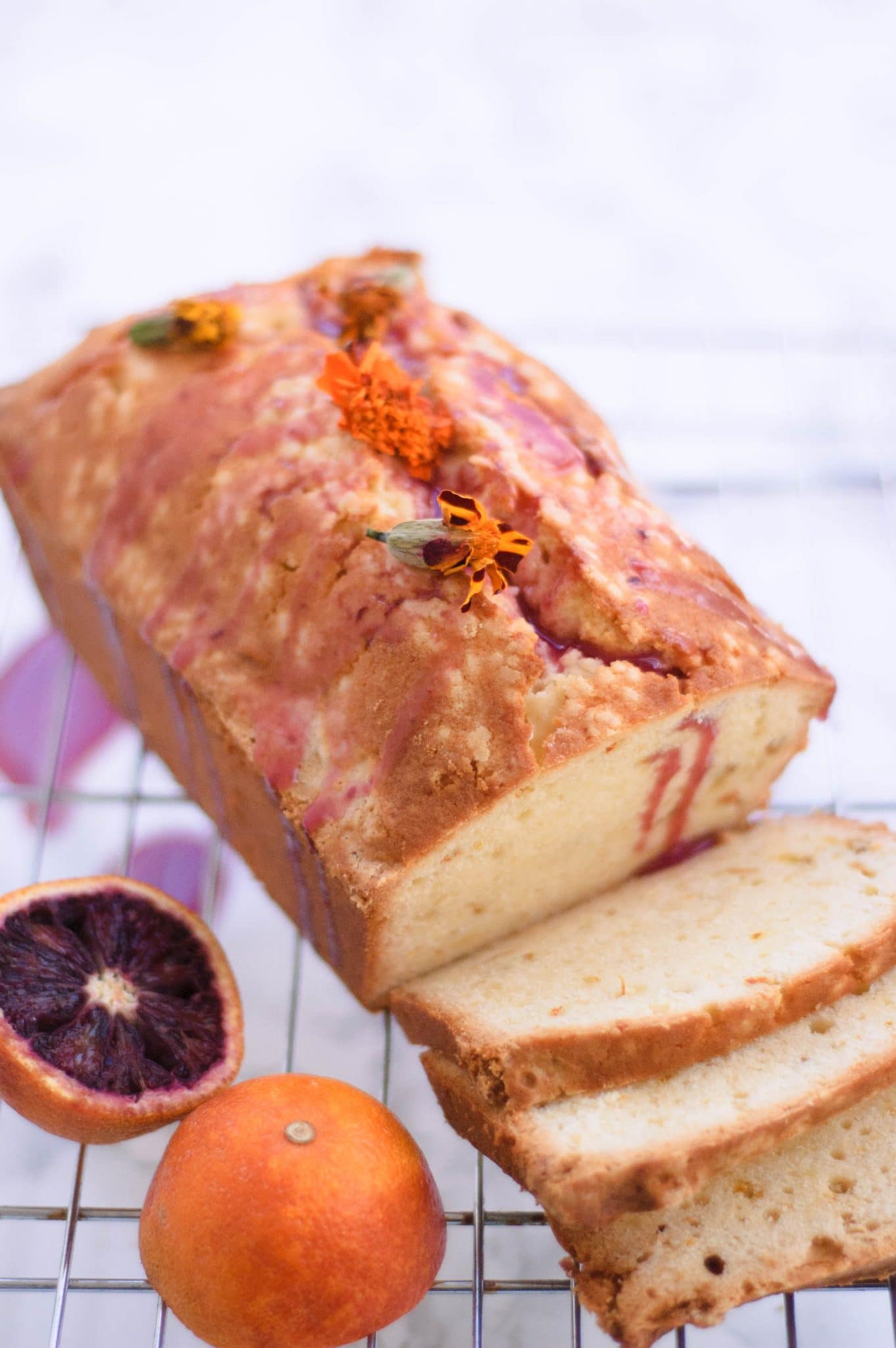 May is one of my favorite months.  Not just because it has my birthday, Mother's day, and lots of sunshine, but because it is when springtime is fully in bloom.  Since April showers bring May flowers, for the month of May we're looking at how to cook and eat with edible flowers.  Today, we're starting you in the shallow end of the edible flowers pool with this recipe for blood orange & edible flowers pound cake, which uses the packaged edible flowers that you can find at the grocery.
Skills & Techniques

Leftovers?
Pound cake is delicious, but so dense and sweet that it often can be difficult to go through an entire loaf in one sitting.  If you have leftovers, I recommend storing them in an airtight container for up to 3 days.  To keep the slightly crusty top from getting soggy, throw a folded paper towel in the container before storing.  The paper towel will help absorb any condensation or extra moisture.
If you have any of the blood orange glaze leftover, you can store it in it's own airtight container at room temperature then drizzle it on the cake right before serving.  Keeping the glaze separate helps prevent the cake from getting soggy and lets you enjoy the flavor of the glaze, making the cake seem fresh and not like leftovers.
If you would like to warm the your leftovers before serving, I recommend :
Preheat the oven to 300°F
Wrap your blood orange and edible flowers pound cake in aluminum foil, leaving the top of it slightly open for ventilation.
Place the wrapped cake directly on the rack and bake for 15 minutes, or until warmed throughout.
Slice, drizzle with glaze, and serve.

Blood Orange & Edible Flowers Pound Cake
This blood orange & edible flowers pound cake is a great way to introduce yourself to edible flowers if you've never really tried them before.  This recipe is designed for you to use the 1 oz. packages of flowers that you can fairly easily find in your grocery.  In my experience, I have a harder time finding them at stores like Safeway, Fred Meyer, Food Lion, Kroger, Trader Joes, or Giant Eagle, but tend to get lucky if I look at some of the higher end stores that stock unique items.
---
Get your free printable grocery list for this Blood Orange & Edible Flowers Pound Cake recipe HERE.
---
Above is a printable grocery list of everything you will need to make this recipe.  All of the ingredients are listed in easy to find amounts so when you're at the grocery and staring at the flour, you're not trying to figure out how many cups are in a 1 pound bag.  If no specific amounts are listed (like with the baking powder) that means that you can purchase the smallest package possible and still be fine.
Other Edible Flowers Recipes
If you would like to try some other edible flowers recipes, here are some I recommend :
Happy Cooking! 🙂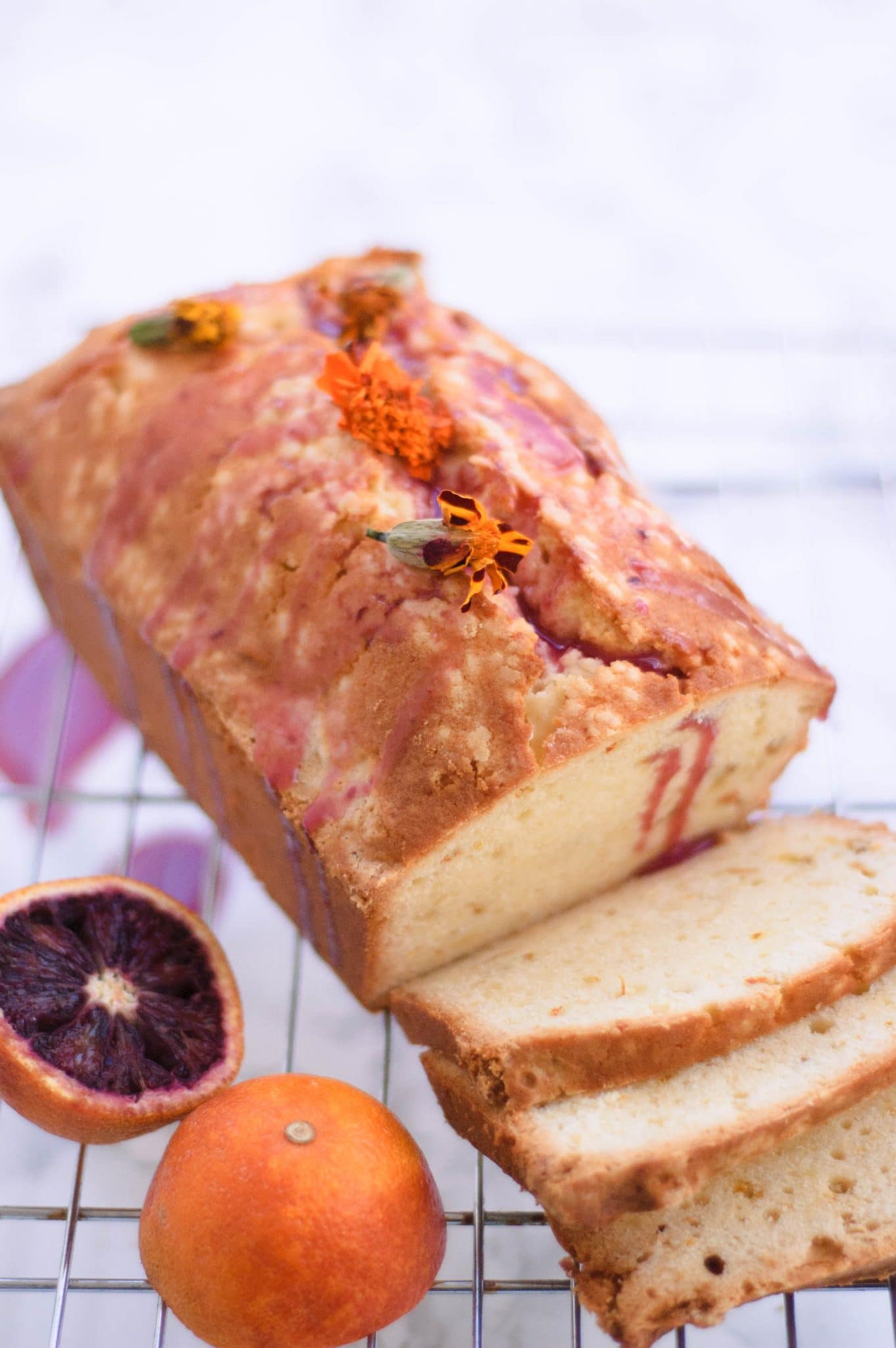 Blood Orange & Edible Flower Pound Cake
This blood orange and edible flowers pound cake is moist, light, and packed with flavors that will inspire you to start an edible flower garden!
Cook Time
1
hour
15
minutes
Total Time
1
hour
35
minutes
Ingredients
Cake
1

cup

butter

, softened

1.5

cups

granulated sugar

3

eggs

, room temperature

1 1/2

cups

cake flour

, spooned and leveled

1/2

tsp

baking powder

1/8

tsp

salt

1

tsp

pure vanilla extract

1

cup

milk

zest of 4 blood oranges

1

oz

edible flowers

, petals picked off
Blood Orange Glaze
1/4

cup

blood orange juice

1/2

cup

powdered sugar

, sifted
Instructions
Preheat & Prepare
Preheat the oven To 325°F and grease and flour a one pound loaf pan.
Wet Ingredients
Stir together the milk and vanilla extract and set aside.

In the bowl of an electric mixer, beat the butter at a medium speed until it is light and fluffy, about 5 Minutes. Add in the sugar and beat for another 3 Minutes.

Reduce the speed to low and beat in each of the eggs one at a time until combined.
Dry Ingredients
Sift together the flour, sugar, and baking powder.
Combine
Alternating between the milk and the sifted dry ingredients, beat in the remaining ingredients at a low speed until combined. Stop the mixer and scrape the sides as needed.

Use a wooden spoon or spatula to gently mix in the blood orange zest and edible flower petals.
Bake
Pour the batter into the greased and floured loaf pan and back for 75 Minutes, or until a toothpick inserted deep into the center comes out clean.

Remove from the oven, let it cool for 15 Minutes then turn the pound cake out onto a wire rack.
Blood Orange Glaze
Whisk together the blood orange juice and sifted powdered sugar until smooth. Brush the glaze around the cake and pour the rest over the warm pound cake and garnish with additional edible flowers.
Recipe Notes
Adapted from Southern Living's Key Lime Pound Cake